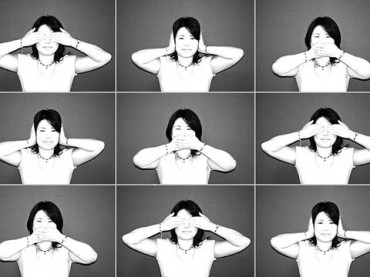 Students at several universities across the nation have requested policies that mandate professors use "trigger warnings" before presenting material students may deem upsetting, a new and growing trend that has prompted praise, ridicule, and concern over academic freedom.
"Trigger warnings" aim to alert students that the academic content they are about to be exposed to might upset them in some way, or in some cases may cause students to relive traumatic experiences, especially regarding topics such as rape and domestic violence.
No schools require trigger warnings yet, but at least six universities across the nation have fielded such requests from students, The Associated Press reports.
Student government leaders at the University of California – Santa Barbara were among the first to forge a path on the subject, debating a resolution during the spring semester that urged professors to put trigger warnings on their syllabuses.
"The current suggested list of trigger warnings includes rape, sexual assault, abuse, self-injurious behavior, suicide, graphic violence, pornography, kidnapping, and graphic depictions of gore," the resolution stated. "…The Associated Students of UC Santa Barbara urge the instructor of any course that includes triggering content to list trigger warnings on the syllabus."
Bailey Loverin, a UC Santa Barbara student and co-author of the resolution, first proposed the idea to her classmates, and it proved to be a popular idea among her peers.
"What I have heard from a lot of people who don't fully understand the issue is, 'Life is life. You are going to get your feelings hurt and you should just suck it up and meet it head-on,'" Loverin, 19, told The Associated Press. "But a girl just raped a month ago and sitting in a classroom for the first time again isn't ready to face that head-on."
In a New York Times op-ed, Loverin argued that "without a trigger warning, a survivor might black out, become hysterical or feel force to leave the room," adding this halts the learning process. With a trigger warning, however, "they would be prepared to face uncomfortable material and could better contribute to the discussions or opt to avoid them."
But others – including faculty, editorial writers, and online pundits – have reacted differently, calling trigger warnings antithetical to the idea of college and a threat to free speech.
"(S)hutting words out and censorship also comes with a cost," wrote Laurie Essig, an associate professor of sociology and women's and gender studies at Middlebury College, in a New York Times op-ed. "We must sometimes hear painful and difficult things in order to grow. We must listen to someone with whom we vehemently disagree in order to come to some common understanding. Avoiding speech is a slippery slope."
Reason reports that "Oberlin College attracted media attention when its Office of Equity Concerns posted, and later removed, a trigger warning guide advising professors to avoid triggering topics such as racism, colonialism, and sexism when possible."
The Oberlin guide had also suggested warnings such as: "We are reading this work in spite of the author's racist frameworks because his work was foundational to establishing the field of anthropology, and because I think together we can challenge, deconstruct, and learn from his mistakes."
NYU professor Jonathan Zimmerman took a humorous viewpoint on the issue, publishing in The Chronicle of Higher Education a re-write of his Introduction to United States History syllabus with trigger warnings.
Prof. Zimmerman, for example, warns Quakers and Catholics that "the Puritans sometimes cut off your ears and bored out your tongues, so skip this week if you don't want to hear or talk about that."
"Ditto for practicioners of Wicca, who will surely be alarmed by the trials of their sister witches at Salem," he continued.
When the class covers Prohibition and the "Roaring Twenties," Zimmerman puts a trigger alert for Italian-Americans and accounting majors, who may take issue with Al Capone's massive crime ring in which he was arrested for tax evasion. For World War II, Prof. Zimmerman says there's no need for Germans, Italians, or Japanese folks to show up to class: "We won, they lost. Any questions?"
For the Cold War, Prof. Zimmerman says it's "not a good week to be a Communist, or even someone who seems like a communist. You know who you are." A final zinger for the Clinton years – "Let's imagine that your dad had an affair with a younger – OK, a much younger – work associate. If you don't want to go there, you don't want to come to this class either. It's pretty gross."
Another argument put forth by trigger warning opponents is that they are already done on a voluntary basis, and mandating them could stifle free speech.
Aishah Shahidah Simmons, a rape survivor and professor at Temple University in Philadelphia, told The Associated Press she already alerts her students on the first day of class and in her class syllabus that "we are getting ready to delve into some really difficult, painful information here," such as sexual violence and police brutality. In addition, Simmons said she gives her students lists of resources for emotional support, and also arranges private viewings for students who are not comfortable to watch a film during class.
Boston Globe columnist Renee Loth argues that at the crux of the issue, "reasonable concern for students who may have suffered terrible traumas has morphed into a serious threat to intellectual freedom."
"They are especially worrisome on college campuses," she added, "where exposure to a free exchange of ideas is paramount."
College Fix contributor Andrew Desiderio is a student at The George Washington University.
Like The College Fix on Facebook / Follow us on Twitter
IMAGE: Rob Gallop/Flickr