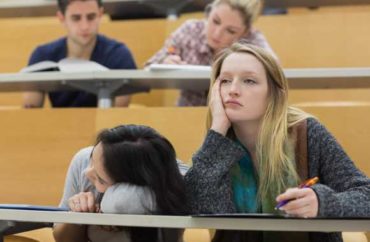 Scholars say today's students less prepared for college
Students report that difficult course materials and exams, required attendance and deadlines are all impediments to their college success, according to a nationwide student survey recently conducted by Inside Higher Ed. 
Students also reported professors do too little to provide the customized learning experiences they need to succeed.
Inside Higher Ed's Student Voice Survey of 2023 revealed quite a bit about student attitudes regarding academic life today, showcasing the views from 3,004 participating young scholars from 128 institutions across the country.
"One in two students says it's been hard to succeed in a class since starting college due to overly difficult materials or exams," read one of several Inside Higher Ed articles discussing the results.
Regarding teaching style, the article stated, "more than half of students say they're negatively impacted by teaching styles that don't match how they learn."
Other obstacles listed as "Impediments to Success" included school-life balance, unclear expectations, and mental health struggles.
Among "Other Concerns and Considerations" noted in the article, "One in four students cite strict attendance or participation requirements as a barrier to success. The same goes for unrealistic deadlines."
Additionally, 20 percent of students reported problems with faculty office hours conflicting with their schedules, thus further hindering their ability to succeed.
In a separate article that drilled more deeply into some of these items, it was revealed that 45 percent of students "say that deadlines should be flexible in general—not just in emergencies."
It was suggested such flexibility may be perceived as a "buffer of sorts against lower grades."
When asked what professors could do to "help them be more successful," a majority of young scholars responded that flexible deadlines would be helpful while a large minority said flexible attendance and participation policies would be good too.
Other items on students' wish lists included professors trying out new teaching styles, providing clearer expectations, and discussing wellness resources in class.
Some students thought it would be nice if their professors took "more of an interest in getting to know them" and were more accessible outside of class.
One anecdote provided in the report highlights a student who lauded a professor who gave out his personal cellphone number for students who wanted "after-hours help."
Inside Higher Ed's Student Voice Surveys are conducted by the higher education news and analysis site in collaboration with College Pulse, which describes itself as a provider of "[d]ata-driven marketing and custom research solutions to help businesses and nonprofit organizations better understand and connect with American college students."
Results are published through Student Voice, a newshub managed by Inside Higher Ed and described as "spotlighting the student perspective on higher education."
Amy Salazar, the associate vice provost for student success at Sam Houston State University who was interviewed for one of the relevant Inside Higher Ed articles, was quoted as saying the trends reported by the survey all "point back to a generation of students who are coming to college less academically prepared given pandemic learning loss, with more financial concerns and higher rates of mental health needs."
Her recommendation for moving forward was for "higher education institutions to adapt to the students we have today and not the students we were in prior decades."
However, for those following trends in American education, the attitudes and desires expressed by the college students that participated in the Student Voice survey may come off as more of a logical byproduct or extension of trends that began well before COVID.
High school science educator John Vellardito, for example, commented in an email to The College Fix, "While learning loss due to COVID may in part explain recent impediments to student learning, lowering academic standards and increased accommodations for non-disabled students have been the trend for the twenty years that I have been teaching science to high school students."
Vellardito attributed this to an "invalid interpretation of data from international tests" in the early 2000s, which, he wrote, led to an increased emphasis on standardized testing and lowered expectations for students.
During the same time period, Vellardito noted observing "a shift in personal accountability and responsibility away from the student."
"More parents, school counselors, and school administrators expect teachers to offer more exceptions to stated course rules and procedures, greater leniency for missed or late work, and even place the burden of proof for observed incidents of student cheating on the teacher," he told The Fix.
Vellardito also indicated the shift away from student accountability and responsibility at the university level is not unique to the post-pandemic era.
"Several years before COVID," wrote Vellardito, a university professor in his school's Early College Experience program "reported that parents had begun to call professors at the university to lobby on behalf of their children over matters that would not have been an issue in the past or would have been handled directly by the student."
As for ways to help college students succeed without this level of coddling or the outright elimination of many basic expectations, STEM education researcher and teaching professor emeritus Scott Freeman of the University of Washington told The College Fix in an email, "the key is to be clear and consistent, and to always use a rationale inspired by the goal of supporting students' progress in maturing as a professional."
Reflecting on his own experiences as an educator in higher ed, Freeman wrote, "We always tried to have a reasonable policy stated orally and in writing on the first day of the class and avoid doing things on a case by case basis."
Freeman also noted in the interest of balancing accommodation and performance expectation he'd do things like give students regular small, in-class assignments involving clickers or polling questions, "but always dropped the lowest three or four daily totals for each student…so that they would not lose points–the equivalent of salary–if they were sick or had a family emergency."
"The idea," Freeman said, "was that if they missed more class than that, the situation was serious enough that the student should consider a medical leave or hardship withdrawal."
MORE — Professor: Cake in the office lounge is as bad as secondhand smoke
IMAGE: Shutterstock
Like The College Fix on Facebook / Follow us on Twitter