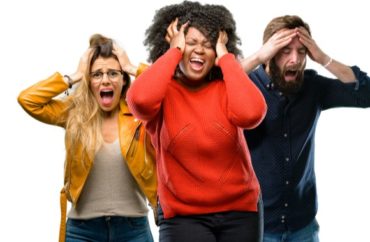 'College students broadly support free speech, yet increasingly favor restrictions on speech'
A new poll conducted by Knight/Gallup suggests that college students have some conflicting views on free speech and what it actually means. While they claim to support it, they also support restricting offensive speech, a survey of some 3,000 undergrads nationwide found.
Roughly seven in 10 college students regard free speech rights as being "extremely important" to democracy and nearly three-quarters believe colleges should not be able to restrict expression of political views that upset or are offensive to certain groups, the poll found.
Yet it also found 78 percent favor providing safe spaces from threatening ideas or conversations and 48 percent support speech codes that restrict some speech.
What's more, 71 percent also are in favor of restricting costumes that stereotype ethnic groups and 61 percent support canceling planned speeches because of concerns about possible violent protests.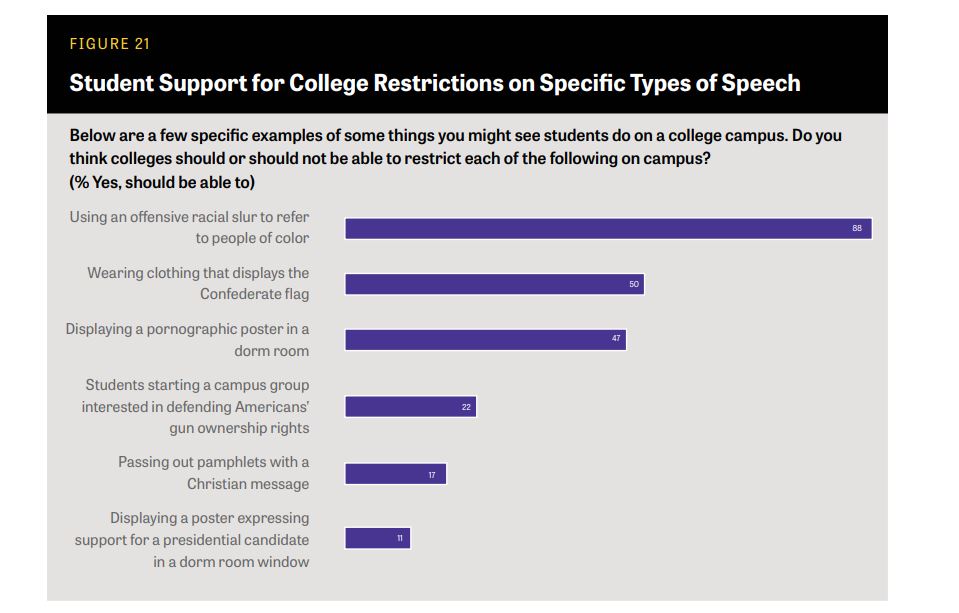 For the graph below, purple is always acceptable, blue is sometimes acceptable, and pink is never acceptable: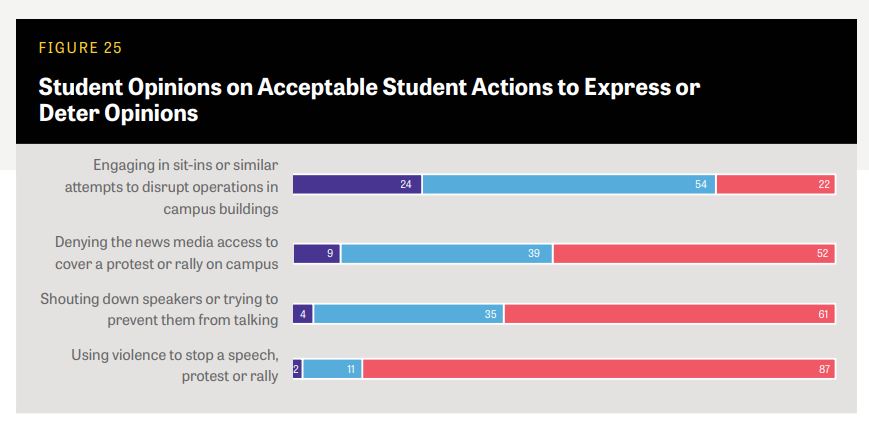 A free speech expert said that the conflicting results are because people support in general the idea of free speech, until asked about specifics.
"Survey data on civil liberties almost always demonstrate that people are supportive of civil liberties in the abstract but are often more selective in who or what (as in ideas or content) they grant these rights to when specifics are included. This is particularly the case for the First Amendment and freedom of speech," said Sean Stevens, the Foundation for Individual Rights in Education's senior researcher, in an email to The College Fix.
The Knight/Gallup poll put it like this: "College students broadly support free speech, yet increasingly favor restrictions on speech — particularly speech that targets minority groups."
The findings come as America's political fabric grows increasingly divided and free speech rights have become a controversial topic of discussion.
A poll in 2019 found that 61 percent of Americans favor imposing restrictions on free speech. Social media sites have banned and suspended prominent political figures for "violating terms and conditions." And, according to a 2018 FIRE report, 90 percent of colleges actively suppress free speech.
As for the Knight/Gallup poll, 81 percent of students polled widely support campuses where students are exposed to all types of speech, even offensive speech, but 63 percent agree the climate on their campus deters peers from openly expressing themselves. Democratic and independent students reported feeling more comfortable about free expression than their conservative counterparts.
Students were also polled on what behavior was acceptable in expressing or condemning opinions.
Thirteen percent said violence is sometimes or always justified in stopping a speech, protest or rally, 39 percent said shouting down speakers sometimes or always justified, and 48 percent positively favored banning media from campus rallies.
Stevens, in a post on FIRE's website, red flagged these results.
"It is notable, and somewhat concerning, that almost two in five students considered shouting down a speaker, or using other means of preventing them from talking, 'sometimes' or 'always' an acceptable form of protest, and that more than 1 in 10 considered the use of violence either 'sometimes' or 'always' acceptable."
"These figures both suggest that a small but notable minority of college students consider such actions to, at times, be acceptable responses to offensive speech or expression. Other investigations of student attitudes toward the use of shoutdowns and violence have found something similar."
MORE: College women and blacks favor 'inclusivity' over free speech, survey finds
IMAGE: Aaron Amat / Shutterstock
Like The College Fix on Facebook / Follow us on Twitter