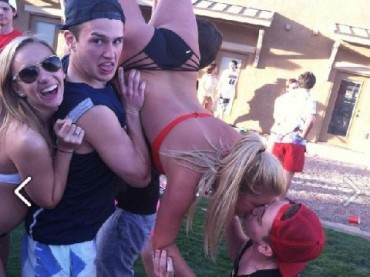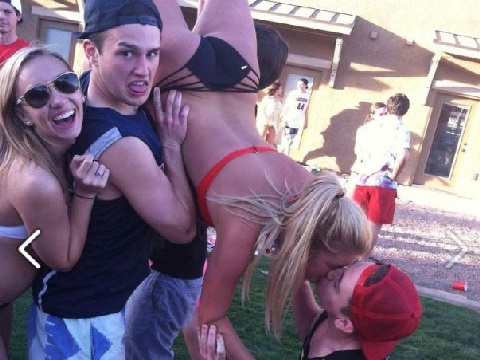 TUCSON – College students now post make-out sessions on Facebook. Yes, it's come to that.
Today's technology, coupled with the popularity of social media and modern voyeuristic-narcissistic tendencies, has created the perfect storm for the indiscretions of one's college days to be permanently etched onto the annals of history.
Enter the University of Arizona "Makeouts" page, because gone are the days when what happened at the frat party stays at the fray party.
"This page was designed to show how much us Wildcats love to make out!" it states.
Students email candid pictures they captured of kissing couples to the page's administrator, who then uploads it into the page. There's no tagging or naming names in the comments sections, and most faces are obstructed by the fact that they're swapping saliva with someone else.
Nevertheless, it's not completely anonymous. Some identities can be determined by facial recognition.
Since the page was started in Feb. 2013, it has gained more than 4,500 "Likes" and quite the reputation.
For example, a college social networking site, University Primetime, recently compiled a list of what they deemed the Top 20 makeouts from the page. Winners include a lesbian kiss, a threesome kiss, one in which a young woman looks drugged, people in Halloween costumes, and other compromising photos.
"It wasn't easy to weed thru all your ratchet hookups, but after many serious internal arguments, we believe these are the top 20 makeouts that depict the shameless party nature at our optimistically immoral university," the article states.
While one might think the Makeouts page should suffice, it actually represents one of at least six anonymous Facebook-based UA confession pages on which students share tales of sex, partying, and other debauchery. The pages feature posts that range from anywhere between sexual conquests to incoherent ramblings.
In order to have a confession posted, students typically submit their comments on a separate website, like a Google form, and then the page moderator posts them to Facebook. The posts are anonymous.
Perhaps the most popular page on campus is U of A Confessions, which has garnered 14,500 "Likes" since its creation in Jan. 2013.
Posts on the page include sexually explicit confessions, general commentary on college life, social and political debate, and discussion over campus events.
"I always thought my English professor was hot and to my luck I was able to get a good grade because he suggested I go in to his office during "office hours" to get some writing advice, one thing led to another so ;)," one student confessed. "Sorry I'm not sorry!"
Although there is no way to verify the validity of any of the claims made on the page, the students say they still love the gossip, and the page is well known across campus for it's outrageous content.
"I think it's quite humorous," said freshman Brianna Schutz. "People don't have a filter when they post things."
Schutz frequents the page at least once a week because she said she "gets a good laugh out of it."
Another popular page is called U of A Casual Encounters, and it helps students orchestrate sexual liaisons. It launched in April 2013 to help students connect with other students who are "looking for a good time."
"If you are looking to hook up, anonymously post here; it will be our dirty little secret ;)," the page's description reads.
Students post information about themselves and what physical attributes they are looking for in a sexual partner. From there, those who are interested "Like" the post and are privately messaged by the initiator.
However, not all of U of A's campus confession pages are dedicated to the raunchy or the ridiculous.
U of A Missed Connections was created Jan. 2013 with the intent to give students a second chance at a first meeting.
"Saw someone on campus but didn't get their info? Try looking here. You can ask anything, and it is totally anonymous, not even the admin can see who you are," the page's description reads.
UA Compliments is also highly popular on campus, with almost 5,000 "Likes" since it began accepting compliments in Nov. 2012.
The page is designed for students to anonymously post positive thoughts and words of kindness about others, seeking to "building a community one compliment at a time."
"It begins with the small things–a simple compliment can make anyone's day," reads the page's mission statement.
"Hey you, Yeah you. You with the messy hair, the seemingly tired eyes, the crooked smile, and the one who thinks that they're unimportant," a post reads. "You're beautiful and I love you."
College Fix contributor Julianne Stanford is a student at the University of Arizona.
IMAGE: Facebook screenshot
Like The College Fix on Facebook / Follow us on Twitter