Student says he was assumed guilty for writing much worse comments on Yik Yak
Saying that black women are "not hot" got a Colorado College student suspended for six months – appealed down from 21.
The sanction against Thaddeus Pryor was not the only action the school took against offensive comments posted Nov. 9 on the anonymous social-media app Yik Yak: His friend Lou Henriques was expelled.
Their jokes took place on a night where the Yik Yak conversation on campus was centered around the theme #BlackLivesMatter.
What started off as raising awareness quickly became "mud slinging," Pryor told The College Fix in a phone interview. When someone wrote "#blackwomenmatter," Pryor said he joined in, anonymously replying, "They matter, they're just not hot."
Pryor immediately regretted his crass remark. "I was ashamed, because some people were clearly upset" over the post, Pryor said. "So I deleted it."
But when Pryor walked through the student center the next day, he learned his comment did not go unnoticed.
Publicly shamed, then framed
"Some people screenshotted the most racial things said [from Yik Yak that night], and they blew them up onto banners and hung them up in the student center in front of the dean's office," Pryor said.
One of the screenshots was his six-word post. A Student Life disciplinary panel brought Pryor in for questioning, where he learned that someone had reported him as the poster for almost all of the offensive posts.
Senior Associate Dean of Students Rochelle Mason, Dean of Students Mike Edmonds and Assistant Dean of Students Cesar Cervantes decided in less than 24 hours that Pryor should be suspended for 21 months – the exact time it would take him to finish his degree – and prohibited from being on campus.
In addition, Pryor was forbidden from taking courses for credit at other universities because of his crass remark. Because Henriques had a prior disciplinary record, he was expelled for a similar post, Pryor said.
Henriques could not be reached for comment. Mason, Edmonds and Cervantes did not respond to multiple requests for comment.
Federal law prohibits the college from disclosing student disciplinary cases for privacy issues, Director of News and Media Relations Leslie Weddell told The Fix.
Full of procedural violations
In a lengthy appeal letter to Edmonds, Pryor said he voluntarily admitted to posting the "not hot" comment despite Mason and Cervantes having "no evidence" other than hearsay that he was involved with the Nov. 9 posts.
He said the college violated its own rules – not only by failing to inform him of his alleged violations until he was sentenced, but by incorrectly recording in "sanction papers" that Mason and Cervantes had even informed him of alleged violations of the "student Code of Conduct."
"During my hearing, rather than presenting me with my possible violations then investigating my actions and how they may have constituted those violations, I was simply treated as broadly guilty" – not just of posting the single comment, but all offensive comments that night, Pryor wrote.
It was also never explained how the initial 21-month suspension was determined to be the most "appropriate to the needs of the student and the CC community," out of many available disciplinary options, Pryor wrote, quoting the Pathfinder conduct code.
He accused Mason and Cervantes of "bias" for focusing on "far more heinous" Yik Yak comments – using the "explicit language of white supremacy, racial slurs, and open hatred, all language and attitudes that I find despicable" – in his interrogation, Pryor wrote. He believes that whoever reported him to the school "misled" the officials as to the extent of his role.
White students were being slurred on Yik Yak when it started
The "entire situation" on Yik Yak Nov. 9 actually began with crass comments targeting white students, calling them "dirty hippies with small dicks" who are "always fucking their cousins," then moving on to mocking Muslims and even "Smurfs," Pryor wrote.
He warned Edmonds to consider the precedent the school is setting with its "harsh and immediate" suspension for one crass post, asking the dean whether that will "encourage or discourage conversations on campus" concerning an "entire body of ideas."
Edmonds responded Dec. 3 that he wouldn't change the sanction – because Pryor "accepted responsibility for the comment," singular – but he would end the suspension May 16, so the punishment would serve the educational purpose Pryor asked for.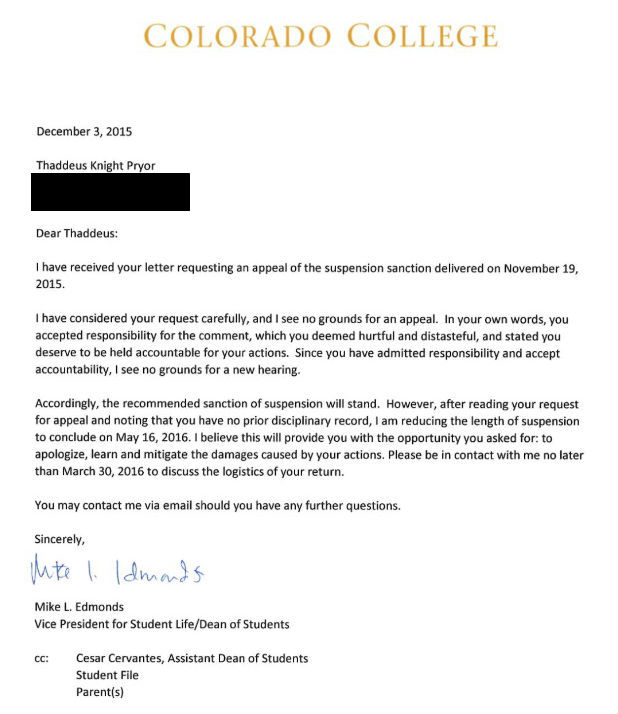 The Foundation for Individual Rights in Education intervened in the situation late last month, telling President Jill Tiefenthaler in a letter that the college must honor its "moral and contractual obligation" to its students' freedom of expression, as laid out in the Pathfinder student guide.
Colorado College has yet to reply to FIRE's letter, according to FIRE. It has already missed FIRE's Dec. 2 deadline of changing the sanctions against Pryor and Henriques.
In the meantime, Pryor is trying to transfer into another university with higher free-speech rankings for next fall.
Be careful what you promise students
As a private school, Colorado College is not bound by the First Amendment, but it could be held liable for violating its pledges.
A similar controversy took place in July at another private school, Texas Christian University, where student Harry Vincent was suspended for posting racially insensitive comments on his Facebook and Twitter profiles.
FIRE's warning letter to TCU, protesting both Vincent's suspension and the procedure under which he was investigated, "dramatically reduced his sanctions," FIRE lawyer Ari Cohn told The Fix.
Colleges are not the only institutions responding harshly to students' social media posts.
The Student Press Law Center reported last week that a Minnesota school district and town paid a $425,000 settlement to former student Reid Sagehorn for punishing his speech nearly two years ago.
Minnesota's Rogers High School suspended and threatened to expel Sagehorn after he "sarcastically tweeted 'Actually yeah' in response to an anonymous 'Roger confessions' post that said Sagehorn 'made out' with a female teacher," the law center said.
Like The College Fix on Facebook / Follow us on Twitter
IMAGE: Tinseltown/Shutterstock