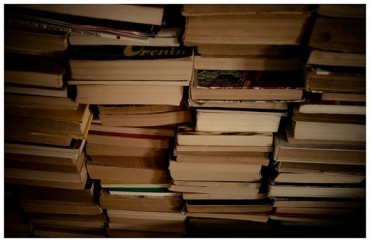 I thought the prices of college textbooks were nuts back when I was in school; now that my daughter is there they're preposterous.
That's because, according to the Bureau of Labor Statistics, textbook prices have increased a whopping 1,041% since 1977 — three times the inflation rate over the same time period.
"A student at a public college is estimated to need $1,225 for textbooks this year," reports Education News.org
RELATED: GW University to Profs: Don't Inform Students about Cheaper Textbooks!
RELATED: New site brazenly trades pirated e-textbooks.
But, as prices have risen, so have the means by which to save money:
… a spokesperson from the National Association of College Stores, Laura Massie, reports that actual spending has decreased because students have become "savvier shoppers" in the past two decades. In 2014, the real average was $638 compared to $700 in 1998, reports Christine DiGangi of Credit.com.

The traditional method of saving money is to sell used textbooks to other students or back to the school store. However, internet technology is making saving money on textbooks easier. Students have the option to rent textbooks through sites like Chegg or TextbookRush and mail them back at the end of the semester or to buy cheaper digital versions of the books. According to Bob Popken of MSNBC, there's also another option — you can get a $2,500 textbook and course material tax credit via IRS form 8863.
My daughter takes advantage of e-books and online rentals, but also researches whether "required" textbooks are actually needed for her courses.
How many of you had bought "required" texts and ended up not using them at all? For me, there was nothing more infuriating.
Like The College Fix on Facebook / Follow us on Twitter
IMAGE: AndreiD40/Flickr