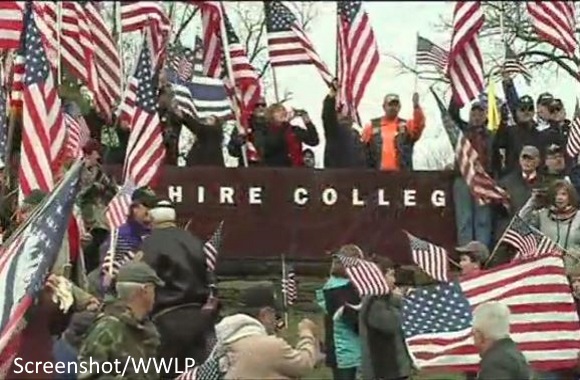 Hampshire College has not handled the post-election period well.
The Massachusetts school lowered its American flag to half-staff following Donald Trump's election victory, and someone burned it right before Veterans Day. The school put up a new one for a few days and then took it down again indefinitely, sparking a protest by hundreds of veterans.
President Jonathan Lash is tired of terrible headlines, so he took decisive action – banning both veterans from protesting and students from talking to reporters.
MORE: University bans American flag to combat 'hate-based violence'
Campus Reform reports that Lash issued a decree that stops protesters from coming on campus and blocks media "from speaking directly to students":
Campus police will also have an increased presence on campus to ensure both compliance and student safety, he continued, adding that the administration would also "monitor social media about any other events that are planned and report any concerns to campus police."
Yale tried something similar, suggesting it would ban "filming without prior permission" (i.e. citizen or professional journalism), following viral videos of its students mobbing a residential house master and screaming at him because his wife said they shouldn't freak out about Halloween costumes.
Campus Reform also highlights a White House petition to revoke Hampshire College's federal funding completely because it took down the flag, but it has fewer than 3,000 signatures as of Tuesday night.
MORE: Hundreds of veterans protest college that took down flag
MORE: Students vandalize U.S. flags to protest Trump victory
MORE: Students spraypaint 'AmeriKKKa' on flag to show respect for veterans
Like The College Fix on Facebook / Follow us on Twitter