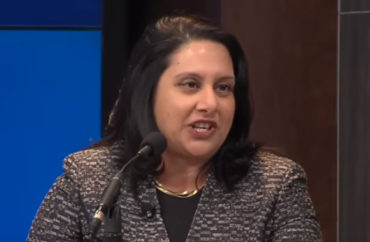 Two weeks ago, BuzzFeed reprinted a number of old columns written by President Donald Trump's nominee to replace Brett Kavanaugh on the D.C. Circuit Court, Neomi Rao.
In her columns, written as an undergrad at Yale University, she stakes out some fairly conventional conservative positions. In one, Rao criticizes affirmative action as the "anointed dragon of liberal excess." In another, she describes race as a "hot, money-making issue."
In a piece tackling campus sexual assault, Rao suggests personal responsibility as a tool in preventing it, writing if a woman "drinks to the point where she can no longer choose, well, getting to that point was part of her choice." She notes if a rape is committed, the male perpetrator should be prosecuted, but also accurately acknowledges alcohol often complicates participants' recall of the evening's events.
These nearly 25-year-old musings of an Ivy League coed have now been weaponized as a tool to derail her nomination.
"Trump pick to replace Kavanaugh on appeals court under fire for college op-eds on 'hysteria over date rape,'" blares a USA Today headline. "Trump Nominee Neomi Rao Wrote Articles Blaming Women For Sexual Assault," declares the pro-feminism website Refinery29.
The Wall Street Journal suggests the blitz is an effort by Democrats to get Rao "Kavanaughed."
The nation just witnessed a nationwide furor over some cryptic passages in now-Supreme Court Justice Brett Kavanaugh's high school yearbook. With that, the spotlight on Rao is even brighter given her predecessor on the D.C. Court and the fact that she is a conservative.
But it is impossible to apply adult standards to writings by children or even young adults. Who you are at 21 is not who you are at 45; real-life has a way of shaping and molding thoughts and opinions. Even Hillary Clinton at one point described herself as a "Goldwater girl" in college. Transformations are not only possible, they are the norm.
Certainly, digging into judicial nominees' pasts is nothing new; when Samuel Alito was nominated to the U.S. Supreme Court in 2005, he actually faced questions about magazines to which he had subscribed.
But with the explosion of documents available electronically, decades-old writings by judicial nominees are now finding their way into nomination fights. Quite often, these pieces are written during college, while the nominee was still finding his or her way intellectually. And even though they wrote such things while still young adults in a different culture and climate, they are being held to 2019 standards of propriety and sensitivity.
Cultural zeitgeist aside, there is little wisdom in holding the words of high school or college students against them well into their adulthood. In the era of social media, this has become even more of a problem – reporters have recently dug through the Twitter feeds of several high-profile athletes and found insensitive statements made when they were, in some cases, young teenagers. In a few instances, the athletes were simply quoting rap lyrics they had been listening to.
In 2011 and 2012, Senate Republicans objected to President Barack Obama's judicial nominee Jesse Furman, who as an 18-year-old had written a piece called "Bang, Bang, You're Dead! The NRA Supplied the Lead!" The tables turned several years later when Senate Democrats objected to President Trump's nomination of Ryan Bounds to the U.S. Ninth Circuit Court over pieces mocking political correctness that Bounds had written as an undergraduate at Stanford.
As for Rao, since her college writings she has gone on to enjoy a stellar legal career. After clerking for Supreme Court Justice Clarence Thomas, she went on to teach at the George Mason School of Law and serve in the White House counsel's office for George W. Bush. In 2017, the U.S. Senate approved her on a bipartisan basis to head the White House's Office of Information and Regulatory Affairs.
At one point in the BuzzFeed article, the author attempts to discern whether Rao was used as an anonymous source in a 1993 Yale newspaper story in which a conservative woman was quoted as saying women are the "weaker sex." Reporters are duty-bound not to reveal the identities of their sources – but when conservatives are involved, trying to out sources is evidently fair game.
Does Rao's language often fall outside the hyper-politicized norms of today? It sure does, such as when she calls welfare a program for "the indigent and lazy." Her dismissal of LGBT activism as a "trendy" political movement is atonal in today's vernacular, even though such language was perfectly standard fare among both Democrats and Republicans in 1994. (Current Democratic presidential candidate Tulsi Gabbard recently apologized for anti-gay statements she made as recently as 2004.)
But Rao's impressive pedigree should give Senators plenty of substantive issues to discuss during her confirmation hearings. Her nearly 30-year-old college opinion columns should not tank her notation, and it's questionable whether they are even relevant today.
MORE: Yale-educated Supreme Court nominee 'is a threat' to Yale students and alumni, they say
IMAGE: YouTube
Like The College Fix on Facebook / Follow us on Twitter