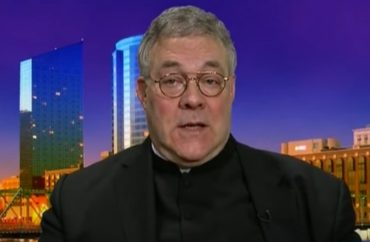 We need to be able to 'think deeply' about political, economic problems
The leader of a free-market think tank recently spoke to The College Fix about why universities must teach about economics and capitalism in a positive way.
Robert Sirico (right), the president of the Michigan-based Acton Institute, has some experience with the intersection of moral decision making and everyday life, as he is also a Catholic priest. He helped found the think tank, which "seeks to articulate a vision of society that is both free and virtuous, the end of which is human flourishing."
He shared these thoughts via several interviews with The Fix.
Many colleges and universities are not concerned with forming the moral and ethical character of their students. Instead they teach ideology and anti-free market ideas, Sirico said. As an advocate of the free market, he believes this will further deteriorate the world economically and morally.
"We need to teach reality not ideology. We need a free economy where we are free to risk, invest, gain profits, and property," Sirico said.
There is no quick fix and people must not be drawn in by the rhetoric of ideology, the Catholic priest said. "That is, we need to resist the idea that we can answer complex questions with simple sound-bite, and think deeply about matters that concern us," Sirico said.
He shared one example of how colleges should teach about free-market economics.
"Markets, in addition to providing useful goods and services and improving people's lives, also provide a vital flow of information that is impeded when markets are overly regulated or manipulated by politicians," Sirico said. This perspective is not always taught in college courses.
Therefore, it is vital to be forming moral men and women who know their dignity and the proper function of technology within the free market system. The priest said he has faith that this will occur. "I think young people give us the most hope," Sirico said.
Warns about cancel culture, excessive use of technology
A properly formed conscience and set of morals benefits not only how people understand business and economics, but also how citizens face mistakes.
"A society without religion loses rationale about what forgiveness is about," Sirico said. "Without a sense of religion and the transcendent, we lose the rationale for forgiveness (and generosity, for that matter)."
The loss of forgiveness leads directly to cancel culture. People lose sight of forgiveness because they are told how to react to cancel culture events by the media, Sirico said. Due to this, the truth is often distorted and forgiveness is lost.
He urges students and people in general to investigate these events and to practice forgiveness and tolerance. "Tolerance is not accepting or approving of things we disagree with, but of accepting people, valuing their intrinsic dignity, even when we DO disagree with them," Sirico said.
A well-formed conscience is beneficial when parents and teachers are making decisions about how to incorporate technology into learning and everyday lives.
"We are facing a critical moment in tech. We need to adapt technologically," Sirico said. "That is, we need to understand technology better so as to direct proper human service."
Sacred Heart Academy in Grand Rapids, Michigan is one such example, Sirico said. He started the high school.
He says in the Sacred Heart Academy, the students do not use technology excessively, because the school focuses on teaching their students their inherent dignity as human beings first.
"They [the students] are not tools, technology is," Sirico said. "If students are well-formed morally and spiritually, they can utilize technology as a tool for the good, rather than becoming, in effect, tools of the technology," the think-tank leader told The Fix.
"If we form men and women, they will in turn form markets to good ends."
MORE: Check out our Campus Cancel Culture Database
IMAGE: Fox News/YouTube
Like The College Fix on Facebook / Follow us on Twitter