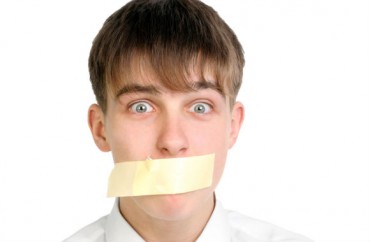 Is getting a warning from a cop 'educational'?
Whenever you see a college justify a particular administrative response as "educational," your BS detector should go off.
It's how administrators justify their kangaroo-court proceedings against students accused of everything from cheating to sexual assault, so it's not surprising that colleges under fire for their bias response teams are falling back on the same meaningless buzzword.
In the wake of the University of Northern Colorado scrapping its bias response team – which investigated a professor for discussing an Atlantic article in class – and the University of Iowa reversing its decision to create one, Inside Higher Ed asked some other schools to respond to claims that their teams (also known as "bias assessment and response teams," or BARTs) are the "thought police":
The administrators who lead the teams said they view their role in a different way. "I don't subscribe to that idea at all," Bleuzette Marshall, vice president for equity and inclusion at the University of Cincinnati, said. "We're not approaching this from a censoring standpoint."

The team's primary role, Marshall said, is one of education, not punishment. She described an incident from last school year as a typical one: a few international students posted some fliers for an event that included a word "that would be considered derogatory in our community." The students were seemingly unaware that they had used a slur, and Marshall met with them to explain that "this is not language we use here." The posters were then removed.

MORE: Bias team investigates paper for giving 'less coverage' to trans people
"This is not language we use here," and then the posters came down. How is that not censorship? Particularly considering that these are international students who are probably more sensitive to potential sanctions than the average student? (Recall that Penn State tried to send a Syrian student back to a war zone after putting him through a kangaroo-court sexual misconduct proceeding.)
More supposedly "educational" responses, all involving Mexican culture:
In November Cornell's BART met with sorority members who wore sombreros and mustaches at a party and gave away "coupons for free guacamole" – offering them "counsel on the impact of the performance on others in the community"

The University of Texas-Austin had its "Campus Climate Response Team" worked with a fraternity to improve its "cultural sensitivity" after a theme party where members wore "sombreros, ponchos and construction hats" with Hispanic names

The University of Oregon's infamous "Bias Education and Response Team" (see? It's educational!) had a totally educational meeting with a residence life coordinator to go over "opportunities for bias education" after some of the building's students yelled "build that wall" (the Donald Trump rallying cry)
It's 'educational' to waste tens of thousands on school you can't use
When an official from the university corrals you for a conversation, the last thing on your mind is probably "this is going to be educational." Your accurate response is "crap, I'm in trouble."
No wonder the University of Northern Colorado professor who got hauled in for a conversation about his classroom discussion said he was self-censoring just to get out of his meeting with an administrator. (The school did not renew the adjunct professor's contract. How's that for "educational"?)
MORE: Colorado professor investigated for playing devil's advocate
Think of it this way: When a cop pulls you over for some minor offense and lets you off with a warning, does it feel "educational"? Or do you feel terrified that such a minor offense gets you pulled over by someone with the power to sanction you?
Now consider the chance that you could get suspended for years or expelled, or have you diploma withheld after you have graduated – throwing away tens of thousands of dollars for an education you can't functionally use now – because some Kafkaesque bureaucracy decided to "educate" you on not offending people.
As lawyer Adam Steinbaugh of the Foundation for Individual Rights in Education told Inside Higher Ed, "Academic freedom chilled politely is still academic freedom chilled."
It's more important than ever that campus and local media and nonprofit watchdogs expose the punitive consequences of rooting out "bias" in a university setting (which is designed to pit all biases against each other), so that lawmakers and accrediting bodies can take corrective action to protect the liberties of students, staff and faculty.
MORE: Amherst College denies diploma over 5-year-old sexual assault claim
Like The College Fix on Facebook / Follow us on Twitter
IMAGE: Sabphoto/Shutterstock