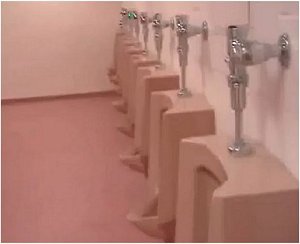 An article at Inside Higher Ed highlights (no, not in hot pink) a … "controversy" at the University of Iowa: the opposing team's (football) locker room is painted pink.
Controversy? Why?
Well, this is the Age of Political Correctness, especially on college campuses:
While it remains a beloved bit of visual smack-talk for many Hawkeye fans — and was even featured in a recent ESPN ad about college traditions — some students and faculty have decried the color scheme as sexist and discriminatory.

"There is no denying that [former Iowa football coach Hayden] Fry's tactic is rooted in an antiquated age when homophobic and sexist epithets were the norm in sports," [protester Kembrew] McLeod said.

Since 2005 Jill Gaulding, a former University of Iowa law professor, has threatened to sue or file a federal complaint against the university under Title IX of the Education Amendments of 1972, the law that forbids gender discrimination at colleges. On Thursday, Gaulding, who is now a lawyer with the nonprofit law firm Gender Justice, said the "discussions are still ongoing," and that the locker room's color is a type of gender slur.

"It sends the message that anything associated with female is lesser-than," Gaulding said. "The minute I read about the pink locker room and how the university had built it even pinker, it felt like somebody had just reached out and slapped me across the face. It was that insulting. People know what it means."
Erin Buzuvis, director of the Center for Gender & Sexuality Studies at Western New England University (uh oh), agrees with Gaulding that the locker room is a Title IX violation, but says a lawsuit victory would be tough. Still, she notes (my emphasis)
"Title IX's application to athletics is aimed at equalizing the treatment of female athletes as well as their opportunities to play," Buzuvis said. "If you accept that using pink in the visitors' locker room operates a symbolic gesture of emasculation towards the team's opponents, the pink locker room certainly represents a form of unequal treatment, since the symbolism trades on pink's association with women and stereotypes about women's inferior athleticism."
But … is that a stereotype? In general and taken as a whole, are not men … superior athletes?
Before you go off with steam coming out of your ears, consider:
The mean difference has been about 10 percent between men and women for all (Olympic) events. The mean gap is 10.7 percent for running, 8.9 percent for swimming and 17.5 percent for jumping. (Source)
Men golfers hit the ball farther, in some cases a lot farther. Men tennis players hit the ball harder and faster. Baseball players throw faster and hit the ball farther than (women) softball players. Etcetera, etcetera. Why do we have separate sports leagues for the sexes, after all?
Men's sports are far more popular with spectators because the competition level is greater. The athletes are faster, stronger, and more durable. This is just a biological fact, despite U. of Iowa's student newspaper's complaint that the "sexist norm of male superiority" still exists, and despite those who believe gender is merely a "social construction."
By the way, there's actually some psychological research to back up what the Iowa football squad (and others) have done to opponents' locker rooms. One researcher says the color pink acts like "a tranquilizer that 'saps your energy.'" Pink is also used frequently in "drunk tanks" and jail cells. In addition, the notion that pink is a "girl's color" is actually relatively new; it didn't really begin to take hold until the 1940s.
In closing, I get that efforts to encourage male athletes (and coaches) to cease using terms like "sissy" and anti-gay expressions need to be established and enforced. But over-zealous complaints about things like using pink in locker rooms — because it facetiously calls into question opposing players' toughness, and even their masculinity — are just another example of institutions like a "Center for Gender & Sexuality Studies" finding "reasons" to justify their existence.
Dave Huber is an assistant editor of The College Fix. Follow him on Twitter @ColossusRhodey.
Like The College Fix on Facebook / Follow us on Twitter
IMAGE: YouTube screenshot