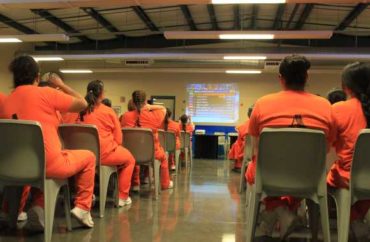 The state would split money saved between higher ed institutions and the Colorado Department of Corrections
A Colorado General Assembly bill meant to incentivize prisoners to complete education credentials passed the House of Representatives with near-unanimous support.
House Bill 1037 would reduce the sentence length of some prisoners serving time for nonviolent offenses if they complete specific educational requirements, according to its summary.
Republican Rep. Rose Pugliese co-sponsored it with Matthew Martinez and Julie Gonzalez, both Democrats.
While the bill incentivizes college coursework completed in prison, it does not fund the programs.
"There is no additional cost to the people of Colorado," Pugliese said.
The House Judiciary Committee approved the bill 11-2 in February and House lawmakers overall voted 61-1 in support of the bill, with only one Republican, Stephanie Luck, voting against it, according to Colorado Politics.
The "Department Of Corrections Earned Time For College Program Completion" would reduce the time a prisoner has to serve based on the degree or credential level completed through accredited higher education institutions, according to its summary.
Inmates could deduct between six months and two years from sentences based on successful completion of college courses and programs.
"Under existing law, an inmate in the custody of the department of corrections may have earned time deducted from the inmate's sentence for meeting certain statutory requirements," according to the bill summary.
House Bill 1037 would additionally allow "an inmate sentenced for a nonviolent felony offense to have earned time deducted from [their] sentence for each accredited degree or other credential awarded by a regionally accredited institution of higher education."
"Empowering the formerly incarcerated to pursue good jobs will help keep our neighborhoods safe," University of Colorado Professor Stephen Hartnett told The College Fix in an email.
Since 2021, Hartnett has worked with a team of CU colleagues to "launch a pilot program bringing for-credit CU college classes into Colorado's prisons," according to his faculty bio.
Hartnett told The Fix's he believes the program will save taxpayers money.
"Reducing recidivism will save taxpayers billions of dollars, so this is fiscally smart," Hartnett said. "D[emocrats] and R[epublicans] both love it."
Even more, "the relationship between higher education and recidivism is inversely proportional," Bryan Hall, an academic dean at the school of professional advancement at Colorado's Regis University who also oversees programs for the incarcerated, told The Fix over email.
"The more college education someone can get behind bars, the less likely it is that they will be reincarcerated," he said.
Both see the treatment of nonviolent prisoners as a nod to fiscal conservatism. 
"We want to steward the public's tax dollars responsibly (by reducing the costs of incarceration in ways that are consistent with public safety)," Hall said.
"Formerly incarcerated people being able to build successful lives for themselves as productive citizens is good for them and good for society," he said.
The bill would split money saved by the state between higher education institutions and the Colorado Department of Corrections, according to Chalkbeat.
Rep. Luck voted against the bill because she wants all the money saved to be reallocated to the Department of Corrections, according to Chicago Politics.
"I was a 'no' vote because that piece hasn't been finalized yet," Luck said. "But I support the underlying policy."
MORE: Christian colleges push for prisoners to get federal money for college
IMAGE: Rebekah Zemansky/Shutterstock
Like The College Fix on Facebook / Follow us on Twitter