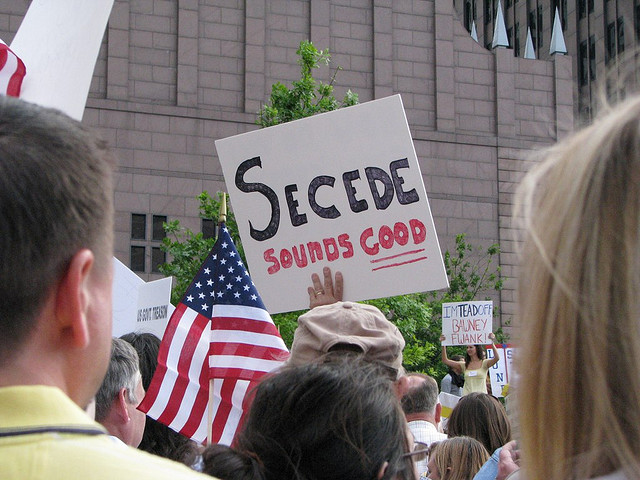 A lot of people across the nation are under the impression that a grassroots movement among Northern Colorado residents to secede from Colorado and form their own state is all about politics, all about Republicans versus Democrats.
That's the wrong impression.
According to members of the movement, their concerns are bipartisan, go beyond party lines. The real heart of the issue, they say, is the overbearing regulations dictated from bureaucrats in the state capitol of Denver on to the rural counties along the state's northern side.
Farming communities. Mining towns. Folks who can trace their heritage working the land back decades. Descendants of the state's original pioneer families, who they say have had it with the nonsense mandates coming down from Denver that hinder their businesses and wreak havoc on their way of life.
Residents in several rural Colorado counties will vote this November on whether they support the idea of creating a 51st state: North Colorado. If talk at their townhall meetings is any indication – the ballot measure may very well succeed and indicate a way of life runs far deeper than party lines.
"They want to tout this as a Republican versus Democrat deal – it's not," Weld County Commissioner Barbara Kirkmeyer said a community meeting July 27.
In her speech, she spoke of the vast amount of mandates and regulations coming out of the capitol with which North Coloradoans are forced to grapple: specifically citing "an attack on oil and gas … an attack on agriculture … an attack on property rights."
"(Denver) takes advantage of rural Colorado," Kirkmeyer added, referring  to many of the regulations for agriculture and the oil and natural gas industries – huge businesses in much of rural Colorado. "Those folks who are making laws down in Denver, they don't understand any of it."
As many at 10 counties in northern Colorado could be on their way to becoming America's 51 state: Weld, Phillips, Yuma, Kit Carson, Morgan, Logan, Sedgewick, Lincoln, Cheyenne and Washington County. Interest in the secession can also be found in highly populated counties like El Paso and Pueblo county. Even a few counties in Nebraska and Kansas have talked about joining the cause.
Creating the state is no easy feat, however. Approval from Colorado voters is required along with the go-ahead from the Colorado General Assembly and the U.S. Congress.
A nonprofit "51st State Initiative" has been set up to aid the effort, and a commission to study the economic feasibility of the issue has been commissioned.
"The main purpose is to organize what's happening across county lines and helping people understand how to get involved," Jeff Hare, spokesman for the 51st State Initiative, told The College Fix.
Hare said he believes it has really become more than Democrats versus Republicans and urban versus rural, it's become what Coloradoans believe the role of government is.
Hare echoed much of what Kirkmeyer had said at the recent grassroots meeting, that the state's centralized government has become too controlling, and doesn't listen to common sense advice or requests from its rural residents.
Frustration with Denver politics, the root of the secession, can be traced back to a few years ago when Gov. John Hickenlooper would not declare a drought that would allow the effected counties to turn on a water-well, some in the movement say.
Fast-forward to this year's legislative session, when several strict gun-control measures were passed, as well as a highly controversial renewable-energy law that will likely hike electricity costs for farming and ranching communities.
Besides seceding from the state, county commissioners in the main ten counties have considered other options.
The Denver Post reported July 29 that many commissioners have shifted their support to a more reasonable plan that originated in Phillips County. Currently, the number of representatives in the House and the Senate is based on the county's population. The Phillips Plan, devised by officials in Phillips County, would require each county to have the same number of representatives in either the House or the Senate.
Seceding counties are also examining an idea to annex into Wyoming. This would make it easier to conjoin potential seceding counties on Colorado's Western Slope with counties in the east.
Whether or not rules and regulations in Wyoming concerning oil and gas and agriculture would be suitable for the kind of change the counties seek is yet to be determined. According to Hare, committees will be organized to evaluate that aspect.
However, Hare says there is a plus to annexing into Wyoming. It could only require a constitutional amendment or legislative approval.
Meanwhile, the fight rages on. It's about being heard. It's about taking a stand.
"The 51st state is an idea, and yes – we should move forward with it," Kirkmeyer had said. "The only way we are going to get it done is to be boisterous."
Fix contributor Kara Mason is a student at Colorado State University Pueblo.
CLICK HERE to LIKE The College Fix on Facebook / Twitter: @collegefix
IMAGE: Luna 715/Flickr