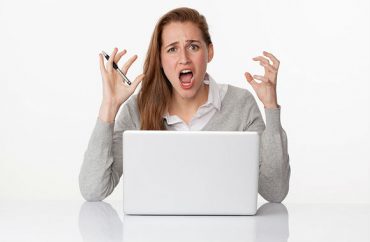 'I want no class tomorrow to process. Fearful for my life!!'
It wasn't enough for Columbia University and its all-women affiliate Barnard College to host a single "safe space" following Republican Donald Trump's surprise presidential victory early Wednesday morning.
They hosted at least five such spaces, only one of which was advertised before the results came in, to help students process what just happened.
Yet the school day started with Barnard President Debora Spar rebuffing a student demand to cancel classes campuswide.
Early Wednesday morning, four Barnard students emailed a petition titled "No Class Petition for 11/9/16" to the entire freshmen class mailing list
It encouraged students to sign their name "if you want classes to be cancelled/absences excused because of the election."
"I want no class tomorrow to process. Fearful for my life!! Not trying to do a midterm while crying," wrote one student who posted the petition to a private class forum.
Bug your professor if you want out
In her response to the petition, President Spar put her own faculty at the mercy of students' demands to cancel classes or postpone tests.
"While we understand that the events of the last days and hours may have affected you deeply, and may bring about heightened emotions, we have decided not to institute a College-wide cancellation of classes," Spar wrote in an email to students.
"We are, however, leaving decisions regarding individual classes, exams, and assignments to the discretion of our faculty," she said. "The Barnard faculty is well aware that you may be struggling, and they are here for you."
Let's come together and build the future. As Pres. @BarackObama told us at 2012 commencement: "Persevere. Nothing worthwhile is easy."

— debora spar (@deboraspar) November 9, 2016
Barnard spokesperson Anna O'Sullivan referred The College Fix to Spar's morning email to students when asked for comment on the petition.
Two petition organizers who asked not to be identified declined to comment on how many students signed it, and the other two could not be reached.
'This healing space prioritizes the healing of people of marginalized identities'
While the Barnard petition failed, both Barnard and Columbia students and administrators responded to Trump's election by creating numerous safe spaces on the shared campus.  
According to an email obtained by The Fix, the Columbia Office of University Life was scheduled to host a "reflection space" Wednesday night.
A consortium of four student groups – "Sister Circle, the Men of Color Alliance, Mujeres, and Proud Colors" – offered an evening safe space in Columbia's Intercultural Resource Center, and right after that, Proud Colors was scheduled to host its own in the same building.
The longest event of the day was described alternately as an "open share space" in the email and "Community Healing Space" in a Facebook event by Barnard health promotion group Well-Woman Peer Educators.
Scheduled to run until 2 a.m., the event description says: "This healing space prioritizes the healing of people of marginalized identities (Black and Brown folks, LGBTQ+ folks, Muslims/Sikhs, Undocumented folks, and the Latinx community), and there will be Peer-Eds of Color in the office throughout the day."
Student groups also sent emails Wednesday noting that Columbia Psychological Services offered "drop-in counseling" hours with six counselors Wednesday and Thursday, specifically for Columbia students.
One drop-in opportunity was explicitly targeted to "queer&trans students," and another was to be held in the Intercultural Resource Center, which is part of the Office of Multicultural Affairs. (The hours do not appear to have been extended beyond what is normally available.)
The only event publicly promoted before returns started rolling in Tuesday night was the Barnard administration's Post-Election Town Hall event, scheduled for late afternoon Wednesday.
Happening right now – panel to discuss, react to #ElectionNight. As academic inst. #BarnardCollege talks about historical import pic.twitter.com/uLaObacEUt

— Shayoni Mitra (@ShayoniMitra) November 9, 2016
Beforehand, faculty were encouraged to "attend with their classes or excuse students who wish to attend," according to an email obtained by The Fix. The event was moved to a much larger venue than was initially advertised.
Prof. Kate Kimmel on #election2016: pollsters may have mis-sampled "likely voters." #BarnardCollege

— debora spar (@deboraspar) November 9, 2016
Another group of students promoted a "Peaceful Demonstration" on campus Wednesday afternoon with the description "positive energy, positive change."
Participants held signs reading "Don't Mourn, Mobilize," "Stronger Together" and "Protect Roe v Wade," among others.
One student in a private Barnard Facebook group called this a "time of grief for many students" and urged students to "be cautious of substance abuse during this time." She then posted an article titled "Helpful Tips for Grieving College Students."
Like The College Fix on Facebook / Follow us on Twitter
IMAGES: STUDIO GRAND OUEST/Shutterstock, Well-Woman/Facebook, Peaceful Demonstration on Low steps/Facebook