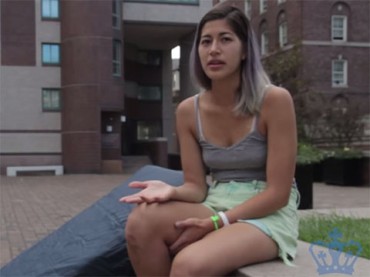 UPDATED
You may have seen pictures from Columbia University's graduation ceremonies today floating around social media under the hashtag #ccclassday2015.
The Columbia Spectator has been tweeting out pictures and video in particular of "Mattress Girl" Emma Sulkowicz, who accused fellow (exonerated) student Paul Nungesser of anally raping her. Nungesser is now suing the school for its role in Sulkowicz's witch hunt against him.
Unsurprisingly, Sulkowicz and Co. brought her mattress (where the alleged crime happened) and she was as defiant as ever.
Emma Sulkowicz took her mattress up to the stage to lots of applause at #ccclassday2015 pic.twitter.com/1hTviv7UsU

— Teo Armus (@teoarmus) May 19, 2015
Paul Nungesser at #ccclassday2015 pic.twitter.com/IO7VfCl3xM — Teo Armus (@teoarmus) May 19, 2015
Emma Sulkowicz did not shake hands with President Lee Bollinger when she went on stage at #ccclassday2015 pic.twitter.com/y7bbKj3iCp

— Teo Armus (@teoarmus) May 19, 2015
What's surprising is that Columbia apparently bent its own rules to let Sulkowicz continue her performance-art project at graduation.
The Spectator reported late last night:
A provision barring large items has been added to administrative guidelines sent to seniors before Columbia College Class Day on Tuesday. This may include the mattress that Emma Sulkowicz, CC '15, plans to bring to the event for her senior visual arts thesis.

"Graduates should not bring into the ceremonial area large objects which could interfere with the proceedings or create discomfort to others in close, crowded spaces shared by thousands of people," an email sent to graduating seniors from GradZone on Monday said.

This excerpt was not included in similar emails from GradZone—Student Affairs' name for communications regarding graduation—in 2014 or 2013.

Sulkowicz did not immediately respond to requests for comment.

A University spokesperson did not immediately respond to requests for comment about whether Sulkowicz would be allowed to bring her mattress into the ceremony and what prompted the policy change.
Though the comments below the story are full of bile against Sulkowicz, the school apparently got enough crap that it folded and let Mattress Girl and her entourage "Carry That Weight" across the stage and all the way to a book deal and a made-for-TV movie (that's really where this is ending, right?).
No update yet from the Spectator's live blog on why Columbia let the mattress through in clear defiance of its policy.
UPDATE: The Washington Examiner's Ashe Schow reports that Nungesser's lawyer is predicting the school's accommodation for Sulkowicz's mattress at the ceremony will help their lawsuit: "This goes beyond mere facilitation; they have now granted a special exception."
Like The College Fix on Facebook / Follow us on Twitter
IMAGE: YouTube screenshot