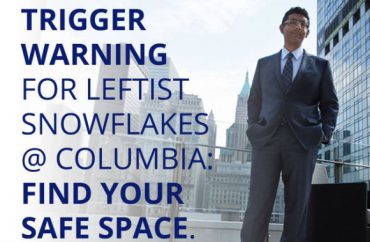 College Republicans: 'That wasn't in the agreement'
NEW YORK – The raucous protests at last week's campus speech by Israel's ambassador to the United Nations have apparently spooked Columbia University.
About a quarter of the students who were registered to attend a Tuesday night speech by conservative author Dinesh D'Souza, hosted by the College Republicans chapter, did not appear to get in the room when they tried, as counted by The College Fix.
This was despite the fact that they had email confirmations from Eventbrite showing that they had registered for the "sold out" event.
The CRs blamed the administration for the snafu, saying it didn't want a repeat of the seven reported shoutdowns of Amb. Danny Danon – invited by Students Supporting Israel – as he addressed a mixed crowd of open-minded attendees and hecklers.
At least five administrators were supervising every movement at the check-in table for the D'Souza event, often interjecting when there was a dispute over registration, as witnessed by The Fix, which was also kept out of part of the event.
Danny Danon, #Israel's Ambassador to the UN is currently speaking at #Columbia University. Audience members have shouted him down 7 times pic.twitter.com/LQ9azGcVZt

— Maccabee Task Force (@MacTaskForce) February 14, 2017
'Sorry, you're not on the list'
D'Souza was at Columbia to make "The Case For Trump," sponsored by Young America's Foundation.
Posters for the event featured D'Souza saying "You're entitled to your opinions, but not your own facts" and "Trigger Warning for Leftist Snowflakes @ Columbia: Find Your Safe Space."
The lobby quickly devolved into mayhem as students showed up to check in. Numerous people were told some variation of "Sorry, you're not registered," "Sorry, you're not on the list" and "If you're not on the list, you can't get in," when they presented their Eventbrite confirmations.
The event was apparently listed as public on Facebook, but members of the general public – mostly middle-aged adults – were told at the door it was only open to the Columbia community. It's unclear how many people were turned away.
CRs press officer Arina Merkulova told The Fix that 168 people had registered to attend, but she left the event before providing the final tally of who made it in.
MORE: Columbia students shout down Israeli ambassador, say he likes Trump
Merkulova believed the registration problems were most likely because of last week's Danon protest, organized on Facebook. It started outside the venue and continued as the ambassador tried to speak over chants of "From Palestine to Mexico, All The Walls Have Got to Go."
Students waiting in the lobby were told multiple times by CRs that they couldn't let in anyone else to the D'Souza event, in spite of many visible empty seats in the room.
"Because of the protests that happened, Columbia is trying not to let any protesters in," Merkulova said. "Everything changed as soon as the [Danon] protests happened." She called the administration "scared."
Halfway through the event, administrators guarding the event doors led their guard down. Some students that were initially turned away were allowed to sign up on a "waitlist" and then enter.
Many graduate students also signed up for the event. But on the spot, administrators told them the event was for "undergrad students only."
MORE: College socialists say the key ingredient is more violence against Trump
The CRs were shocked and confused. "That wasn't in the agreement" for the event,  Merkulova told The Fix.
By the end of the event almost all of the room's 164 seats were full, though many who had initially registered, but who were denied access, gave up before they were allowed entry, while others snuck in.
'My goal here is to not vindicate Trump'
When D'Souza took the stage, he crowed about the underdog non-politician's election victory.
"Trump's election was stunning because it was actually achieved against what seemed to be insurmountable odds," and those who "put Trump over the top are none other than the working-class Democrats."
The Republican candidate focused tightly on "economic and social issues," taking advantage of the Democratic Party's failure to address issues that have depressed working-class wages, D'Souza said: "Trump had actually a very decisive victory."
He derided progressives who say Trump "didn't win" because of his popular-vote loss, which is "not what our Constitution says," and questioned why they feel "morally licensed" to disrupt presidential and campus events.
"Where does that moral indignation come from?" D'Souza said, starting a long history lesson on campus politics, the Civil War, slavery and the evolving nature of the two major parties over the past century.
Near the end of his speech, D'Souza veered toward campus politics.
"My goal here is to not vindicate Trump," he said. "It's to vindicate the absurdity, that in the American intellectual environment, including the most elite sectors of American life, these arguments have been shut out — on the pretense that they are somehow beyond the pale."
MORE: Columbia sticks student groups with huge security tabs after approving events
Rather than obsessing over how to remove a purported "fascist in the White House," D'Souza said, students should instead ask: "Where has American history brought us?"
Several students thanked D'Souza for coming to campus during a civil question-and-answer portion.
Club leaders were initially 'apprehensive' about D'Souza
Merkulova, the press officer for the CRs, said she was happy to host D'Souza because "this campus is one big safe space" for many students, where "more often than not" they only hear "a very liberal perspective."
Referring to students who opposed Trump, she said "it might be beneficial for some to open their minds a little to see what the other half of the country [Trump voters] has to say about our current situation."
That's not to say the very conservative D'Souza was an easy pick for the club, which includes "moderate" and "establishment Republicans" and even some Democrats, Merkoluva said. Many board members were "apprehensive" about him, but "ultimately" voted to bring D'Souza.
The administration did not immediately respond to a request for comment about its handling of check-in for registered attendees.
MORE: Gonzaga shuts public out of D'Souza speech because he opposes 'social justice'
Like The College Fix on Facebook / Follow us on Twitter
IMAGES: Young America's Foundation/Facebook, Columbia College Republicans