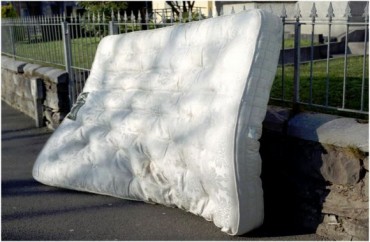 Columbia University has asked that Paul Nungesser's lawsuit against the school be dismissed, saying it "did nothing wrong in allowing Emma Sulkowicz […] to carry her mattress around campus as part of her senior thesis project."
Nungesser is suing Columbia and Professor Jon Kessler for "allegedly supporting Sulkowicz in committing an act of gender-based harassment against him through her thesis, 'Carry That Weight,' and allowing her to break confidentiality agreements about the case."
The university says Nungesser doesn't even allege that Sulkowicz's actions were harassment, let alone that said harassment was so "severe and pervasive" that he was denied educational opportunities.
The Columbia Spectator reports:
Columbia can only be liable of a Title IX violation if the harassment is gender-based and if the response to the harassment is "deliberately indifferent."

The motion argues that because Sulkowicz's actions concerned Nungesser's conduct and not his status as a male, his claims do not qualify as a violation. In addition, it adds that the University's response cannot be seen as indifferent because administrators twice asked Sulkowicz not to carry her mattress at Columbia College's Class Day.
RELATED: Emma Sulkowicz's porn collection is going into Paul Nungesser's lawsuit against Columbia
Furthermore, the University's motion disputes Nungesser's claim that Columbia allowed Sulkowicz to break confidentiality agreements, saying that its past two gender-based misconduct policies do not restrict a complainant from "discussing the conduct that underlies" their complaint.

While Nungesser argues that Columbia should have prevented Sulkowicz from engaging in her mattress project, the University's lawyer, Roberta Kaplan, Law '91, argues that this claim insinuates that the University should curb free speech.
If Columbia prevails, there will be no need for a settlement with Nungesser — which, back in June, attorneys for both sides said they would be willing to consider.
RELATED: Columbia shelled out for 'Mattress Girl' and condemned accused student, suit says
Like The College Fix on Facebook / Follow us on Twitter
IMAGE: Lucas Shaw/Flickr