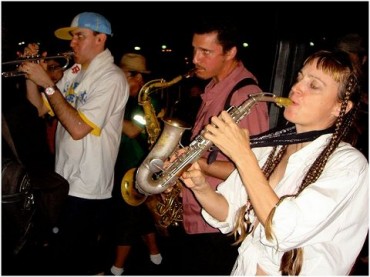 The Columbia University Marching Band is yet another entity to mock that school's "sexual respect" program, doing so via its traditional "Orgo Night."
"One of the Ivy League's quirkier traditions," Orgo Night is where the band, "playing raucously, marches into a reading room in the university's Butler Library a minute before midnight on the night before the first final exams are held." A couple of band members then tell a bunch of jokes to those gathered around.
The college's controversial "respect" program has been a target of derision and amusement for months now — and the band took advantage of it.
But, natch, not everybody was amused.
The band also made light of a recent protest by a Columbia anti-sexual assault group, No Red Tape, during which the words "Columbia Protects Rapists" was projected onto the university's Low Library when prospective students were visiting the school.

"An army of high school creepers is now thinking, 'Yes, I will go to Columbia after all,'" the band's "poet laureate," Mikhail Klimentov, a junior, said.

Ms. [Orli] Matlow noted that No Red Tape itself had mocked artwork as an inadequate option for fulfilling the sexual respect requirement.

"Unless it involves a mattress," she added, a reference to Emma Sulkowicz, a Columbia senior who, as part of her visual arts thesis, has carried a mattress with her everywhere she has gone on campus to protest the university's handling of her claim that a fellow student raped her in her dorm room. The line drew a few boos, and then some cheers.

Ms. Sulkowicz, who figured in several other jokes about her status as a poster child for sexual assault on campus, did not attend Orgo Night. But she said in an interview that she was hurt and disappointed in the band.

"I guess they don't really know anything about how a survivor would feel, to get totally made fun of in front of the entire school," she said.

Amber Officer-Narvasa, a freshman and one of No Red Tape's organizers, said she considered the jokes about Ms. Sulkowicz inexcusable.

"I was disappointed to see that once again, Orgo Night engaged in reductive and offensive 'humor' at the expense of those already marginalized on this campus and in society at large," Ms. Officer-Narvasa said in an email.

Orgo Night has periodically drawn criticism from those who described the band's humor as insensitive to women and minorities. Last semester, two students published an op-ed in the Columbia Spectator, the college newspaper, that labeled the event "an unsafe space" for students of color.
To be sure, there is plenty about which to mock Ms. Sulkowicz and the whole "sexual respect" requirement.
Band head manager Karl Wagner said, "It's been a semester with a lot of pent-up frustration … so I think students appreciate just being able to vent and laugh about stuff."
Very true, Mr. Wagner; however, I'm sure you know there's a certain cadre on every college campus — including, of course, Columbia — that feels it should decide what is funny … and what's not. Orgo Night faced a "controversy" much like yesterday's back in December.
The tradition's days (well, nights) may be numbered.
Like The College Fix on Facebook / Follow us on Twitter
IMAGE: Jason Eppink/Flickr