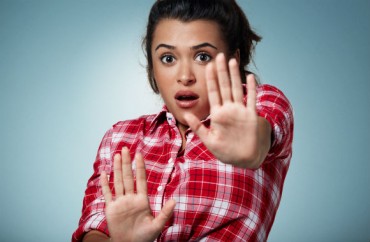 ANALYSIS
Columbia University's Institute for Research on Women, Gender, and Sexuality cares about rape in armed conflict, if its latest exhibit is to be believed.
But the rollout of "The Legacy of Rape" left certain onlookers scratching their heads as to the intention for the exhibit's reach.
Telling the stories of rape victims in Colombia, Democratic Republic of Congo, Nepal and Bosnia and Herzegovina, "The Legacy of Rape" went up the week before Christmas break in a major campus building and remained two weeks.
The limited and vague public advertising, plus the exhibit's ban on photography, suggest the institute was ambivalent on whether it wanted anyone to show up, however.
Headlined "TRIGGER WARNING," a handful of flyers sprinkled around campus said the exhibit "contains testimonies about sexual violence, which may be triggering to survivors."
The exhibit's location, on the 7th floor of the Schermerhorn Extension building, would have made it unavoidable for many faculty and students who had to walk by it to reach their offices and classrooms.
The flyers did not specify that the exhibit has nothing to do with sexual assault in a campus setting, such as Columbia's high-profile controversy involving accusations by Emma Sulkowicz against Paul Nungesser, her mattress-based performance art and his subsequent lawsuit against the school.
RELATED: Student Shaming Columbia For Rape Response Claims Media 'Triggered' Her
"No photographs please!" the flyers conclude. The exhibit does not appear to have been publicly advertised in any other way than the vague flyers.
Institute Director Marianne Hirsch defended the choice to issue the trigger warning and block photographs, saying they could be invasive. She told The College Fix the institute still encourages "journalistic coverage" of the exhibit, but only written.
Hirsch said the photo ban was actually imposed by the exhibit's sponsor, the human-rights organization PROOF: Media for Social Justice, which documents "regions riven by recent armed conflict and atrocities."
Ironically, PROOF's project page says it uses the "power of visual storytelling" to raise the plight of rape survivors.
PROOF: The Legacy of Rape Project from Willhemina Wahlin on Vimeo.
The exhibit is a "moving series of first-hand accounts from women who have survived sexual violence during times of armed conflict," it says.
"In speaking out, women from Colombia, The Democratic Republic of Congo, Nepal, and Bosnia and Herzegovina courageously shed light on the impunity many perpetrators enjoy, despite victims' limited recourse for justice," the page says. "In doing so, these women not only encourage others to speak out, but also make visible the need for policy changes at regional, national, and international levels."
The exhibit has been displayed at the U.S. Institute of Peace, Yale University and other forums.
Columbia student Justin Straughan told The Fix he was baffled by the exhibit's trigger warning and thought it was more harmful than helpful.
RELATED: Columbia shelled out for 'Mattress Girl' and condemned accused student, suit says
"To allow people to continually hide from every painful incident in their lives promotes a culture of avoidance," Straughan said. "Rather than heal and grow, we avoid and carry on … people need to understand that they cannot hide behind 'triggers' as a method of avoiding the very real experiences of life."
Hirsch told The Fix the trigger warning in this case was an exception, not a "position on trigger warnings" for course content, and that the logistics of "The Legacy of Rape" required it.
"As the exhibit is in a hallway and contains a great deal of explicit accounts of sexual violence as a weapon of war, we thought it best to warn passersby of what they will encounter," she said.
PROOF did not respond to requests for comment from The Fix.
Another New York college faced protests from students in 2014 when it hosted an artwork titled "Dolphin Rape Cave," but the administration refused to take it down.
RELATED: Art School Rejects Demands To Censor 'Dolphin Rape' Photo As 'Triggering'
IMAGES: avemario/Shutterstock, Micah Fleck, PROOF screenshot
Like The College Fix on Facebook / Follow us on Twitter