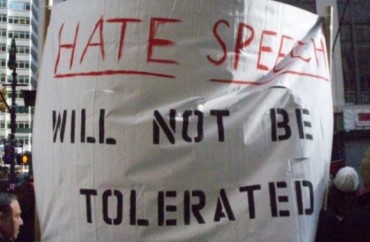 'There should be a zero-tolerance policy'
This semester, Columbia University faculty have been discussing whether to adopt a version of the free-speech principles championed by the University of Chicago.
Students, meanwhile, appear to be going in the opposite direction.
Several advocated strong university rules against "hate speech" at a campus discussion Nov. 15 hosted by the Columbia chapter of the Roosevelt Institute, a "progressive student-run think tank."
The event, "Discussion on Hate Speech," drew 55 students and was facilitated by Columbia students Ali Fraerman and Connor Haseley.
MORE: University of Chicago releases sweeping free-speech statement
It delved into "the constitutional parameters of hate speech" and asked students what hate-speech policies Columbia should consider on the campus level.
The facilitators claimed that hate crimes have spiked since the election of Republican Donald Trump, but they also noted that Columbia has the worst speech rating from the Foundation for Individual Rights in Education because of its speech restrictions.
Students were given a handout about the state of free speech on campus and at the federal level.
It asked them to consider whether the U.S. should institute hate-speech laws, whether and how private entities should regulate hate speech, how the concept can be defined narrowly, and whether Columbia's policies should respond to Trump's election and his elevation of alt-right favorite Stephen Bannon to special adviser.
Many but not all students spoke in support of a zero-tolerance hate-speech policy.
"Students who do hate speech should be punished – there should be a zero-tolerance policy. Any of these people should be punished," said one student of Columbia affiliate Barnard College who declined to be named.
MORE: Several colleges require faculty to use trigger warnings – just not explicitly
One Columbia student called for "more extreme hate speech policies," saying "this [campus] needs to be safe for students like us."
Not all students advocated for more restrictive speech codes, though.
"I don't think we should be regulating hate-speech on any level," said another unidentified student. She believes that "governments should be incentivizing social goals, to promote positive exchanges."
"I think there needs to be a combination of conversations explaining why certain language is hurtful and problematic, and punitive actions if hate speech occurs, such as under the current definition," said Columbia student Nicki Felmus.
Quiet for past two months?
As students debate whether they want the private university to punish any sentiments deemed hateful, Columbia faculty have stalled in their discussions of possibly endorsing the so-called Chicago Principles.
(Those are not to be confused with UChicago's warning to incoming students not to expect trigger warnings or safe spaces.)
MORE: Why I'm worried about the 'triggering' threat to Columbia Core
At the September meeting of the University Senate, the Columbia Faculty Affairs Committee proposed drafting a resolution to affirm the Chicago Principles, according to the Columbia Daily Spectator.
Faculty, students debate potential for threats to freedom of expression on campus. https://t.co/IAkv7efilH pic.twitter.com/RWSXx0RYw3

— Columbia Spectator (@ColumbiaSpec) September 29, 2016
The vote to affirm the Chicago Principles was slated for the October meeting, yet the minutes from the meeting make no mention of the Chicago Principles.
The principles weren't listed on the agenda for last week's November meeting, either, and the Spectator does not appear to have reported on that meeting.
The University Senate did not respond for comment.
The Foundation for Individual Rights in Higher Education has called upon hundreds of other colleges to affirm the Chicago Principles, and credited Columbia administrators in September with making "public statements committing to protect freedom of expression on campus."
MORE: Columbia profs consider freedom of expression to block Title IX probes
Like The College Fix on Facebook / Follow us on Twitter
IMAGE: Ashley Marinaccio/Flickr