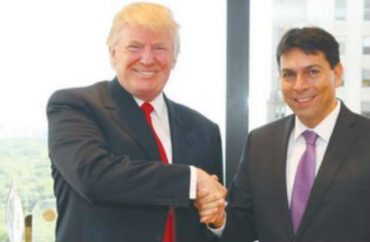 'Like a smorgasbord of slogans, all jumbled together'
NEW YORK – Protesters "shouted down" Israel's ambassador to the United Nations seven times when he spoke at Columbia University last week, according to the Maccabee Task Force, which fights campus anti-Semitism.
Several left-wing campus groups had pledged to crash the event featuring Danny Danon, calling him a "cheerleader for [President Donald] Trump and the Republican right."
One of those groups, Columbia Students for Justice in Palestine, described the heckler's veto they exercised over the ambassador and the crowd as "standing up to racist" Danon.
The streets outside Lerner Hall, where Danon spoke, were choked with protesters long before he took the stage. They were countered by a small pro-Israel contingent that held signs including "Enough Anti-Semitism" and "You Lost," an apparent reference to Hillary Clinton voters who refused to let go of the presidential election.
Students standing up to racist Danny Danon #RacistsNotWelcome pic.twitter.com/2EjgDu1ipJ

— Columbia SJP (@ColumbiaSJP) February 14, 2017
Protest organizers including Barnard-Columbia Socialists, Columbia University Apartheid Divest, Jewish Voice for Peace and Columbia Against Trump were less restrained. Students shoved Palestinian flags and anti-Israel newspaper clippings into the faces of passers-by and attendees waiting for the event doors to open.
They chanted rhymes such as "Danny, Danny, you can't hide, we charge you with genocide!" and "No peace on stolen land, justice is our demand!" Protesters carried signs including "Racists not welcome" – the title of the Facebook protest page – and "Free political prisoners."
MORE: Columbia faculty jump aboard the anti-Israel 'apartheid divest' wagon
One anti-Danon protester with a whistle was blowing it into the ears of anyone who got too close to his group.
Protesters declined to talk to The College Fix, instead continuing their in-your-face antics toward those who tried to engage with them.
Don't get kicked out before Q&A
Danon's speech was barely audible over the consistent outbursts from protesters inside the auditorium, taking away the rights of those who came to hear the ambassador's thoughts.
Those who heckled him were escorted out by security guards, and no self-identified protester stayed to ask Danon questions, according to the Columbia Spectator.
Danny Danon, #Israel's Ambassador to the UN is currently speaking at #Columbia University. Audience members have shouted him down 7 times pic.twitter.com/LQ9azGcVZt

— Maccabee Task Force (@MacTaskForce) February 14, 2017
When he wasn't being shouted down, Danon told the crowd that Israel was under literal fire by rockets sent from Sinai and that he was skeptical about the prospects for peace, given that "everything is focused only on Israel" and its alleged sins within the United Nations.
The ambassador "engaged with protesters" and asked them to stay for Q&A, to no avail, the newspaper reported.
Zander Wold, a member of Students Supporting Israel, told the Spectator that his group invited Danon to share "one viewpoint that is not commonly given on this campus," expecting that those who disagree "would come and listen and then offer questions and challenges even."
MORE: Columbia activists claim 'intifada' is just Palestinian tax evasion
Jeffrey Power Jacobs, a member of Jewish Voice for Peace and Israeli citizen, said he disrupted Danon's speech because the ambassador was "invited to this forum at one of the major universities in America to spread his hate."
The final hecklers' group, which included Jacobs, walked out carrying a large banner reading "Boycott Israel," according to the Spectator.
'From racist walls to repressive border policing, Trump copies Israel'
The Facebook page for the protest featured an apparent smoking-gun photo of Danon and President Trump in a generic photo op.
Israel is America's inspiration for allegedly racist policies, according to the page. Danon "cheers the murder of activists delivering aid to Gaza" and he argues that "Israel should annex the West Bank, abandoning even the pretence of the 'two-state solution,'" it said.
"We have come together to protest Donald Trump in recent weeks," it continued. "From racist walls to repressive border policing, Trump copies Israel."
The protest page continued to draw criticism after the event. "This is disgusting," one person commented:
Have you ever allowed an Israeli to speak? … The world has forced Jews to become insular. It has told them they don't belong anywhere accept Israel or dead and that no one wants them otherwise. You do not criticize from a place of concern or love for the Jewish people and their actions, but rather a RACIST hatred.
Another commenter chided the protesters for getting kicked out before they could "ask tough questions":
Shouldn't you be trying to convince everyone with arguments or do you think yelling is good enough? Plus Q&A was less interesting without you. Ambassador Danon was trying to help you by suggesting that you think strategically and leave a group or two behind to ask questions. …

Guys, you also need to learn how to be disciplined in your thinking and stay on message. This was like a smorgasbord of slogans, all jumbled together. … Seriously, is there any issue in the world that does not rile or upset you to the point where your blood just boils?
The anti-Danon organizers did not respond to Fix requests for comment.
MORE: Israel-themed party yanked from 'Around the World' night
Like The College Fix on Facebook / Follow us on Twitter
IMAGE: Columbia University Apartheid Divest/Facebook