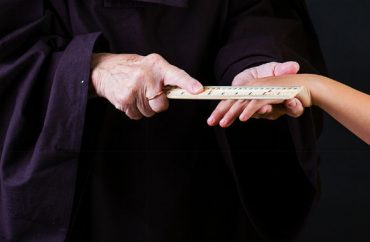 Officials want 'the ultimate discretion without having to answer for it'
Columbia University is making it harder for students to hold it accountable for how the Ivy League school runs "gender-based misconduct" proceedings.
It has previously banned students from bringing a recording device into the proceedings, and now Columbia has stopped accusers and accused students from even "transcribing" what happens during proceedings.
The restrictions are being criticized by both a victim-rights group at Columbia and a lawyer for accused students.
Andrew Miltenberg, who has sued several colleges including Columbia on behalf of students found responsible for sexual assault, told The College Fix that college officials "want the ultimate discretion without having to answer for it."
"I want the #RightToRecord because I want justice." #RightToRecord @Columbia pic.twitter.com/oTcZMLJ8B3

— No Red Tape Columbia (@NoRedTapeCU) October 15, 2016
No 'verbatim transcript' made
The sexual misconduct policy was amended this semester to specifically prohibit students and advisers from copying documents from the adjudication or investigative processes, according to the Columbia Spectator.
The "Guidelines and Requirements for Gender-Based Misconduct Advisors," reprinted by Columbia victim-rights group No Red Tape, state that "recording any part of the investigative process or unauthorized copying of any documents by any means is strictly prohibited."
MORE: Student athlete accused of rape gets six-figure settlement
"Copying" not only includes audio recording, photographs and scanning, but also "transcribing" – suggesting that students aren't allowed to even take notes. Columbia does not record proceedings or produce a "verbatim transcript" from proceedings; investigators take their own notes, according to the Spectator.
Students that ignore these provisions can be charged with conduct violations.
The policy previously prohibited students and their advisers from bringing in "cell phones and recording devices" without advance approval from the hearing panel.
"I want the #RightToRecord because survivors should not be silenced." #RightToRecord @Columbia pic.twitter.com/1TMIkSjK29

— No Red Tape Columbia (@NoRedTapeCU) October 15, 2016
Investigator's notes are not the legally required 'full and fair record'
Columbia administrators are standing by the policy change following criticism from No Red Tape, which launched a petition demanding the right to "record" proceedings.
The petition, which had 611 signatures as of Tuesday night, claims the change will "threaten the integrity and effectiveness of investigations and fails to provide survivors access to evidence when administrators behave inappropriately, are incompetent or take incomplete notes."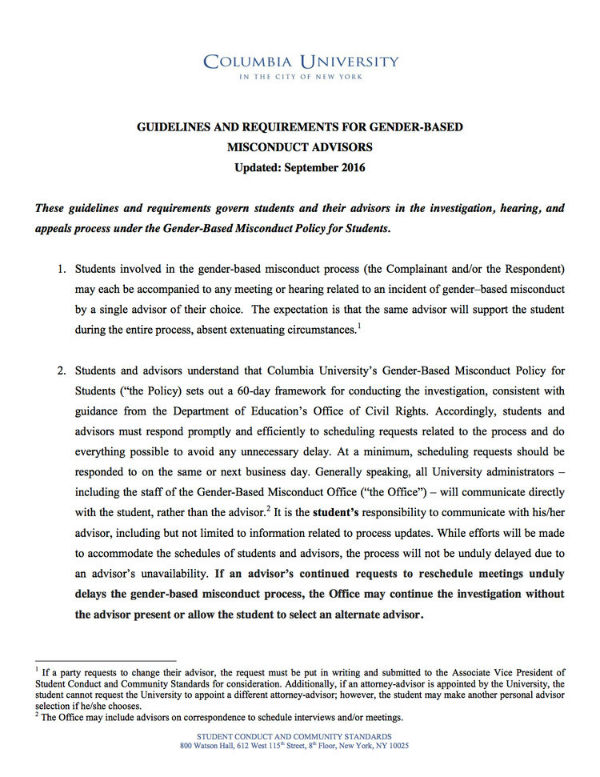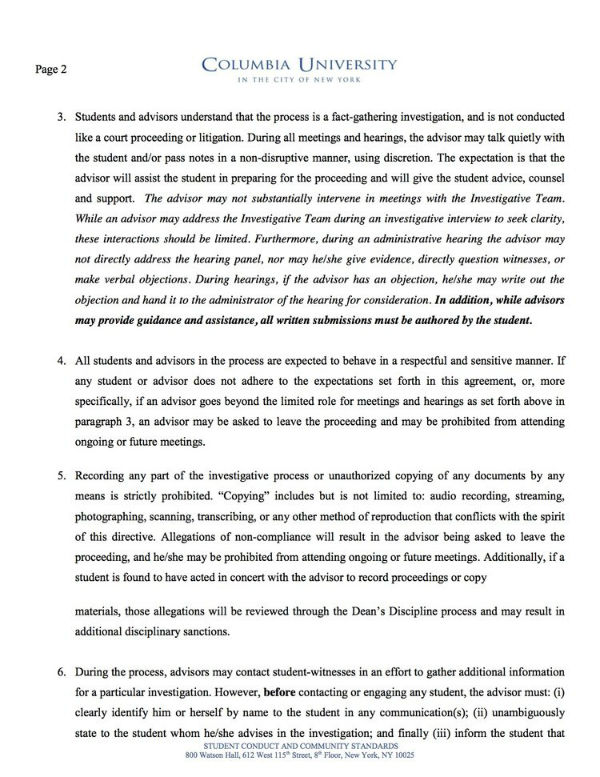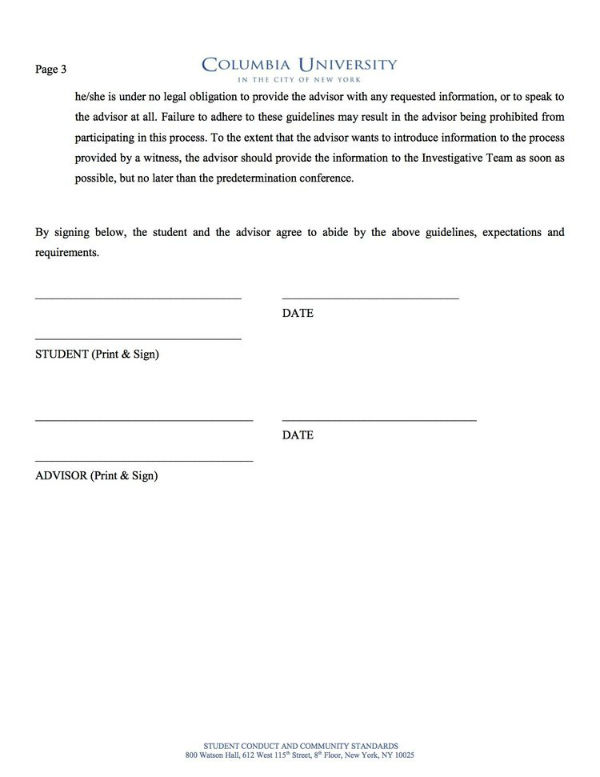 No Red Tape alleges the policy is in conflict with New York's so-called Enough is Enough law, which obliges schools to provide "a full and fair record" of proceedings, and "goes against the spirit" of transparency in the U.S. Department of Education's 2011 "Dear Colleague" letter on sexual violence.
MORE: Law professors oppose 'Enough is Enough' law
The petition is addressed to Associate Dean of Judicial Affairs and Community Standards Jeri Henry, Title IX coordinator Marjory Fisher and Executive Vice President of University Life Suzanne Goldberg.
"I want the #RightToRecord because it is the law." #RightToRecord @Columbia pic.twitter.com/iu5eXGTM1g

— No Red Tape Columbia (@NoRedTapeCU) October 15, 2016
Also director of Columbia Law School's Center for Gender and Sexuality Law, Goldberg responded in a statement on Columbia's Sexual Respect page.
"Nothing in federal or state law or guidance suggests or requires that schools themselves record proceedings, likely" for the reasons that led Columbia to retain its no-recording rule last year, Goldberg said: concerns about privacy and a "chilling effect" on interviews, plus "extensive safeguards to ensure accuracy" of proceedings.
Columbia is only obligated by law to share the recording with both accuser and accused "if it chooses" to share the recording at all, Goldberg said.
MORE: Exonerated student sues Columbia again over 'Mattress Girl' protests
Nothing in Goldberg's statement, which focuses solely on "recording," makes explicit that Columbia is also banning students from even taking their own notes – or that the school changed the policy at all in September.
Students must rely on their ability to "review" information given to investigators and suggest "corrections to all written documents."
"I want the #RightToRecord because Columbia needs to be held accountable." #RightToRecord @Columbia pic.twitter.com/idrXMco8dV

— No Red Tape Columbia (@NoRedTapeCU) October 15, 2016
Columbia already sued for poor note-taking in proceeding
Federal caselaw does not unreservedly affirm Goldberg's view of the legal landscape.
In its Guide to Due Process and Campus Justice, the Foundation for Individual Rights in Education notes that the 6th U.S. Circuit Court of Appeals ruled in 2005's Flaim:
[F]undamental fairness counsels that if the university will not provide some sort of record, it ought to permit the accused to record the proceedings if desired.
Though Columbia is not governed by 6th Circuit precedent, this summer its own 2nd Circuit reinstated a Title IX case against the school that faulted its poor note-taking.
Accused student "John Doe" had said that Columbia Title IX investigator Jilleian Sessions-Stackhouse, who did not record interviews, falsely portrayed what he said in her notes and ignored "conflicting information" from his accuser's friend about their sexual encounter.
MORE: Appeals court reinstates Columbia reverse-discrimination case
FIRE's guide says the "absence of a record makes both appeals and lawsuits against the university for wrongful actions far more difficult."
Attorney Miltenberg, who has dealt with Columbia in previous cases and currently represents accused students across the country, told The Fix there is "no reason for any school not to record the investigation" other than to exert more control over the proceeding.
Selfie w/ Paul Nungesser's lawyer, Andrew Miltenberg & @cgarrett101, @mey621 at Stanford Talk on Civil Liberties! pic.twitter.com/f9oiHRtLiA

— insufficientmarkers (@heathermarlowe) April 30, 2016
Without a recording or transcript, it is "easy for an investigator to shift the credibility of a witness" by portraying the interview out of context in the investigator's notes, Miltenberg added.
Columbia declined to comment to The Fix, pointing to Goldberg's Sexual Respect page statement and the federal government's Title IX guidance.
MORE: Accused student gets $125k from Georgia Tech to drop lawsuit
Like The College Fix on Facebook / Follow us on Twitter
IMAGE: Mat Hayward/Shutterstock