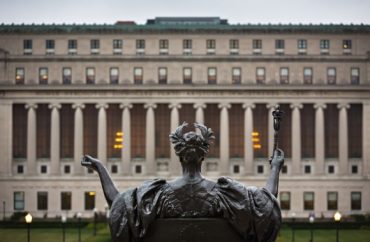 No safe spaces for conservative students at Columbia University
It's not easy being a conservative student at Columbia University. In fact, it's downright hostile, if interviews from a student and recent alum of the Ivy League school are any indication.
Brian Min, a Columbia sophomore who describes himself as fiscally conservative and socially mixed, told The College Fix he fears he will be "physically assaulted" if he wears conservative clothing or voices conservative opinions on campus.
Min already said he feels he lost his gig as a writer for the Columbia Spectator last semester because of his political views. In March, he wrote a column on the terrorist attacks that happened in Brussels. He argued for the condemnation of Islamophobia, but when his peers interpreted his argument as "blaming Belgium for the Brussels attacks," Min said it was strongly suggested he stop writing.
Today, as a political science major, a field in which he is often asked to give his opinions in homework assignments, Min said he is concerned his grades will be marked down for voicing conservative principles.
He fears "even citing statistics" in papers he writes if the statistics he references do not mesh with the opinions of his liberal professors, he told The Fix.
"Living in an echo chamber is horrible for the development of ideas and freedom of expression," Min said. "I think the treatment of conservatives on campus is not fair because they do not get the same amount of media coverage as liberals and leftists on campus. They also are not equally respected—both students and speakers."
While there are many conservatives on campus, most are essentially forced to stay in hiding due to fear. Several conservative Columbia students declined to be interviewed by The College Fix for this article, citing fear of retaliation by peers.
In effect at Columbia the vast majority of public voices are liberal.
Min said his friends have faced similar pressure.
One friend, after outed as a Donald Trump supporter, was ostracized by his floormates, some of whom ignored him and even refused to be in the same room with him, Min said.
Underscoring Min's experiences, Benjamin Sweetwood, a recent graduate from Columbia College, told The College Fix as a student he was frequently mocked, laughed at, and harassed in class for defending conservative principles.
"In one of my classes, a girl jokingly threatened to 'stab' me, which elicited my light hearted response, 'violence against men is not funny,'" Sweetwood recalled. "Another classmate was then divinely inspired to produce that ever so great intellectual retort, 'You're a white male,' and another added, 'a white cisgender male.'"
Another time, Sweetwood said as he hung flyers for a pro-Israel event, students followed him around and tore them down.
"Conservatives face intolerance everyday," he told The College Fix. "Liberals have given themselves moral exception to do whatever they want to conservatives, because the assumption is that conservatism itself is evil, [thus] it's okay to bully and silence it's adherents."
MORE: 8 conservative college students bullied for their beliefs
In a column published last month by The Tab, Sweetwood also detailed his experiences as a conservative at Columbia.
"Over the past year, hardly a day went by without some professor or TA cracking a joke in or out of class about the stupidity of Trump and his supporters," he wrote. "An explanation or justification for such belittling of Trump's supporters, was of course, always lacking. Some of the 'smartest' people at Columbia engaged in such behavior, and refused to even acknowledge that there could be someone on campus of a different mindset. When I did reveal for who I'll vote for come November to teachers or fellow students, their shocked and triggered faces contorted into shapes."
He also claimed that, as a freshman years ago, he was "pushed out" of the Columbia College Republicans because he wanted the group to more brazenly battle liberals on campus, and CR leaders didn't want to make waves on campus.
Columbia's not the only school in New York City at which conservatives face attacks or feel silenced.
As the New York Post has detailed, at NYU, Trump supporters feel the same way, resorting to clandestine meetings and using masks to shield their identities in photographs.
"Supporters generally try to keep it hidden from the rest of the student body," said junior Dylan Perera, 22, an NYU student interviewed by the New York Post. "They're afraid of losing friends, being ridiculed in class, getting worse grades and are even afraid of being assaulted and physically hurt."
Like The College Fix on Facebook / Follow us on Twitter
IMAGE: Drop of Light / Shutterstock.com