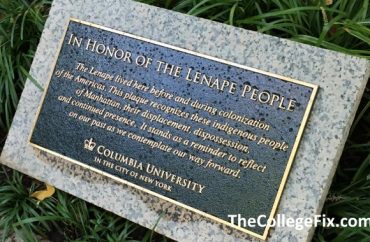 Columbia University officials on Monday dedicated a plaque on campus to Native Americans, particularly the "Lenape People," who suffered "displacement" and "dispossession" due to the "colonization" of Manhattan.
The plaque, situated on a popular campus courtyard, reads: "The Lenape lived here before and during colonization of the Americas. This plaque recognizes these indigenous people of Manhattan, their displacement, dispossession, and continued presence."
The plaque makes no mention of the fact that Manhattan was purchased from the Native Americans by Dutch settlers in the early 1600s, a swath of land which, at the time, was an undeveloped muddy swampland.
The plaque's unveiling ceremony was held Oct. 10 — Columbus Day. It appears to be a capitulation to various campus demands over the years for an official recognition of the "Lenape People" — who sold Manhattan to the settlers — as well as an acknowledgment of some sort that the Native Americans were wronged by the deal.
Columbia University officials did not respond to a request for comment Tuesday.
Some historians claim the transaction, as far as the Native Americans were concerned, was a deal to "share" the land.
"A plaque won't right violences, but it is an important step in acknowledging them," Lucha, a Columbia social justice organization calling for the plaque, stated last year.
A Change.org petition launched three years ago by the Native American Council of Columbia University states the Lenape "were the victims of disease, warfare, dishonest agreements, and destructive policies. They now mostly live on reservations in Ontario, Wisconsin, and Oklahoma, vast distances away from their homeland."
But conservative scholars have a vastly different take on the matter, including Dinesh D'Souza, an Indian American political commentator who argues in his 2014 docudrama "America: Imagine the World Without Her" that the sale benefited all involved.
"It's the fact that people came here with nothing, who had a tremendous work ethic and tremendous creativity, restless people from all over the world, brought their intelligence, cooperative efforts, and they built America," D'Souza has said. "The American Indians sold Manhattan to the Dutch for $700 in today's money. My point is, that's what Manhattan was worth then. It was useless, it was just a piece of land, like any other piece of land which you can buy today for $700 in many places in the world. Manhattan today is the result of the people who built it, not the original inhabitants who occupied or sold it."
He is not the only one defending the settlers. In 2014, a member of the Columbia University College Republicans, Jamie Boothe, wrote an op-ed saying students should "consider the positive effects of European explorers." For that, he came under fire by peers, the Columbia Spectator reports.
Boothe's op-ed had stated in part that the campus engages in "closed-minded protests," citing Columbus Day "die-ins" and the Native American Council's repeated calls to "take back Manhattan," which Boothe called a dog-whistle for "The U.S.'s existence is contemporarily illegitimate."
He continued that "to look back and see only such negative consequences is an insufficiently narrow perspective; one must also be willing to consider the positive effects of European explorers," noting:
For example, the drive to use the resources of the New World led to the enslavement of Africans, but the consequential societal development in Western Europe would later lead to nations like Britain unequivocally ending their participation in and approval for slavery (something that existed unchallenged in many societies around the world for millennia) for purely moral and ethical reasons.

Our point here is not that the relative prosperity and quality of life we see in much of North and South America absolves European colonialists of any malice or inhumane acts, but that the resulting spread of European civilization has, in many ways, been a force for good.
Yet those arguments largely fall on unsympathetic ears at Columbia University, which celebrates Indigenous People's Day instead of Columbus Day.
And now that the plaque has been unveiled calling the occupation of Manhattan "displacement" and "dispossession," some students have a new goal in mind: reparations.
This week the Columbia Spectator published an op-ed linking a donation Columbia accepted with a business that conducted trade with slave-owners and called for reparations.
"Columbia accepted money from a business that made its fortune off of frontier genocides,"wrote Noah Ramage, a Columbia College senior.
"In short, there is only one solution to fulfill the material debt this university holds to Black and Indigenous peoples… repay the [Native Americans] in the form of funding, admission policies, building name changes, faculty additions, and other means of restitution," he stated.
That mirrors similar sentiments over the years, in which students have perpetually decried Columbus Day in the campus newspaper, calling it "whitewashed colonial heritage," arguing for it to not be celebrated, and calling for the day to be protested.
Like The College Fix on Facebook / Follow us on Twitter