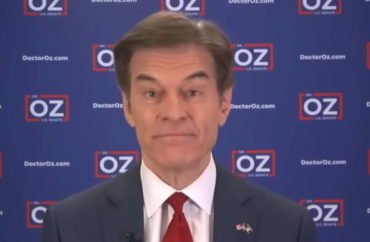 Columbia University has basically erased information that connects it to its distinguished alumnus Dr. Mehmet Oz, who is running as a Republican for a seat in the U.S. Senate.
Oz has been a controversial figure over the years, first for a series of medical advice billed as pseudoscience, then more recently because he was endorsed by former President Donald Trump.
Oz faces a tough challenge in the Pennsylvania primary election, which will be held Tuesday.
The Columbia University Medical Center removed his page from its official website in mid-January, the Daily Beast reported at the time. The move occurred after Oz declared his Senate run.
Oz had also previously been listed in senior administrative roles, such as vice chair of the surgery department, but now holds the title of "professor emeritus" of surgery, according to the Huffington Post. 
Since then, the university has continued to publicly distance itself from the celebrity doctor and heart surgeon. It has gone as far as to remove his university faculty profile page, according to reports.
One doctor told MedPage Today the university should have acted sooner.
"It took Columbia far too long to remove Oz from its otherwise distinguished medical faculty," Dr. Henry Miller of the Pacific Research Institute in California told MedPage Today earlier this month.
He said "the 'Oz controversy' was never about free speech. It was about an unethical grifter whose claims and pronouncements were not supported by science, and were injurious to consumers — in the interest of financial benefit to Oz himself. That constitutes professional misconduct."
Oz claims his Columbia credentials on his campaign website, on which he calls himself an "Attending Physician at NY Presbyterian-Columbia Medical Center."
The doctor's affiliation with the university has long been controversial. In 2015, a group of 10 doctors requested that he be fired from his position at Columbia because of various treatments he had promoted on his nationally syndicated talk show.
Oz responded to the letter, claiming that the doctors were attempting to infringe on his freedom of speech.
"I know I've irritated some potential allies in our quest to make America healthy," Oz said during a 2015 episode of his show. "No matter our disagreements, freedom of speech is the most fundamental right we have as Americans, and these 10 doctors are trying to silence that right."
On his show, Oz has claimed arsenic in apple juice is dangerous for consumption, but the FDA contradicted his claims by stating that only inorganic arsenic could be considered toxic. Oz has also promoted unproven therapies such as homeopathy.
While his actions on his show have made him a controversial figure, Columbia upped its disassociation with him once he began his campaign to become the Republican nominee for the Pennsylvania senate seat.
Former President Trump in April endorsed Oz's run, calling him "brilliant" and claiming he's the best hope to help stop the "Radical Left maniacs" from taking over the country.
However, Oz faces tough competition in the primary from challenger Kathy Barnette, who has earned endorsements from several high-profile conservatives.
Columbia's actions toward Oz are reminiscent of the University of Pennsylvania distancing itself from Trump after his election.
While Columbia proudly claims President Barack Obama and Yale proudly claims President John F. Kennedy, Penn refuses to even talk about being the alma mater of their only president.
While other U.S. presidents have entire halls and schools named after them, the only place where Trump's name can be found at Penn is on a plaque in the main library honoring the class of 1968.
MORE: Petition urges Penn to investigate whether to revoke Trump's degree
IMAGE: YouTube screenshot
Like The College Fix on Facebook / Follow us on Twitter