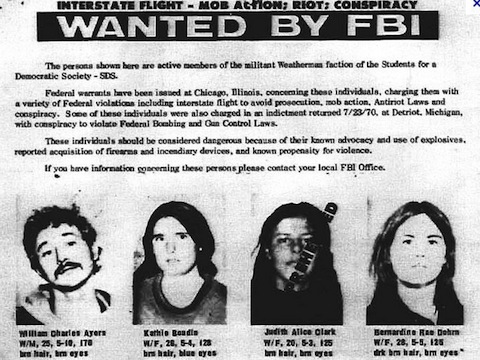 There's a reason Columbia University stands out. No, it's not an incredible student body, or groundbreaking research by faculty, nor is it a high quality intellectual environment in the classrooms, or a high ranking in Princeton Review.
Columbia University stands out because they are leading the world. Leading, that is, in giving terrorists and murderers a platform to not only speak (Mahmoud Ahmadinejad, Rashid Khalidi) but to teach. That's right – your child's $60,000-per-year, Ivy League classroom may well be in the hands of convicted cop-killer and Weather Underground (WU) terrorist Kathy Boudin.
Name doesn't ring a bell? Let's review. Boudin at one point called herself "The Fork," along with fellow terrorist Diana Oughten, presumably in reference to Charles Manson's murder of pregnant Sharon Tate in which they shoved a fork in her stomach – an act Boudin and WU praised.
The Fork, then, was heavily involved in WU operations, which included numerous bombings including the U.S. Capitol building, the Pentagon, and several multinational corporations. Additional plots never came to fruition, although one involved the very university which pays her salary now. (Columbia really does stand out, doesn't it? If by standing out you mean acting in an unfathomably perverse fashion.)
The Fork survived an accidental explosion of a nail bomb that had been intended for a soldiers' dance at Fort Dix. Think about those scenes from the Boston Marathon for a moment, and let sink in what Professor Boudin and her partners had planned: Soldiers in their dress uniforms, and young women in dresses and flowers – then limbs and blood and death splattered everywhere. That's what The Fork was aiming for.
And that's not even what put her behind bars.
In 1981 – not the far-distant sixties, but in the eighties – The Fork left her infant son at a babysitter's and acted as getaway driver for the Brinks heist, staged by the WU and the Black Liberation Army. This resulted in the theft of $1.6 million, the murder of Brinks security guard Peter Paige, and the murder of two officers, Edward J. O'Grady and Waverly L. Brown, who were ambushed in part by Boudin luring them to let their guard down. Her well-connected lawyer daddy got her a much lighter sentence than her compatriots, and after a couple decades in what her son describes as "one of the best prisons in the country," she embarked on her new career.
One thing she has never done, however, is to attempt to make amends to the nine children who were left fatherless due to her crime. Her own son was adopted by a nice young couple you may have heard of: WU founder Bill Ayers and his wife Bernardine Dohrn. Despite a busy schedule of dodging the law, building their own careers in academia, and having backyard barbecues with the Obamas, they made sure The Fork's son received a most privileged upbringing with all the best schools and a ticket to Yale.
That's just the highlights of Boudin's history – it grows more distasteful the closer you look. But that's the subject of a different piece.
Recently, the O'Reilly Factor's Jesse Watters headed to Columbia to see what students think about the hiring of a cop-killer, and to track down Kathy Boudin herself. Most of the students were not even aware that their university hired such a controversial and radical left-wing convict, and reactions were somewhat understandably mixed.
The more interesting part of the piece unfolded when Watters tracked down Boudin, who attempted to scurry away from him repeatedly before finally stating: "I have nothing but regret for the suffering that I caused, and I've attempted to lead a life that would express that remorse and that regret."
Pretty words. One would almost think she feels guilty. Unfortunately, her guilt seems to be that she got a lighter sentence than her less well-connected partners, who won't be eligible for parole (or their own Columbia appointments) for another 45 years. She spends some degree of time advocating for their release – none advocating for her victims.
From the video footage, it appears Watters was trying to deliver a letter to Kathy Boudin from Michael Paige, the son of murdered guard Peter Paige. He was unable to do so, as the campus cops, apparently unmoved by the history involved, chased him off Columbia property.
In the letter, Paige rightfully expresses disgust that Boudin is teaching at Columbia University, and states that no amount of time served can bring back a life. "The day that my father, Peter Paige, Sergeant Edward O'Grady and Officer Waverly Brown come walking back into our lives, is the day that Kathy Boudin and her fellow terrorists' debts to society will be repaid," he writes.
While Boudin's sentence was served, justice was not – and that is in no small part because of Columbia University. Of all the brilliant people in this world, Columbia University chooses to house, pay and glorify The Fork: a convicted cop-killer who continues to defend terrorists. They have provided her with a platform, just as they provided Ahmadinejad and Khalidi, to spew hatred and sow sympathy for bloodthirsty terrorists. And that sympathy is being sown in the hearts of young future leaders and thinkers.
You can read Paige's letter in its entirety here.
Fix Contributor Emily Schrader graduated from the University of Southern California. She currently attends graduate school at Tel Aviv University in Israel.
Click here to Like The College Fix on Facebook.