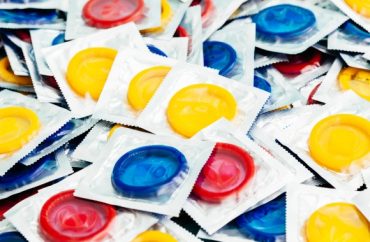 Harvard's bacchanalia is arguably pointless but for its politics
It's that time of year again at Harvard, where students gather together to discuss "Condoms, IUDs, The Pill," and a vast array of other sexual concerns. According to The Harvard Crimson, this year's "Sex Week" includes forays into "many aspects of sexual activity, including condoms, consent, and healthy romantic relationships." A sex toy shop proprietor will be on hand to teach students how to "express wants and needs in a sexual context." The goal is to "foster positive discussions surrounding sex." To that end, as The Fix reported, the university hosted an anal sex workshop earlier this week, at which students were told: "The butthole is the great sexual equalizer. All humans have a butthole." Good to know.
It must be readily apparent to everyone—the organizers of these events and the students who attend them—just how superfluous they ultimately are. Sex Weeks are billed as open-air salons and symposiums on the topic of sex, week-long events where students can learn about these matters in a liberating way. But the idea that elite Ivy League students are somehow in the dark about sex—that they are not aware of the various forms of birth control, say, or that they have not figured out how to "express wants" to their similarly-oversexed peers—is not really all that plausible.
The point of Sex Weeks are not to accomplish any real practical kind of sexual education, the bulk of which is, for 21st century college students, more or less redundant. It is, rather, to celebrate a particular type of sexual ethic, one in which young men and women are encouraged to practice freewheeling licentiousness and casual hookups without any sense of the magnitude of sexual conduct.
Why do this? There are several reasons. The first is that college administrations are, as with the rest of campus officialdom, made up mostly of progressives, and sexual anarchism is a solid plank of modern progressive political mores. There is also likely a strong financial incentive: if you make your campus seem like a hip and forward-thinking environment on the topic of sex—if you have sex toy saleswomen hocking their wares on the quad—then your institution will probably be attractive to a certain type of 18-year-old who sees handing out condoms as a transgressive kind of act. And then there is the sad, depressing possibility that many college staffers—older than their students, and perhaps dimly recalling their own youths—are eager to surround themselves with a hypersexed culture as a throwback to their salad days.
Sex Weeks are annual features on many campuses, and likely won't go away soon. But we might as well be honest about their purpose: it's not to educate students about sex but to encourage them to do it. There is something deeply unseemly about an official drive to encourage students to have sex with each other, particularly as it is presented under the guise of "healthy romantic relationships," none of which apply in the case of casual hookup culture.
MORE: Public university's 'Sex Week' offers 26 events in seven-day span
IMAGE: Lemon Tree Images / Shutterstock.com
Like The College Fix on Facebook / Follow us on Twitter