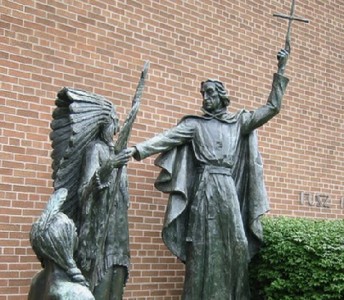 Saint Louis University has removed a statue on its campus depicting a famous Jesuit missionary priest praying over American Indians after a cohort of students and faculty continued to complain the sculpture symbolized white supremacy, racism and colonialism.
Formerly placed outside the university's Fusz Hall in the center of the private Catholic university, the statue will go to the university's art museum, a building just north of the bustling urban campus.
The statue features famous Jesuit Missionary Pierre-Jean De Smet S.J. praying over two American Indians dressed in traditional clothing. Last Monday, just two days after graduation, it was removed from the location it has called home on campus for decades.
A university spokesperson told St. Louis Magazine the statue will be placed within the "historical context of a collection that's on permanent display in our SLU Museum of Art." The statue is set for the museum's "Collection of the Western Jesuit Missions."
"In more recent years, there have been some faculty and staff who have raised questions about whether the sculpture is culturally sensitive," SLU spokesman Clayton Berry said.
Berry did not respond to The College Fix's request for comment.
The De Smet statue has long drawn the ire of progressive students and scholars at the Jesuit university who argue the statue was a symbol of racism and white supremacy, among other oppressions.
In a recent op-ed published in SLU's University News, senior Ryan McKinley stated the sculpture sent a clear, unwelcoming message to American Indians at Saint Louis University.
"This message to American Indians is simple: You do not belong here if you do not submit to our culture and our religion," McKinley wrote. McKinley called for the statue's removal, while suggesting the university replace it with artwork made by American Indians.
"The statue of De Smet depicts a history of colonialism, imperialism, racism and of Christian and white supremacy," he penned. 
But the history surrounding the statue is more nuanced than the statue's opponents portray it.
According to a SLU webpage, De Smet had an excellent rapport with American Indians. He was known to them "simply and affectionately as 'Blackrobe.'" While converting thousands to Catholicism, De Smet also helped negotiate treaties among the Indians and the United States, ensuring their land and safety.
De Smet also shares a connection to Saint Louis University, serving as its treasurer shortly after the university's founding.
Despite De Smet's history, students still said the statue visually represents oppression.
During a March town hall meeting with the university's first-year president, Fred Pestello, a student told Pestello it was "necessary to take down the statue" since it "celebrates white supremacy and colonialism."
Pestello – SLU's first permanent lay president – told the student he would take her request "very seriously."
Though according to university documents, Pestello was taking already taking such complaints seriously.
Minutes from a December 2014 meeting of the President's Coordinating Council at which the De Smet statue was discussed show Pestello asked a SLU's provost to convene a group to review the university's public art after another administrator noted complaints surrounding the statue.
To be included in the group was English professor Steven Casmier. He told The College Fix he was never asked to join such a group. It's unclear whether the group ever formed.
Casmier had offered his thoughts on the statue last year in an email to a high-level administrator.
"I am not one for pulling down statues or effacing the evidence of history – even if that history is one we would like to forget. But mediating, transforming it into sites of reflection and discussion is intriguing to me," his email read.
Casmier told The College Fix he's unsure how to feel about the statue's removal.
"I'm not sure what to think about the decision. But it's good that it's not entirely effacing the past, and perhaps (the museum is) as good a place as any for it," he said in an email.
The statue's removal comes just months after controversy broke out at the Jesuit campus over a proposed statue to commemorate a six-night sit in that served as an extension of protests in nearby Ferguson.
After donors threatened to pull donations over the proposed statue, the university walked back the original intent of the statue, saying it would instead highlight the university's values of diversity and inclusion.
College Fix reporter Nathan Rubbelke is a student at Saint Louis University.
Like The College Fix on Facebook / Follow us on Twitter