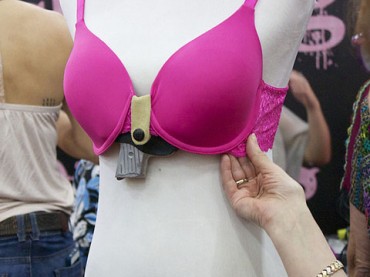 As college campuses and states debate whether and how to change gun policies, in the wake of Elliot Rodger's alleged slaying of six people and himself near the University of California-Santa Barbara campus, at least one state is grappling with how to interpret recently approved gun laws.
Georgia Attorney General Sam Olens said Thursday that gun owners in the state can't bring their weapons to public schools or college campuses when two new laws take effect July 1. He was responding to gun-rights group Georgia Carry's claim that one of those laws lets gun owners with permits bring their weapons into school zones, with Olens saying that Gov. Nathan Deal (R) first signed the other law, which maintains a school safety zone.
Though Georgia Carry has promised to challenge Olens' interpretation in court, a broader question remains: Where it's lawful, can students and faculty be trusted to effectively use their concealed weapons to prevent or stop an "active shooter" situation on campus?
The College Fix previously reported on how schools are revising their active-shooter response plans. Robin Hattersley-Gray, executive editor of Campus Safety magazine, had said students and faculty should prepare themselves for such situations by knowing what a gunshot sounds like, how to alert safety officials, points of evacuation for an area and where to seek shelter if evacuation is impossible.
But it's very much in dispute whether preparation and training are the only ways to quickly and effectively resolve an active-shooter situation.
"The fact is that if there is an active shooter situation and there is someone there with a concealed carry permit who is trained, they're going to be able to stop that person before the cops even show up," Katie Pavlich, gun-rights advocate and author of the New York Times best-selling book, Fast and Furious: Barack Obama's Bloodiest Scandal and Its Shameless Cover-Up, told The College Fix.
Pavlich argues that students should not only be able to carry concealed firearms on campus to defend themselves from an active shooter, but also to defend themselves if they are attacked by a violent person. Pavlich cites the case of Amanda Collins, a University of Nevada, Reno, student who was raped at gunpoint in a gun-free zone by a serial rapist a mere 50 feet away from the campus police department in 2007.
Collins was a "competent young woman who had a conceal carry permit," but due to university policy, "she wasn't allowed to carry her gun," said Pavlich.
If Collins had been allowed to carry her weapon that night, things might be very different today, said Pavlich. The man who attacked Collins was later convicted of raping two other women and murdering another woman.
"It's cliché, but when seconds count the police are always minutes away," Pavlich said, "and a lot of damage can be done while someone is waiting for the cops to show up."
Andy Pelosi, president of the Campaign to Keep Guns Off Campus, questions whether students would be able to adequately defend themselves in an active-shooter situation.
"Students, or faculty for that matter, are not going to have the type of tactical training that law enforcement has to be able to effectively respond to an active-shooter situation," Pelosi said in an interview with The College Fix. "There's the potential that they're going to cause more harm than good."
Pelosi's campaign to prevent individuals from carrying concealed weapons on campus has gained national recognition, with 370 colleges and universities across 41 states signing a resolution affirming they will prohibit firearms on campus "to promote a safe environment."
By allowing students to carry firearms on campus, "there is an increased risk of a whole host of incidents," because college-age years are a "very high risk time period," Pelosi said.
Foreseeable issues include increased rates of student suicide, use of firearms in domestic disputes and issues over where to secure guns when they are not being carried, Pelosi says.
However, Pavlich rejects the notion that students are incapable of handling themselves and a firearm, attributing the argument against concealed carry to politics rather than concern over the safety of students.
"The university is constantly saying to these students that they're the brightest and the best," she said, "but then all of the sudden as soon as there's a political aspect to them being anti-gun, then [gun-control advocates are] saying that students are too irresponsible for that."
College Fix contributor Julianne Stanford is a student at the University of Arizona.
Like The College Fix on Facebook / Follow us on Twitter
IMAGE: Gerald Rich/Flickr