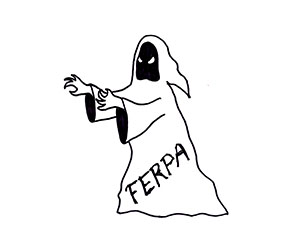 The Oregon House unanimously approved legislation earlier this week to protect communications between "victims" of domestic violence, sexual assault and stalking, and "certified advocates" who assist them, the Daily Emerald reports.
It applies to "civil, criminal and administrative proceedings and to institutional disciplinary proceedings at a two-year or four-year post-secondary institution that enrolls one or more students who receive an Oregon Opportunity Grant."
Lawmakers acted "in part" because the University of Oregon obtained counseling records about a student who had filed a lawsuit against the school saying it mishandled her rape allegations against basketball players.
The student said that disclosure to the school violated the Family Educational Rights and Privacy Act, though the Student Press Law Center – an expert on FERPA – has said that disclosure was probably authorized under FERPA so the school could defend itself against her allegations:
you lose the benefit of your privileged relationships when you bring them into issue in a lawsuit. That is, your privileged relationships are meant to be used as shields against third-party intrusion, not swords to attack the people in the relationship.
The approved bill, HB-3476, appears to limit the release of "confidential communications" between "victim" and "advocate" to situations where the victim is suing the advocate:
 (3) The privilege established by this section does not apply to the disclosure of confidential communications, only to the extent disclosure is necessary for defense, in any civil, criminal or administrative action that is brought against the certified advocate, or against the qualified victim services program, by or on behalf of the victim.
If so, that means schools in Oregon will be hamstrung in their ability to defend themselves against future allegations of this nature.
Read the story and the bill.
Like The College Fix on Facebook / Follow us on Twitter
IMAGE: Derek Bruff/Flickr
Like The College Fix on Facebook / Follow us on Twitter