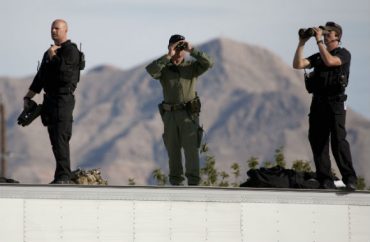 'Y'all are not prepared for what I'm about to do' 
When the Secret Service called her dad days before she planned to rile Donald Trump supporters with an editorial for her student newspaper, her first thought was that she was being profiled as a Muslim.
Had the agency known the person they suspected of making terrorist threats was 19-year-old Nada Merghani, a high-achieving LGBT and social-justice activist at the University of North Carolina-Wilmington, they might have approached her differently.
Especially after learning that the Sudanese refugee was packing a voice recorder.
The social media post that triggered the scrutiny of the Secret Service is landing Merghani in hot water with some of Trump's fans, who have sent her and her fellow activists disturbing messages.
Now armed with the legal muscle of the American Civil Liberties Union, Merghani plans to sue her university for not providing her with with an armed guard in the face of credible threats from Trump supporters.
"Expect to see me at the Trump rally on Tuesday. Y'all are not prepared for what I'm about to do," read Merghani's Facebook post, referring to the candidate's Aug. 9 rally where he would make his controversial "Second Amendment people" remark.
"All I can say is pray I make it out of this alive."
Sounds like 'suicide by law enforcement'
Merghani thinks she published the post Aug. 5 and took it down after her Aug. 8 encounter with the Secret Service, on the advice of her legal counsel and "peers," she told The College Fix. She said she didn't have a screenshot of it.
That post, which referred to an appearance by Trump at a Aug. 9 College Republicans event that Merghani planned to cover for The Seahawk, attracted 50 "likes" and reactions, Merghani said – relatively unexceptional given her "outspoken" views on social justice issues.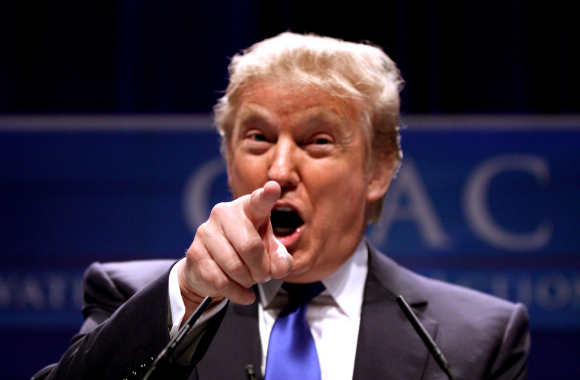 Merghani is the founder of the Muslim Students' Association at UNCW and was president of the university's PRIDE group until last week when she stepped down due to her recent absence.
But the "Y'all are not prepared" line was enough to earn Merghani a visit from the Secret Service just days later.
In audio of her Secret Service visit obtained by The Fix, Merghani became increasingly upset as the agents probed her agenda for the next day's Trump rally.
"Considering that Trump protesters have gotten shot, journalists have been removed violently and there are a lot of circumstances that can [put] any person who's going to a Trump rally … in a violent situation, it makes a lot of sense that I say 'pray I don't get shot,'" Merghani tells the agents. "I was actually looking for legitimate prayers." (The Fix could not find any confirmed case of protesters getting shot at a Trump rally.)
The Secret Service simply misunderstood her, Merghani believes – and there was nothing she could do to threaten Trump's safety.
"They weren't emotionally prepared for an opinion piece I was going to write exposing the university," Merghani tells the agents. (She claims UNCW helped the College Republicans bring Trump to campus, which it has denied doing.)
"But can you imagine what we thought when we read that?" an agent who went by "Kelly," according to Merghani, asks her.
"No, I can't because I can't imagine what sense of fear you guys got from a 19-year-old who's a junior in college who's a pacifist," replies Merghani.
"Your statements are that of someone who could be wanting to commit suicide by law enforcement," a Secret Service agent who did not give his name tells Merghani.
At one point the male agent compares her to Sandra Bland, the black woman found hanged in a jail cell in Texas last year.
Though the Secret Service agents left the 12-minute meeting satisfied that their suspect was not a threat, it discouraged Merghani from attending the rally at all.
That night she called her editor to say she would not be going as either a journalist or a protester. Instead she spent the entire day fearful in the Office of Institutional Diversity and Inclusion at the invitation of a staffer, she said.
Since her social media stand on Trump that culminated in the "Y'all are not prepared" post, Merghani said she and her fellow activists have received violent threats on social media. Most of the threats were directed online at protesters.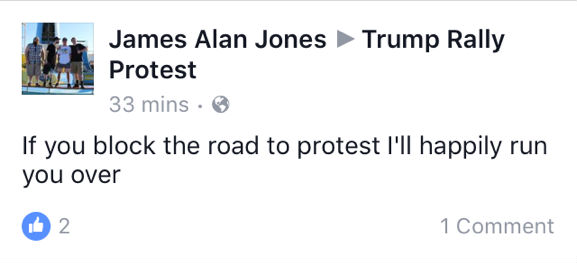 Though Merghani told The Fix she has personally received at least one threatening message, she said she deleted it immediately after receiving it.
In a Trump protest event on Facebook, one person menaced counterprotesters with a photo showing his concealed carry permit.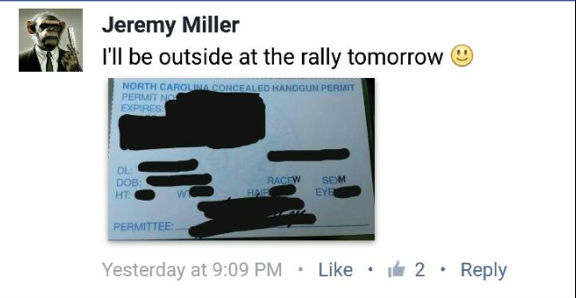 "I'll be outside the rally tomorrow," the concealed carry holder wrote on Aug. 7. (An organizer in the group wrote that "the proper people" would be notified of the comment.)
Vice chancellor blinded by 'white privilege'
Because Merghani's request for a security escort from the university was turned down, she hasn't felt safe to attend classes, she told The Fix in a phone call Monday.
"Being who I am in the community, threats are just a given. Definitely did not expect conceal carry permits," she said, referring to the threatening message made to the protesters.
On Aug. 19 Merghani and her ACLU advocate met with Vice Chancellor Patricia Leonard, Chief Diversity Officer Kent Guion, and Chief of Staff Bradley Ballou to speak about Merghani's safety concerns as a black woman.
It didn't go well.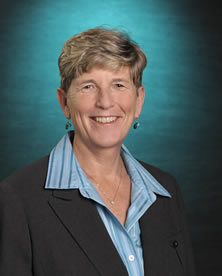 "[T]he vice chancellor really lost her cool when the ACLU advocate made her aware she had white privilege," Merghani told The Fix in a text shortly after the meeting last Friday.
In a Monday email that Merghani provided to The Fix, Leonard said the university was unwilling to provide Merghani with a full-time campus police escort.
"[W]ith no specific direct threat to you personally by another individual, they do not see appropriate cause to approve your request for an armed escort to all classes," Leonard said. (They did not discuss the threatening message that Merghani deleted.)
It would also present the university with an image problem, Leonard seemed to suggest: It "would be tantamount to a broader safety issue for others on campus."
Breach of contract and 'emotional trauma'
"I made a request for armed security to escort me from class to class which they denied because 'it would make the university look bad' if their only black, gay, muslim, refugee student was so targeted and unsafe she needed security to escort her from place to place," Merghani wrote in a Facebook post Aug. 16.
Leonard did not respond to Fix emails Tuesday and Wednesday asking what sort of personal threats, if any, would spur the university to provide police protection. The Office of University Relations declined to comment on Wednesday.
"I literally cried for hours," Merghani told The Fix via text message Monday. "Like, [Leonard] literally told me she was denying my security request and then sent me the link to withdraw. That's so fucking hurtful. This is the same woman who was patting me on the back telling me how proud she was of me just a year ago?"
Merghani said she plans to sue the university, likely for "breach of university policy" and "emotional trauma," but will also appeal the university's decision to Chancellor José Sartarelli.
"I keep trying to tell myself it's not personal but it's clearly personal," said Merghani.
Like The College Fix on Facebook / Follow us on Twitter
IMAGE: Joseph Sohm/Shutterstock