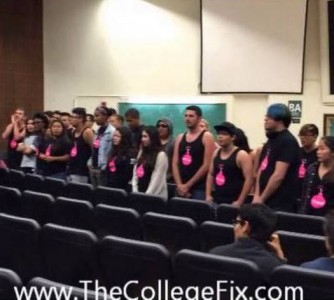 UPDATED
ANALYSIS
Restrictions on student speech, such as free speech zones, often hit groups across the ideological spectrum in roughly the same way.
Conservative and libertarian groups, however, sometimes get an odd choice from campus administrators: You can speak, but it'll cost you.
Messages that could theoretically provoke violence because they stir up such strong emotions seem to be a favorite target of the pay-to-play option on campus.
It's only when watchdog groups such as the Alliance Defending Freedom and Foundation for Individual Rights in Education (FIRE) intervene that administrators back down, according to a College Fix review of cases.
"FIRE sees administrators burden speech with security fees far too often," Ari Cohn, senior program officer for legal and public advocacy, told The Fix in an email.
In Cohn's opinion, "the motivation is less based on ideology, and more based on the controversial or unpopular nature of the speech or speaker, along with fears of the disruption or hostile reactions that will result."
'Struggling' students might be 'upset' to hear people disagree
The most recent pay-to-play situation involved the University of California-Santa Barbara's Anscombe Society, which promotes sexual purity and the traditional family on campus, inspired by the writings of Catholic moral philosopher Elizabeth Anscombe.
The student group was initially forced to pay for "extra" security at its pro-traditional marriage event. When the Alliance Defending Freedom, a religious-liberty group, intervened on the group's behalf, the school agreed to rescind the extra fees, Campus Reform reported.
The school apparently thought the message was so jarring that the event needed a bigger security presence.
In an email to the society's president, an administrator said students "struggling personally with these issues" might be "upset" by learning there's opposition to gay marriage, Campus Reform reported.
It's not just one Anscombe chapter, either: Last year the Stanford University chapter originally faced $5,600 in security fees for a one-day conference on marriage and "sexual integrity."
The group claimed the administration only demanded the burgeoning security presence "after a vocal group of LGBTQ activists announced their opposition to the event." The event was also denied funding from student fees, with protesters at a student government meeting claiming the event could cause an uptick in suicides and that it would make students feel "unwelcome."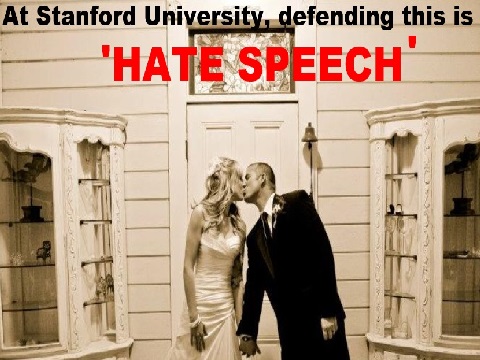 Likely 'disruption'? You must pay up
Advocacy for gun rights appears to be a triggering factor for the imposition of security fees.
After Boise State University forced a student group to pay a security fee when it hosted Second Amendment plaintiff Dick Heller last summer – for an event with an explicit no-gun policy – the backlash from civil liberties groups including FIRE led the school to refund the fee.
The school didn't change its policies on the triggers for a mandatory security fee, though.
Security fees for controversial speech go back at least to 2009, when the University of Massachusetts-Amherst charged the campus Republican Club more than twice as much as initially estimated for security at a speech by socially conservative columnist Don Feder.
That happened in response to protesters saying they would attend the event. The school engaged in semantics in explaining why it increased the fee, but refunded the extra costs to the club to end "the perception of a controversy."
The University of Buffalo feared a "disruption" by hecklers at a "controversial" campus abortion debate in 2013, leading it to charge its Students for Life chapter for security, according to an alliance lawsuit against the school.
The school later settled and changed the policy. "The end result of these unconstitutional, content discriminatory policies is a chilling of speech that has no place at universities — the marketplace of ideas," Christian Andzel, a lead plaintiff in the suit, told The Fix in a social-media message.
The problem with using "disruption" as a litmus test for extra security is it incentivizes opponents of the targeted speech, FIRE's Cohn said: "All one would have to do to prevent speech they disagreed with is to threaten violent reaction or disruption, and foist a burden upon the speaker that they may not be able to afford."
You can talk – you just can't say everything you want
It's not always money on the line for groups that don't toe the progressive line – it's sometimes the right to control their message.
Boise State found itself in the spotlight again last week when it settled a lawsuit over its practice of not only limiting where a pro-life group could distribute its flyers, but requiring the group to post "warning signs" around its "controversial" displays.
Unlike the Heller dispute, Boise State agreed to change its policies in addition to paying damages and the student group's legal costs.
Some threats to student speech, even when restated repeatedly, prove to be empty.
The Students for Liberty chapter at Loyola University-Chicago was warned repeatedly by the school in 2014 that the group must censor certain student-scrawled phrases from its "free speech wall" in a campus building.
Administrators told the group it must remove messages that were "indecent," "grossly offensive" or contrary to the university's "Catholic, Jesuit mission and heritage," according to FIRE's letter to the school. It never gave the group a "specific definition" of what was allegedly prohibited.
(Loyola's commitment to protecting its Catholic identity might not be obvious given its recent hosting of a "queer prom" and a prominent transgender activist, among other sexually liberated activities.)
As FIRE later recounted, Students for Liberty ignored the warnings and the school opted to avoid a confrontation.
Eventually, monetary burdens on speech could end up widely penalizing progressives as well as conservatives and libertarians.
FIRE's Cohn told The Fix it's not just groups seeking to bring "speakers such as David Horowitz, Don Feder, and [anti-Islam Dutch lawmaker] Geert Wilders to campus [who] have been saddled with unconstitutional security fees" – it's also "groups who wanted to bring [Weather Underground cofounder] Bill Ayers and Ward Churchill."
UPDATE: This article has been amended to correct Geert Wilders' nationality. He is Dutch.
College Fix reporter Matt Lamb is a graduate student at the University of Nebraska-Omaha.
Like The College Fix on Facebook / Follow us on Twitter
IMAGES: Austin Yack for The College Fix, Advocate at Loyola University Chicago
Like The College Fix on Facebook / Follow us on Twitter