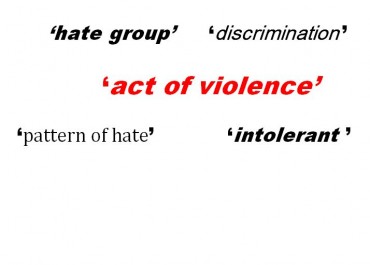 Young America's Foundation at George Washington University has objected to mandatory LGBT sensitivity training – and has since been called a 'hate group' and accused of 'violence' and other offenses for inviting Rick Santorum to speak and refusing to use people's 'preferred gender pronouns'
The Young America's Foundation student organization at George Washington University could be at risk of losing funding over its opposition to mandatory LGBT sensitivity training, a stance that has thrust the group into a firestorm of controversy on campus and prompted some to ridicule its members and accuse them of "hate."
The GW Student Association, the university's student governing body, recently passed bills requiring the training sessions for leaders of student organizations. Young America's Foundation, a socially conservative group on campus that supports traditional values, is seeking a religious exemption.
But Amanda Robbins, the group's co-president, told The College Fix that the bill does not offer such exceptions.
One student senator attempted to add an exemption for religious groups to the bill, but that measure was not approved by the rest of the governing body, she said.
"We are hoping that by voicing our opinion, other groups may follow our lead, resulting in the [student government] taking our request to heart," Robbins told The College Fix.
Robbins added she was upset by the lack of tolerance for conservative viewpoints on her campus. 

When news that the group sought an exemption from the training spread across campus Thursday and Friday, the controversy engulfed the school, and many students ridiculed the conservative club, calling it names and accusing it of "hate" on the Internet and social media.
Student Association President Nick Gumas tweeted: "Things that are absurd: GW YAF."

Allied in Pride, an LGBT group on campus, accused YAF of "intolerance and a pattern of hate" for inviting former Sen. Rick Santorum, a conservative Republican, to speak. The group also stated the conservative club's funding should be revoked.
"The Young America's Foundation is a political organization, not a religious one, so they cannot seek a religious exemption," the group wrote on its Facebook page. "And their refusal to use preferred gender pronouns should be considered an act of violence and a violation of the non-discrimination

clause required in all GW student organizations' Constitutions."
Young America's Foundation Vice President Patrick Coyle said the backlash the group faces is all too typical.
"Like most universities, in order to be 'inclusive,' GW must exclude students who disagree with prevailing leftist ideas that are pushed by the administration, faculty, and other liberal student groups," he said in a statement.
Coyle said George Washington University has a "long history" of such intolerance, citing a number of attacks on its YAF chapter over the years, including an incident last year in which students vandalized a pro-life display and trashed some of the items.
But not all right-leaning students on campus agree with the club's stance on the sensitivity training.
"Regardless of your views on LGBT people, LGBT people exist,"Alex Pollock, chairman of the GW College Republicans, told The GW Hatchet. "It should be mandatory from a sensitivity perspective."
"The intent is not to belittle political or religious organizations," Pollock added. "The purpose of this bill is to make student organization leaders aware that we have a diverse student body and make people feel included."
Despite chatter of cutting or eliminating YAF's funding, Robbins told The College Fix that most of those threats are "illegitimate claims from individuals and students organizations but not from the Student Association or the university (yet)."
The group's members say they are confident their funding will not be cut, but Robbins added if the Student Association does not exempt them from the mandatory LGBT sensitivity trainings and if GW YAF subsequently ignores the rules for personal and religious reasons, the group "could very well lose funding."
Like The College Fix on Facebook / Follow us on Twitter