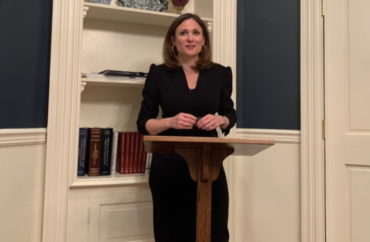 PRINCETON, N.J. — Journalist Abigail Shrier spoke to Princeton University students at a private event on Wednesday, discussing everything from free speech and academic freedom to gender ideology and parental rights.
The talk was held at an off-campus venue, the location of which was revealed solely to RSVP'd guests just a few hours before the event due to "threats and harassment" organizers said were leveled against Shrier and student groups co-hosting the lecture.
That along with Princeton's remaining coronavirus restrictions necessitated the heightened security measures, Adam Hoffman, publisher of The Princeton Tory and a student organizer of the event, said in his introduction of Shrier.
But the talk did represent the start of a recommitment "to the relentless pursuit of the truth," Hoffman said, adding that he hoped his peers' scare tactics would no longer suppress open debate at the Ivy League institution.
Shrier's talk was co-hosted by The Princeton Tory, the Princeton Open Campus Coalition, and Public Discourse, the journal of the Witherspoon Institute, where the event was held.
Shrier is author of the recent book "Irreversible Damage: The Transgender Craze Seducing Our Daughters," which has made her a prime target for accusations of transphobia.
Student protests precede talk
In the days leading up to the talk, some Princeton students took to social media and online forums to condemn Shrier and castigate the event's student organizers for inviting her to campus.
One student, whose Twitter account describes himself as a writer for The Daily Princetonian, called organizers "free speech weirdos" who "love to role-play as righteous revolutionaries who hide b/c they have a viewpoint under violent threat."
"The real reason they hide is so they can stay in their echo chamber and not have their bigotry challenged. Doesn't seem like open dialogue to me."
"Free speech" weirdos love to role-play as righteous revolutionaries who hide b/c they have a viewpoint under violent threat. The real reason they hide is so they can stay in their echo chamber and not have their bigotry challenged. Doesn't seem like open dialogue to me… https://t.co/eAY1x6cpOK

— Wilson Conn (@wilson_conn) December 5, 2021
In a post on the anonymous student-only Facebook group Tiger Confessions, another student slammed the event's organizers as "transphobic," writing that inviting Shrier "further[s] a culture that makes trans and nonbinary people feel like social pariahs," along with other expletives. The post received over 50 likes as of Thursday.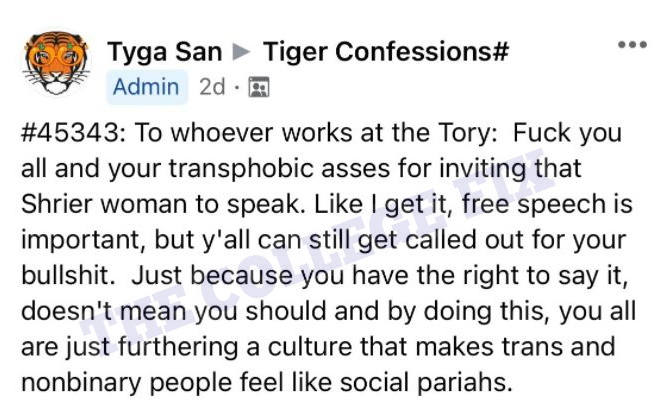 In the days leading up to the talk, a communist student group called "Revolutionary Student Action" distributed flyers on campus accusing Shrier of spewing "hate speech," "lies," and "debunked theories" about transgender people.
The flyer, adorned with a hammer and sickle, called Shrier's views "unfounded" and "bigoted," and asserted inviting her to campus put transgender "lives at risk by further marginalizing them."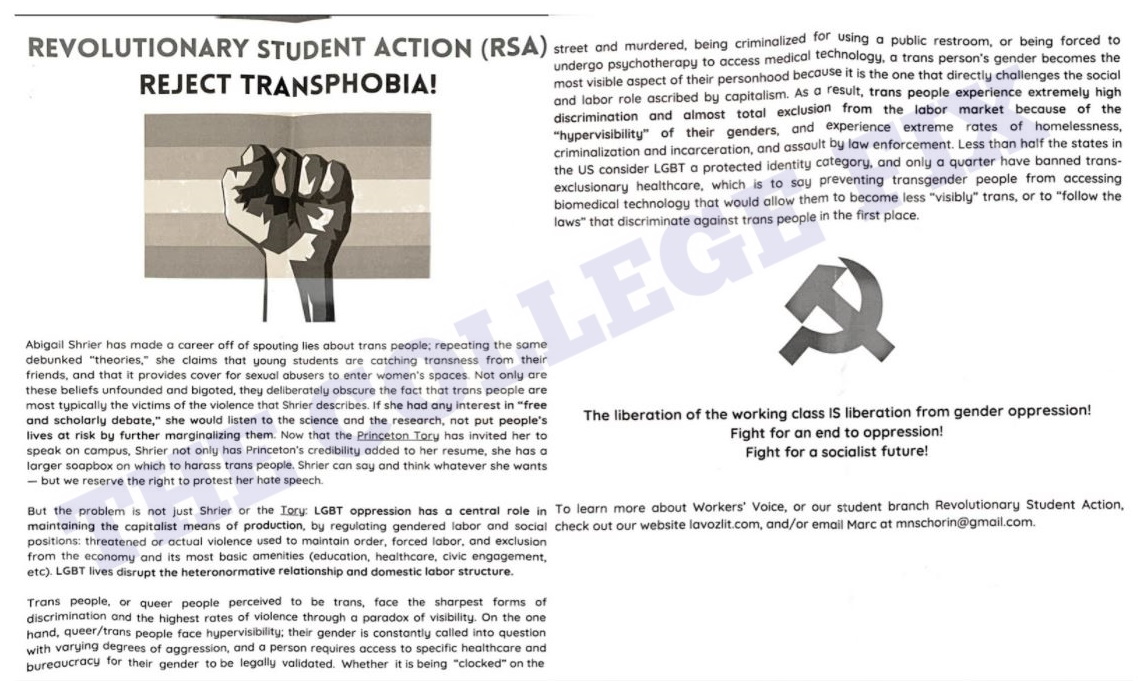 In response to Shrier's appearance, Princeton University's Gender and Sexuality Resource Center posted a series of infographics on Instagram, Facebook and Twitter, including one graphic which claimed that "the concept of the gender binary is scientifically and philosophically not supported by science" and another that criticized the conclusions Shrier draws in her book as "erroneous" and based on "false assum[ptions]."
The center also held a "teach-in" along with the Princeton Pride Alliance as a "form of protest" against Shrier's talk, according to The Daily Princetonian.
Hours before the talk, student leaders of The Princeton Tory and the Princeton Open Campus Coalition issued a joint statement defending Shrier's appearance and decrying "woefully inaccurate characterizations" of the private event.
According to the statement, student reporters affiliated with The Daily Princetonian "repeatedly attempted" to "gain access" to the private, RSVP-only event, including by suggesting that the "accuracy and fairness" of their news reporting would be dependent upon organizers' willingness to accept their coverage and access demands by violating their first-come, first-served attendance policy and Princeton coronavirus restrictions.
The Tory's statement called the Princetonian ultimatum "painfully embarrassing," particularly given the newspaper's "grisly record on accuracy and fairness" in covering similar events in the past, and noted other media outlets would provide coverage of Shrier's talk.
In a lengthy response published by The Daily Princetonian's editorial staff, newspaper leaders did not explicitly deny that the "accuracy and fairness" of their coverage was conditioned on cooperation from Shrier and event organizers.
'What the hell am I doing off campus?'
All of the drama was not lost on Shrier.
"This is pathetic. Don't accept this," Shrier told her audience. "What the hell am I doing off campus? You know what, they won. Why? Because there's 35 people, and there were hundreds who wanted to attend."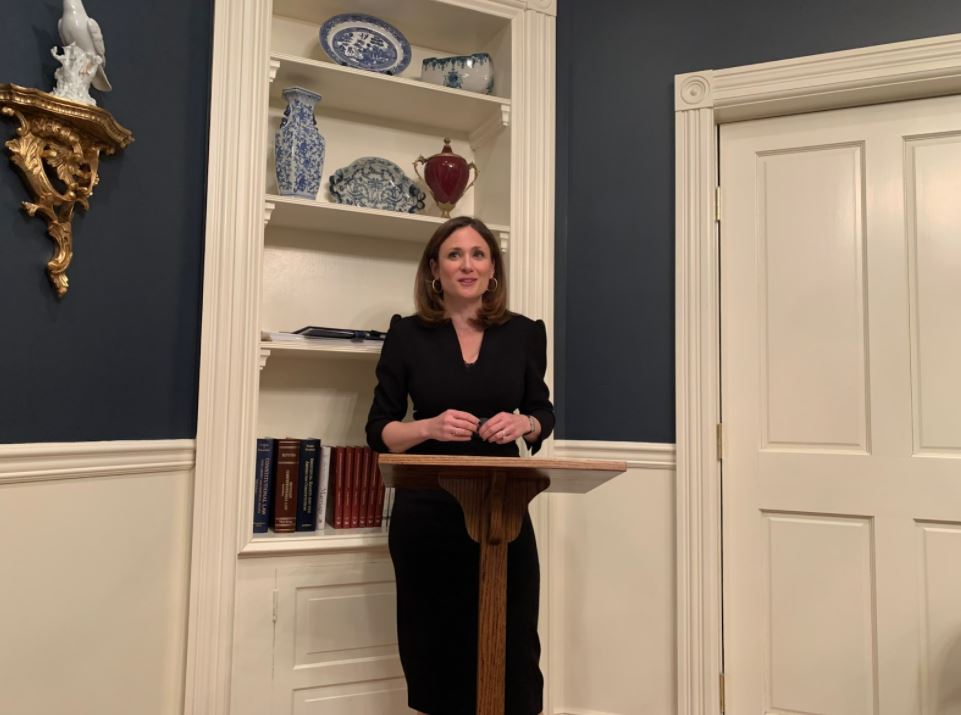 Shrier said she understands what's at stake, but that the truth must prevail.
"We are, each day, force-fed falsehoods that we are expected to take seriously, on pain of forfeiting esteem and professional opportunity," Shrier said. "Some men have periods and get pregnant. Hard work and objectivity are hallmarks of whiteness. Only a child knows her own true gender. Trans women don't have an unfair advantage when playing girls' sports."
"I know why students keep their heads down," she continued. "They're hoping for that Goldman [Sachs] or New York Times internship, which they don't want to put in jeopardy."
"Well, any institution that takes our brightest, most capable young people and tells you that you can only work here if you think like we tell you and keep your mouth shut ― that isn't really Goldman Sachs, and that isn't really the paper of record. It's the husk of a once-great institution, and it's not worth grasping for."
"Talk to alums at these institutions," Shrier added. "They sound like those living under communist regimes. That's the America that awaits you if you will not speak up."
Noting the illiberal echo chambers that modern college campuses have become, Shrier also urged students to "take back" their freedoms.
"You will soon be graduates of Princeton," Shrier said. "Show some self-respect, and reclaim your freedom."
'The crazies outside your door, that's not America'
Shrier maintained during the event's question-and-answer period that she has "no hate for any group."
"I know and care about more transgender people than most people," she said. "I wouldn't have written [Irreversible Damage] if I hated any group. It wasn't about that. It was just about a medical situation involving one demographic."
Responding to a question regarding the supposed medical consensus on gender dysphoria and transgender identity, Shrier argued that "the institutions are completely corrupt."
"Any doctor who's worth his salt knows that there is a difference between men and women," she said.
Answering another question, Shrier addressed the secretive nature of the event and said that "there may not be" any hope left for U.S. universities.
"When students say that they're afraid to be caught on audio because of fear of reprisal, they're not free. That's not what freedom looks like," she said. "Don't accept it. And don't believe anyone who tells you that this is a free campus ― it's obviously not."
"Don't pretend that the censors aren't winning. We've got to start there."
In response to a question asking if conservatives need to look into building "parallel institutions," Shrier demurred, saying that "we may" but acknowledging that while "not impossible," it represents a "big undertaking."
Still, Shrier followed up on her answer by telling students not to conflate radical activists with mainstream liberals and normal, everyday Americans.
"Here's what I want you all to know: the crazies outside your door, that's not America," she said. "Let me tell you something: a huge amount of my support is liberal. I wouldn't be here today if it weren't for liberals. Liberals got me onto Joe Rogan, and they pushed my book at every turn. They didn't do so publicly, they did it behind the scenes."
"…They matter, they're all over America, and they're afraid too. They're reasonable, and it's worth reaching out to them ― they're not the crazies on your campus," she said.
"They're normal people, and they want to lead good lives. People who are raising children don't want other people coming in and transitioning them. They actually don't, because that's bananas."
A transcript of Shrier's prepared remarks has been posted on her Substack.
MORE: Author of 'Transgender Craze Seducing Our Daughters' offers parents advice on how to protect their girls
IMAGE: Matthew Wilson / For The College Fix
Like The College Fix on Facebook / Follow us on Twitter