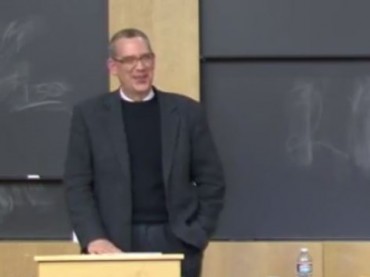 Conservatism is often misunderstood, maligned and manipulated, said Dr. Bradley J. Birzer.
Its "poor reputation," said Birzer – recently tapped as the incoming Visiting Scholar in Conservative Thought and Policy at CU Boulder – stems from many sources.
"It's been hijacked by those who want to commodify it and narrow it for personal gain," he said in an interview with The College Fix.
It's often also identified as being "imperialist and fundamentalist, politically, though its origins are as rich as they are broad and far more often non-political than political," he adds.
As Dr. Birzer heads into his new post, he said he hopes to illustrate that, at its heart, conservatism is rooted in the founding principles of America.
"I've spent the last fifteen years at a small but powerful college that proudly defends the liberal arts and the American tradition of liberty under law," said Birzer, a history professor and the Russell Amos Kirk Chair in American Studies at Hillsdale College.
In a statement to CU Boulder, he added that: "To my mind, being a conservative has little to do with politics, but instead has much to do with identifying and preserving excellence in art, culture, literature and scholarship."
"It means to identify and conserve the particular talents, dignity and freedom of each individual and, where possible, to connect all persons across time from the beginning of things to the end."
Birzer will teach several western civilization courses at CU Boulder, and said he believes that conservatives "must not only embrace the western traditions of the Great Books, Stoicism, excellence in all things, individuality without community," but also remember more recent voices often forgotten, including Irving Babbitt, Willa Cather, Russell Kirk and Christopher Dawson, among others.
University leaders say the point of the conservative post is to secure a highly visible scholar "deeply engaged in either the analytical scholarship or practice of conservative thinking and policymaking or both."
As for the need for such a post at CU Boulder – which has a reputation as being one of the most left-leaning campuses in the nation – Birzer said it's clear the campus is willing to engage in debate and diversity of thought.
He said there is an intensifying worry among many Americans that "a growing conformity exists in academia," and that the humanities have endured a declining reputation over the last 20 years.
"From my limited perspective," Dr. Birzer said, "this is not the case at CU."
Upon visiting, he said he found the intellectual vigor to be "spectacular and addictive."
If any concern is pressing in higher education, it's that courses in western civilization have declined dramatically over the past 20 years or so.
"And, of course," he added, "the liberal arts have been under attack since the 1880s."
"When I was in college," he said, "the debate revolved around what should be in a core revolving around western civilization." But today, he said, the debate is non-existent because most colleges have "lost interest in the core, the Great Books, and western civilization."
He said this development is "terrible, as western civilization has so much to offer at its best."
"After all," he said, "it's pretty hard to do better than the ethics of Socrates, the sacrifice of Perpetua, and the philosophy of the Aquinas."
Birzer's love for the liberal arts is second only to that of his Catholic faith – "excluding family and friendships, of course."
Birzer holds a PhD in history from Indiana University and has written many books, including "American Cicero: The Life and Times of Charles Carroll," "Sanctifying the World," "The Augustinian Life of Christopher Dawson," "J.R.R. Tolkien's Sanctifying Myth: Understand Middle-Earth," and "American West," which he co-authored with Larry Schweikart.
The Visiting Scholar in Conservative Thought and Policy is a pilot program supported by private funds. More than 20 donors raised $1 million to support the three-year program, according to campus officials.
During his one-year post at CU Boulder, Birzer said he hopes to continue the rich discussion launched by his predecessor and the visiting scholar's debut appointee, Professor Steven Hayward, adding his voice to what he called "an already excellent conversation."
Hayward's inaugural year was widely considered a success, as he organized well over a dozen guest speaker appearances, debates and other events during his appointment. He also mentored students, and when the CU Boulder's philosophy department came under attack, he defended it in the local newspaper.
Aslinn Scott, a CU Boulder student, campus Republican leader, and College Fix contributor, said she attended many of Hayward's events and described the program as a vital addition to the campus.
"Having Steve at CU not only as a professor but also as a mentor to students across the spectrum was a unique opportunity," she told The Fix. "The conservative thought program may have been in its infancy, but it made great strides for representing conservative thought on campus."
Toward the end of the school year, Hayward was criticized by a couple of student leaders for an old blog post he penned, but the controversy was minor compared to the overall yearlong experience, which Hayward called "overwhelmingly positive."
Birzer said he is eager to follow in Hayward's footsteps.
"A year-long adventure awaits," he said.
College Fix contributor Andrew Desiderio is a student at The George Washington University.
Like The College Fix on Facebook / Follow us on Twitter
IMAGE: CU Boulder