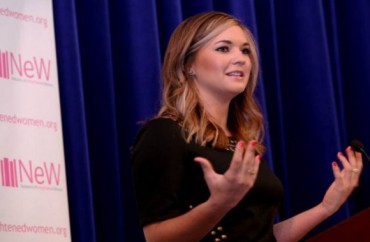 Members of the Black Lives Matter group showed up to protest popular pundit Katie Pavlich last evening at the University of Delaware's Mitchell Hall.
Pavlich's talk was sponsored by the "registered student organization" Students for the Second Amendment. But BLM was in attendance mainly to protest Pavlich's criticism of their group, and that she has dared to question the common "1 in 5" campus sexual assault statistic.
She's also advocated that women practice self defense and for the concealed carry (of firearms) as a means to thwart assaults.
"We really felt it important to redefine our mission," senior political science major Georgina Class-Peters said. "Once we as a leadership team have that together, we can then go to our community and be like, 'this is why it's important for you not to be violent and not to be disrespectful.'"

Jeremy Mathis, a senior studying criminal justice and women and gender studies, was one of the students involved in planning the protest. He said the goal of the protests was to show that students at the university will not stand for bigotry or intolerance.

"We're going to sit in the front, be there and let her know that the University of Delaware is not a place where this sort of thing is welcome," Mathis said.

In front of Mitchell Hall, the protesters wore black and stood in solidarity to support their cause. Purple ribbons were also handed out to show support for victims of sexual assault. The scene was tense, but protest organizers professed a desire to begin a campus-wide conversation.

"We need to talk about diversity, we need to talk about these issues, but not in an incendiary way," Mathis said. "We need to actually have an open dialogue."
There it is again — that supposed desire for "conversations."
Perhaps Mr. Mathis's double field of study has caused a contradiction in logic regarding what "an open dialogue" is. You can't stand for open dialogue while simultaneously stating that the university "is not a place where [something you disagree with] is welcome."
Not to mention, one may wonder: if Pavlich is "incendiary," how should BLM be described?
Pavlich conceded that Black Lives Matter was "respectful and quiet in the hallway," but wondered if that would have been the case without "heavy police and security team."
Like The College Fix on Facebook / Follow us on Twitter