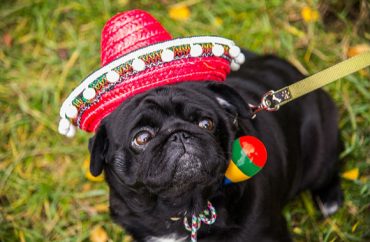 A year ago, Virginia Tech reportedly interrogated students who publicly disagreed with a student government initiative against common Halloween costumes (sombrero, kimono, belly dancer) on the grounds that they represented cultural appropriation.
That spurred the Young America's Foundation to get involved at Virginia Tech – and this year, it's taking the "Funeral for Halloween" activism initiative nationwide.
Young Americans for Freedom chapters can participate on their campus by buying or making a "coffin yard decoration," putting Halloween costumes in it and decorating the box with gravestones and other ghoulish decorations.
MORE: University of Florida offers 24/7 counseling for Halloween triggering
They should then write an "Obituary for Halloween" that explains how campus crybullies are killing a "fun and lighthearted holiday." Here's their sample, explaining the diverse roots of Halloween:
For decades, Halloween tradition encouraged people of all ages to assume a different identity for one night every year, allowing Americans to let loose and have fun while dressing up as their favorite Disney character, movie star, or public figure. Political Correctness, an increasingly powerful and bloodthirsty force in the cultural landscape, vilified these good humored, decent celebrants as "racist" perpetrators of "cultural appropriation" for donning sombreros, Pocahontas costumes, and kimonos in the spirit of the holiday.
Announcing the latest activism initiative from YAF: The Funeral for Halloween. #RIPhalloween Learn More: https://t.co/gzfANd7z1u pic.twitter.com/VoclvwHwjC

— YAF (@yaf) October 14, 2016
MORE: Evangelical campus ministry joins PC police with Halloween rules
Participants are tasked with handing out obituaries and Halloween candy at their display in a "high-traffic area" Oct. 31.
Students who attend each "funeral" are encouraged to get rid of their culturally appropriated costumes in the coffin, "since they will no longer be of use, lest students risk the wrath of the university's PC Police," the sample obituary reads.
Read more about YAF's initiative, the sample obituary and the Virginia Tech situation. And remember what happened last fall at Yale.
MORE: Yale professor's defense of Halloween costumes causes witch hun
Like The College Fix on Facebook / Follow us on Twitter
IMAGE: Liukov/Shutterstock