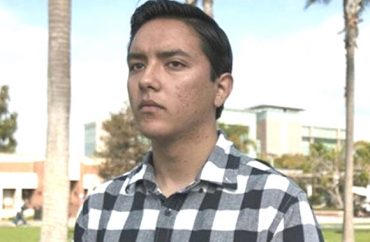 Targeted student: 'Anyone who's conservative shouldn't feel safe at Orange Coast College' 
A conservative student at Orange Coast College has hired a private investigator to determine who is responsible for graffiti that targeted him and other conservative students on campus recently.
Threatening messages against Orange Coast College student Joshua Recalde-Martinez began online several months ago when he received threats for his family to be raped and killed after defending a student peer who recorded his professor's anti-Donald Trump rant.
The hate messages recently escalated with the graffiti incident, in which vulgar slurs were sprayed onto several campus buildings against Recalde-Martinez and College Republicans.
Recalde-Martinez told The College Fix he felt compelled to hire the PI for further investigation into the graffiti incident. He said he believes his school leaders did not take the matter seriously, and he is unsatisfied with the way in which the Costa Mesa Police Department is handling the 1-week-old probe.
The first threatening messages were sent via Facebook and email, and included vulgar remarks such as "You are a disgusting human being … your life will be full of tragedy," "someone else is f*cking your girlfriend right now," and "I will hunt down your sisters, wives, and grandmothers. I will rape them. I will burn them. I will kill each and every one of you f*ckers." Another message mocked him for being a Latino Republican.
Then, earlier this month, an individual vandalized several campus buildings with vulgar graffiti that included "Josh Martinez f*ck the fascist" and "Doxx Josh Martinez f*ck young republicans." Doxx means to publish one's personal contact information.
Juan Gutierrez, a spokesperson for Orange Coast College, told The College Fix via email that "the case was turned over to the Costa Mesa Police Department for further review. All video surveillance has also been turned over to Costa Mesa Police."
Roxi Fyad, a spokesperson for the Costa Mesa Police Department, told The College Fix via email "I can confirm for you that we received OCC's report on Tuesday [March 13] and we are following up on that report." Fyad did not have further details to release on the status of the investigation at this time.
But Recalde-Martinez said he wants justice. He showed The College Fix a copy of his contract with the PI to prove he is serious about finding the graffiti culprit, and to that end plans to seek access to the video footage turned over to the police department by the college — footage he says officials have refused to show him thus far. He is also upset that officials are not treating the incident as a "hate crime."
"I am personally put at unease by the fact my case was never reported as a hate crime even though in the state of California it is one by law," he told The Fix via email, citing a California Civil Code that prohibits threats of violence against a person based on their political affiliation.
According to the Los Angeles Times, the graffiti slurs against Recalde-Martinez were found earlier this month on five different buildings, including the Student Success Center and bookstore.
"The incident was reported at 8:25 a.m. Saturday by an OCC public safety officer who found one of the writings and later searched nearby buildings. A knife was found on the grass by the main entrance of the Forum Lecture Hall," the Times reported. "Surveillance video from early Saturday shows a person vandalizing buildings and carrying a skateboard, according to an OCC report."
The reason Recalde-Martinez was thrust into the national spotlight in recent months is for his visibly aggressive role in defending a peer, Caleb O'Neil, who recorded his professor calling Donald Trump a white supremacist, saying Mike Pence is "of the most anti-gay humans in this country" and suggesting the election results were "an act of terrorism."
The video thrust the professor and the school into the national crosshairs.
O'Neil was suspended in late January by campus leaders for allegedly violating a no-recording policy, but that decision was rescinded in February by the Coast Community College District Board of Trustees.
Currently a sophomore studying political science and business administration, Recalde-Martinez said he does not intend on continuing his studies at Orange Coast College.
"I'm doing good in school but plan on going to a different school in the district next semester," he told The College Fix over the phone. "I still worry for both myself and my family, but my biggest concern for safety on campus is for the OCC Republicans club members. I think it's gotten so bad that anyone who's conservative shouldn't feel safe at Orange Coast College."
"I've received pressure from liberal students and professors throughout the whole situation since December," he continued. "[I am] doing well, just trying to live every day like a normal one."
In the midst of this onslaught, he also stepped down as president of the College Republicans and appointed someone else to his spot.
Recalde-Martinez's mother is also an employee of the school, and the entire matter has caused her a great deal of stress, but she intends to continue employment there, he said.
"She does [intend to continue employment] for the sake of the family that relies on her, because she's a single parent, and because she isn't a woman to back down," he told The Fix.
When asked what action he would like the school and police department to take, he said he wants them to take this incident seriously.
"I would like the college to take additional measures in assuring conservative students are protected," he said. "I'd also like to have the college make a statement denouncing the action. … [As for Costa Mesa Police], I'd like them to find and arrest the individual who vandalized the campus."
He does not have a detailed update on his PI's progress, but said the matter is being actively investigated.
MORE: Conservative students say they have been 'violently threatened' at Lutheran college
Like The College Fix on Facebook / Follow us on Twitter