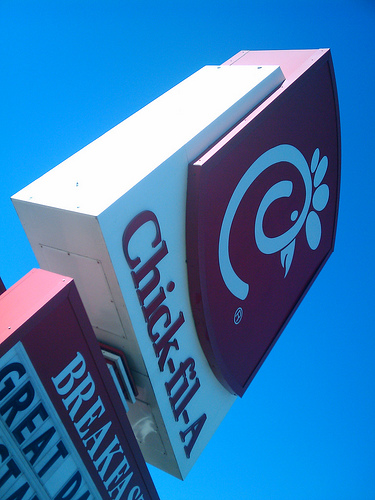 Conservative students – fed up with their leftist peers' protests and petitions against Chick-fil-A and its CEO's recent comments against gay marriage – have mounted their own campaign across the nation to protect and defend the restaurant chain.
They're writing letters to the editor in student newspapers, telling people to back off. They're eating at the restaurant more often, driving up its profits at some locations. They've even started pro-Chick-fil-A petitions to counteract petitions that seek to boycott or remove the eateries from some campuses.
Several conservative students argue that while their activist campus peers get their feathers ruffled by some people's beliefs, they're just as quick to push their opinions down others' throats.
"I think it's absolutely ridiculous that these liberals want free speech unless it's speech against something they believe," Ralph D'Elia, a senior at the University of South Florida, told The College Fix. The Chick-fil-A on the Florida campus is the target of a petition to have it removed.
"I want Chick-fil-A to stay, and I'd be pretty upset if this petition has an effect," D'Elia said.
Comments posted by students who aim to keep Chick-fil-As on their campuses by signing online petitions in support of the restaurants include "I don't think hate-filled liberals should be able to force their beliefs on anyone" and "if students … decide to boycott Chick-Fil-A, then let them; however, this decision should not be forced upon the student body as a whole."
In July, Dan Cathy, CEO of Chick-fil-A, commented to the Baptist Press that he supported the "biblical definition of marriage" and supporting gay marriage would be "inviting God's wrath upon our nation."
Those remarks caused some students – including the many Lesbian, Gay, Bisexual, Transgender and Queer clubs at college campuses nationwide – to protest their local Chick-fil-A through online petitions hosted on Change.org.
Change.org boasts more than twenty petitions to remove Chick-fil-A from campuses across America, including petitions for New York University, which currently has 16,400 supporters, and Loyola University, with 406 supporters. Other student or professor-led petitions include those at the University of South Florida, the University of Illinois, the University of Virginia, the University of Southern Mississippi and Purdue.
Many of the online petitions connect the removal of Chick-fil-A with the protection of diversity on campus.
University of Kansas graduate student James Castle states on the anti-Chick-fil-A petition he started that he believes the restaurant chain's "stance on gay rights could create a hostile environment for queer individuals and allies." Nearly 3,000 people agree with Castle, according to the petition's latest count.
However, Change.org also hosts a petition to keep Chick-fil-A at the University of Kansas. For his own safety, Thomas J., the originator of this petition, has not shared his last name. The petition to keep the restaurant on campus reminds officials "Chick-fil-A and its executives have a constitutionally protected right to proclaim their opinions—no matter how popular or unpopular those opinions may be."
"If students at KU decide to boycott Chick-fil-A, then let them. However, this decision should not be forced upon the student body as a whole," Thomas stated on the petition.
Comments from the nearly 100 supporters to keep Chick-fil-A echoed Thomas' remarks.
A second petition to keep the eatery on the Kansas campus has more than 700 supporters. Its author, Michael Stejskal, states the anti-Chick-fil-A petition is "a clear example of intolerance."
In fact, pro-Chick-fil-A petitions have popped up across the nation, including in North Carolina, South Dakota and Kentucky.
In addition to petitions, some students are speaking with their wallets. The University of Maryland's student newspaper, for example, recently reported that sales are up at its campus Chick-fil-A.
"Although 878 students, alumni and community members had signed a petition … to remove Chick-fil-A from Stamp Student Union in protest of the company president's stance on same-sex marriage, the restaurant has seen an increase in sales this year," the article states. "Sales rose dramatically during the first two weeks of school following the controversy around Cathy's statement."
What's more, a headline in The University of South Florida's student newspaper, The Oracle, recently blared: "Chick-fil-A petition receives backlash."
"Though the petition was originally created because of 'Chick-fil-A's discriminatory practices against the LGBT community,' as the petition reads, many who are in favor of keeping Chick-fil-A focused on other issues, such as having affordable options for students and Chick-fil-A's rights to free enterprise," The Oracle reported. "Some felt that Chick-fil-A also has the right to operate under whatever values they want."
Letters to student newspapers in support of Chick-fil-A have also surfaced. Take a recent letter to The State Press, Arizona State University's student newspaper.
"Does kicking a business off our campus simply because some of us do not agree with its CEO's beliefs constitute as embracing all of those in our communities," writes in student Joseph North. "I think not. Rather, it sends a message to students that we are, in fact, not free to have our own beliefs."
Fix contributor Jessica Kubusch is a student at UNC Chapel Hill.
IMAGE: A Surroca/Flickr
Click here to Like The College Fix on Facebook.