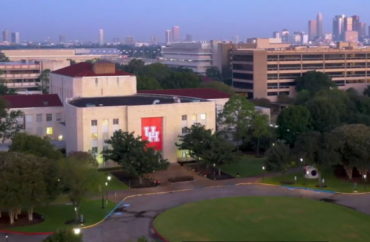 Three University of Houston students who hold a wide range of conservative views have filed a lawsuit against the school, alleging its sweeping new anti-discrimination policy prevents them from engaging in robust debates with peers and professors for fear of violating the policy.
The three students hold various beliefs that include support for pro-life causes, strong border protections, the Second Amendment, and Israel's right to self defense, according to the lawsuit.
The students, who are unnamed in the suit, also believe in issues such as that biological males should not be allowed to compete against biological females in sports and that students should not be forced to use a peer's preferred gender pronouns.
But under the public university's new anti-discrimination policy, enacted last December, discrimination or harassment on campus is now defined as including "negative stereotyping," "threatening, intimidating or hostile acts," and "denigrating jokes."
The new policy explicitly states that one-off incidents do not constitute harassment, but the lawsuit points out that's not the plaintiffs' main concern.
The conservative students want the freedom to point out flaws in left-leaning arguments and "talk frequently and repeatedly on these issues" as part of campus debate without fear of violating the university's harassment policy, which makes them reluctant to openly express themselves, the lawsuit states.
That's because such beliefs may be considered "harassment" under the new policy if left-leaning students or others find conservative views "humiliating," "abusive," "threatening," "denigrating," "averse" or "intimidating," especially if such views are shared passionately and repeatedly.
The College Fix reached out to the University of Houston for comment via email twice regarding the policy and the lawsuit, but did not receive a response.
The lawsuit was filed on behalf of the three students by Speech First, a nonprofit committed to protecting free speech on college campuses.
The lawsuit "challenges an institutional policy that restricts protected speech under the guise of prohibiting 'harassment,'" states Speech First's news release on the matter, adding it seeks to restore the First Amendment rights of students.
In the complaint, Speech First argues that the university's officials have created a "speech code" that acts as a deterrent for students who want to express views that might differ from "the mainstream."
"Instead of promoting the 'robust exchange of ideas,' universities are now more interested in protecting students from ideas that make them uncomfortable," the complaint states.
The lawsuit further alleges that according to the policy, academic freedom and freedom of expression will not absolve one if his or her behavior is deemed to be in violation.
The complaint also references a speech by the university's Deputy General Counsel, Jeffrey Palmer, where he affirmed that hate speech is protected by the Constitution, but said it is not allowed by the university.
Cherise Trump, executive director of Speech First, told The College Fix she is "seriously concerned with the way these types of policies are chilling student speech and diminishing open discourse and debate on campuses."
"This will not help students in the long run and could prove detrimental to American culture and society if future generations have developed a propensity towards self-censorship rather than free expression."
In a statement sent to The College Fix via email, the Director of Policy Reform for the Foundation for Individual Rights in Education, Laura Beltz, said "FIRE has long had concerns about the serious threat to student speech rights posed by the University of Houston policy challenged in this lawsuit."
"Courts have made clear in rulings dating back more than three decades that public university harassment policies cannot infringe upon student First Amendment rights. We will track the progress of this litigation closely."
But University of Pennsylvania Professor Jonathan Zimmerman told The Washington Times that he was not sure that the policy resulted in students "suffering concrete injuries," as it states in the lawsuit, however he did say that "[s]peech codes contribute to self-censorship, which is the enemy of real education everywhere."
"To learn from each other, we need to speak our minds without fear. And broad restrictions on campus expression discourage us from doing that," Zimmerman said.
MORE: Free speech group continues to defend First Amendment rights on campus via the courts
IMAGE: YouTube screenshot
Like The College Fix on Facebook / Follow us on Twitter