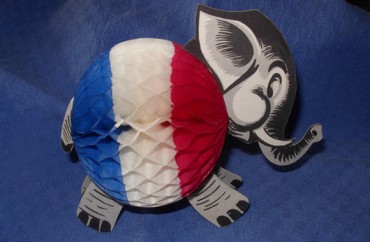 Artwork displayed as part of the annual Cornell School of Industrial and Labor Relations Labor Roundtable featured several strongly anti-Republican exhibits by "two of the leading labor cartoonists in the country."
One of the images featured the GOP elephant with its trunk up a woman's skirt. Another had a (GOP) elephant in ISIS-like garb holding a knife, with a man about to be beheaded symbolizing "The Middle Class."
A third depicted the Confederate flag with a Nazi swastika. This exhibit went missing as of Friday morning.
Although, according to The Cornell Daily Sun, several students contacted the school's student services "to express their discomfort," there is no mention that these students are politically conservative.
Initially, staff responded that the the offensive pieces would be taken down, but ILR faculty stepped in to defend the protection of first amendment rights, according to [Professor Kate] Bronfenbrenner.

Kevin Hallock, dean of the ILR school, later issued a statement explaining the decision to leave the exhibit intact.

"Art can sometimes shock and be controversial, and the dialogue created can be important, especially in an institution like ours where the principles of academic freedom and freedom of expression are fundamental," he said.
RELATED: Prof: Display of Confederate flag should be a 'hate crime'
Likewise, some ILR students defended the associations drawn by the cartoons, saying they contribute to discussions of racism and sexism that are pertinent to the labor movement.

"The swastika is a symbol of hate, and it draws really powerful parallels to white supremacist hatred in the south and the ways in which that hatred has been mobilized using the confederate flag," said Allison Considine '17, one of the student organizers of the event.
Remarkably, even though no one yet knows the political ideology of the objecting students, the School of ILR's Bronfenbrenner attributed the growing "sense that the First Amendment doesn't apply" to — of all things — the Tea Party.
"We've invited people who've been much more provocative than the two we invited this time […] but I think the times have changed so that people on the right are emboldened, because of perhaps by the Tea Party or others," she said.
Talk about existing in a bubble.
As noted, the Confederate flag exhibit was the one that went missing; it's not as if the image of a Confederate flag has ever upset a progressive, right?
Progressives far outpace conservatives when it comes to attempting to stifle voices with whom they disagree, but the numbers for the latter still are disappointingly high.
Read the full Daily Sun article.
RELATED: Mizzou chancellor flips out over three-year-old photo of Confederate flag near campus
Like The College Fix on Facebook / Follow us on Twitter
IMAGE: Audrey Winter/Flickr