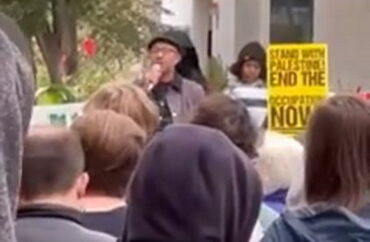 Says incident under review
Cornell University has disavowed itself from comments one of its professors made at an off-campus rally that the Hamas attacks against Israel were "exhilarating" and "energizing."
In a statement provided to The College Fix from Cornell media affairs attributed to Cornell University President Martha Pollack and Board of Trustees Chair Kraig Kayser, the campus leaders said that history Professor Russell Rickford's remarks were "reprehensible" and demonstrate "no regard whatsoever for humanity."
"As we said in yesterday's statement, endorsed by senior leadership of the Board of Trustees, any members of our community who have made such statements do not speak for Cornell," the statement said. "In fact, they speak in direct opposition to all we stand for at Cornell. The university is taking this incident seriously and is currently reviewing it consistent with our procedures."
Rickford, at a Pro-Palestinian rally, told the crowd the Hamas attacks on Israel were "exhilarating," according to a video, a copy of which was obtained by The College Fix.
Rickford is an associate professor of history, who specializes in African-American political culture in the post World War II era.
Earlier this month, Hamas terror attacks killed more than 1,100 Israeli civilians, including infants, women and families. Thousands more were injured.
"Hamas has shifted the balance of power," Rickford said at the rally. "Hamas has punctured the illusion of invincibility. … Nothing will be the same again."
Rickford added that he abhors the targeting of children and civilians, yet added "but we are able to breathe — for the first time in years."
"It was exhilarating. It was exhilarating, it was energizing," Rickford said. "And if they weren't exhilarated by this challenge to the monopoly of violence, by this shifting of the balance of power, then they would not be human. I was exhilarated."
The professor's comments were met with cheers of "Palestine will be free from the river to the sea!"
Rickford did not respond to The College Fix's requests for comment.
The Cornell Daily Sun reported that Rickford initially "clarified his remarks, but did not backpedal his choice of words."
"What I was referring to is in those first few hours, when they broke through the apartheid wall, that it seemed to be a symbol of resistance, and indeed a new phase of resistance in the Palestinian struggle," Rickford told the Sun. "We are acutely aware of the devastation, the daily destruction and degradation caused by Israeli policies, caused by Israeli apartheid, caused by the occupation. So in that context, this act of defiance of boring across the wall was a significant symbol."
However, in an addition to the article after publication, Rickford apologized for his "horrible choice of words."
"I am sorry for the pain that my reckless remarks have caused my family, my students, my colleagues and many others in this time of suffering. As a scholar, a teacher, an activist and a father, I strive to uphold the values of human dignity, peace and justice," he said.
Many Israeli and Jewish students were left stunned by Rickford's comments. One student was shocked the professor's words were "directly in support of violence. It was the next level to where things started to feel uncomfortable being there," the Sun reported.
The student, Ethan Glazer, told the Sun he "never felt like [his] personal safety was at risk until we started hearing that the actions of Hamas exhilarate another person, because those actions are completely and entirely focused on one objective, which is causing as much suffering, as much terror and as much horror to Jewish civilians."
Newsweek reported Rickford's comments have "has sparked debate on social media about the role higher education has in the response to the conflict."
"Hate in higher ed has been exposed as a central cause of antisemitism in America. We ignore it at our own peril," U.S. Representative Ritchie Torres, a Democrat from New York, posted on X.
Some Cornell alumni are also voicing concerns.
The Cornell Free Speech Alliance has accused campus leadership of only issuing strong condemnations of the Hamas attacks after backlash, pointing to an earlier statement from Pollack on Oct. 10 that simply expressed "remorse and sadness for human suffering" and did not condemn the terror attacks.
The alliance, in a "Cornell Thinker" newsletter, also argued the school's initial weaker response to the attacks is an illustration of the negative impact DEI policies and programs have had on campus.
"The Cornell President's [Oct. 10] statement conforms to the DEI dysfunction which now dominates the Cornell campus. In news articles of recent days, anti-Israeli voices on campus and elsewhere are blaming the attacks not on Hamas, but on white supremacy, racism, and western settler colonialism practiced against non-European peoples – the standard tropes of the DEI hordes at Cornell," the alliance argued.
MORE: U. Michigan professor tore down photos of missing Israelis
IMAGE: YouTube screenshot
Like The College Fix on Facebook / Follow us on Twitter