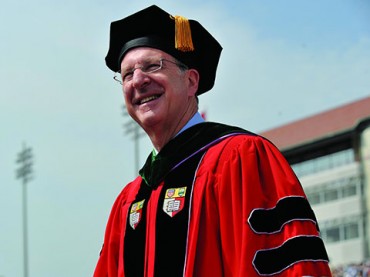 Unless they have the university health plan, students are on the hook for a 'sustainable model'
Students at Cornell University are feeling the after-effects of Obamacare: a new $350 student health fee if they opt out of the university health plan, even if they have separate insurance plans.
Announced last week by President David Skorton, the news spurred a series of rallies on campus, the Twitter hashtag #FightTheFee and an accompanying Twitter handle, which encouraged students to "pack" Thursday's Student Assembly meeting.
The new health fee would "impact approximately 70 percent of undergraduates, 30 percent of professional and 10 percent of graduate students," Skorton said in a Feb. 5 statement.
In light of the rise of health services costs, Cornell is restructuring the finances of its Student Health Insurance Plan, or SHIP.
Students who do not opt in to the $2,352 plan will get hit with the $350 fee, which "most likely" won't be covered by financial aid, according to The Cornell Review. The newspaper said the university plan is run through Aetna, whose CEO is a Cornell MBA grad.
"The current funding approach for student health services relies on central university resources, funds from SHIP for services delivered to its members, and fees charged at the time of services to individuals," Skorton wrote.
Skorton said in the Feb. 5 statement Cornell's health services funding has been "strained" in light of rising health insurance costs. Additionally, students will have a $10 co-pay for visits to the campus' health center, Gannett.
Universities 'have to find more pockets and that's what they're doing'
The rise of health insurance costs is a perpetual trend in the marketplace, and the rising costs specifically at Cornell are a secondary result of the Affordable Care Act, Ed Haislmaier, a health policy researcher at the Heritage Foundation, told The College Fix in an interview.
"From a health policy analysis, [Cornell] has a health center that offers more than a nurse," Haislmaier said. "They are in the healthcare delivery business now, and that is a fixed cost."
Haislmaier said that "institutions are going to lose revenue to cover costs" under public and nonprofit models.
Covering costs "has made a lot of university-sponsored student plans more expensive. [Universities] have to find more pockets and that's what they are doing — they are essentially broadening their tax base," Haislmaier said.
The fee announcement provoked about 150 students on Monday to occupy Cornell's main administrative building, Day Hall, as well as Skorton's office, according to the Review.
Protesters confronted the president, who "reportedly engaged in testy exchanges with several students regarding their grievances against him and the University."
VIDEO: @Cornell President David Skorton responds to student protest http://t.co/D6PEj1wywM pic.twitter.com/A9UmfHj2D0

— WHCU Radio (@WHCURadio) February 10, 2015
Protesters across campus shared their outrage about not just the new health fee but also existing financial burdens and "poor treatment of low-level employees," the Review reported.
They complained about the lack of "shared governance" between the administration and students, as well as alleged bully-like tactics used by university officials to keep Cornell Student Assembly members from leaking further information about the $350 fee.
Paying off old debt
#FightTheFee Outside Media, the public face of the student protesters, accused Cornell of "false" claims that the entire student health fee revenue would go toward student services.
"In reality, only $175 of the fee would go to increasing health services and reducing copays; $75 would go to paying off Gannett debt owed to other internal university funds; and the final $100 would go towards 'future deficits from increased health services' – presumably including the planned 55 million-dollar expansion of Gannett's building," the group said in a press release.
Implementation of the fee would generate an estimated $3.9 million, which would help to fund the $55 million Gannett Health Services building expansion and renovation, according to the Review.
"Administrators have bullied the [Student Assembly] into not revealing other 'confidential' information that might expose the corruption of the University, as made evident by an email from SA President Sarah Balik leaked on social media yesterday night," #FightTheFee Outside Media's press release stated.
In spite of student backlash, the administration is doubling down on its financial decision.
Vice President for Student and Academic Services Susan Murphy said in a Wednesday statement "the fee is necessary to create a sustainable model for health services while also increasing accessibility and protecting student privacy."
"It is our responsibility to work together, to make sure everyone in our community who needs help gets it. That is a burden, and a benefit, we all share," Murphy said.
College Fix reporter Matthew Boyer is a student at Rutgers University.
Like The College Fix on Facebook / Follow us on Twitter
IMAGE: Chris Bentley/Flickr