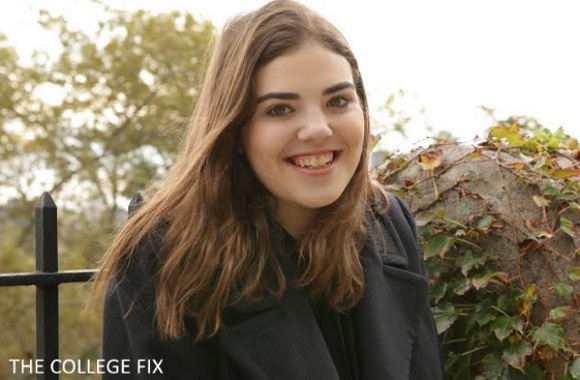 Olivia Corn, president of Cornell University's College Republicans, can vividly recall the night she was physically assaulted on campus for being a Republican.
The assailant emerged seemingly out of nowhere, catching Corn off guard as she read an email on her phone. "Fuck you, racist bitch, you support a racist party," the attacker grunted at Corn, shoving her to the ground from behind, she says.
The assault occurred the night after Donald Trump was elected president.
Now, a month later, Corn has had time to reflect on the assault and its impact on her. Rather than allowing it to knock her down, "it pushed me further to the right," Corn, a sophomore, said in an interview with The College Fix.
The biggest irony, she said, is she supported Marco Rubio, and was never a huge fan of Trump.
"I have always considered myself to be very tolerant and listen to everyone's point of view," Corn said. "So when I was shoved down, especially considering that I am not Donald Trump's biggest fan and I tried my best to help Marco Rubio become the Republican nominee, by someone who was angry by my politics, I was saddened that I was not afforded the same respect that I offer others."
Although Corn initially kept quiet to prevent unwanted attention while still on campus in mid-November, she finally spoke out publicly about her assault at the end of the semester.
"I realized when I got home that I need to highlight that these attacks occur towards Republicans all across the country," Corn said. "It is wrong to resort to physical violence because someone has a different opinion."
Although the attacker escaped before Corn could identify his or her face, she reported the incident to the Cornell police the next day. The incident remains under investigation, leaving unresolved questions about the attacker and an unsettling start to Corn's next semester.
"When I return to campus, it will be two days after Trump has been inaugurated," Corn said. "This person who attacked me is still out there, and the idea of not knowing who that is can be frightening sometimes when it's dark and I need to walk home."
She said she feels nervous to return to Ithaca.
"I am definitely going to be more cautious going forward," she said.
Corn said she already faced a tough battle on campus, figuratively, without this assault looming over her.
"People have said horrible things to me online like 'I devalue the degree of Cornell university' and that I'm uneducated," she said. "In the classroom, I have teachers who say very unacceptable things about Republicans and it is very difficult to keep my mouth shut as the head of the Cornell Republicans."
But Corn said she's prepared to defend her conservative identity.
"I grew up in Manhattan, which prepared me for the liberal environment of Cornell," she told The Fix. "I have learned that I should explain my views with pride because I cannot change them and they define such a large part of who I am as a person."
"The first thing everyone knows about me is that I'm Republican, and if you can't be friends with me because of that, that's fine, I don't want your friendship," she added. "I sort of leave all my cards on the table and say accept me as I am because I do not tolerate any bigotry, especially from the left."
As for the probe into the assault, John Carberry, a spokesperson for Cornell, told The College Fix that "the Cornell University Police investigation is ongoing. We continue to invite anyone with information to call 607-255-1111."
MORE: How Cornell fails its students
MORE: Cornell students hold 'Cry In' over Trump victory
Like The College Fix on Facebook / Follow us on Twitter