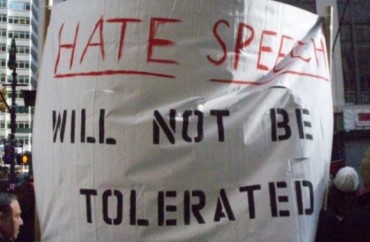 Our fall fundraising campaign runs through Sept. 30, so please consider a tax-deductible donation of any amount to help us continue to publish the best campus news in the nation. Thanks for your support!
Condemnation comes after student assembly considered 'banning' controversial speech
The student government at Cornell University recently passed a measure condemning "hate speech," several days after the assembly considered "banning" it from the campus.
About two weeks ago, a black student was allegedly punched and called the N-word by a group of white men, according to The Cornell Daily Sun. Earlier this month, a student chanted "build a wall" near a Latino living center.
Following these events, Cornell's Student Assembly met to consider a possible "ban" on "hate speech" on Cornell's campus. At a subsequent University Assembly, meetings which consist of representatives "appointed or elected by each of [Cornell's] shared governance bodies," about 250 students showed up to pressure the body to take action against hate speech, according to The Sun. Leaders of Black Students United at Cornell chanted "hate speech is not free speech," as others said "silence is power."
At that meeting, the University Assembly requested that its Codes and Judicial Committee "define if hate speech undermines campus code of conduct."
Several days later, the Student Assembly elected to pass a resolution "condemning hate crimes and hate speech, and supporting students," according to the text of the resolution.
The resolution holds that "bias, discrimination, and hate crimes, by their nature, affect the fabric of the Cornell community," and calls upon "all members of the Cornell community to consider how best to heal these harms, and how best to accord all members of our community the equal dignity and respect due to them as our peers."
The resolution holds that recent hateful speech incidents at Cornell "appear to be clear violations of the Campus Code of Conduct," though the assembly does not actually call for an outright ban on such speech.
The measure also instructs the school's Codes and Judicial Committee to "expedite consideration of Campus Code of Conduct changes requested by Black Students United; by the end of the fall 2017 semester."
It is unclear what the requested changes actually entail. According to The Ithacan, the student newspaper at Ithaca College, at the Sept. 19 meeting, Black Students United demanded "changes to the college's campus code of conduct regarding speech."
Delmar Fears and Traciann Celestin, co-chairs of Black Students United, did not respond to multiple requests for comment from The College Fix.
Cornell student assembly members Matt Indimine, Mayra Valadez and Harris Hassan also did not respond to multiple inquires by The Fix; nor did Cornell's president, Martha Pollack, or Vice President for Student and Campus Life Ryan Lombardi.
Last May, Pollack was resolute in her defense of freedom of speech on the university's campus.
"Here we're going to disagree and I know we're going to disagree," Pollack said last May according to The Sun. "As soon as you start suppressing speech, you open the question of who gets to decide … and we know, historically, that never goes well."
MORE: University of Maryland students demand 'hate speech' be classified as 'cult activity'
MORE: University promises 'disciplinary action' for students who engage in 'hateful demonstrations'
IMAGE: Flickr
Like The College Fix on Facebook / Follow us on Twitter