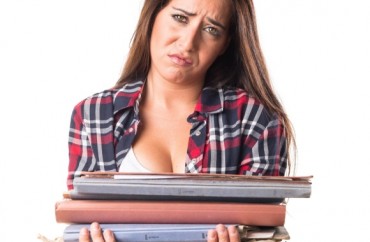 Eleanor Stout, a 24-year-old sociology major at Black Hawk community college in Illinois, couldn't believe her eyes.
She watched as several textbook prices skyrocketed throughout December, and the price of a computer class' access code — needed to obtain vital course content online — jump nearly 25 percent in a three-week span.
"Just three weeks ago an access code for CS 100 was $117.78, yesterday morning it was $128.72, and when I went to buy it at 3:30 p.m. it had gone up to $147," Stout wrote to the college's Interim Vice President Dr. Lee Weimer.
"It is not right that college students are paying more for textbooks and access codes than what it costs for a credit hour."
Frustrated, Stout launched a petition on change.org that demands answers and changes.
(Pictured, Eleanor Stout)
"With students, both current and former, speaking up and supporting the issue, we can make a change and stop the costs from rising," the petition states. "We have a voice and the dean needs to hear us in order for the inflation to stop. There is no reason a student should have to struggle while going to a public community college."
Stout, in an interview with The College Fix, said in addition to the access code cost increase, her Abnormal Psychology textbook for a psychology class is currently $188.50, but was $120 at the beginning of December, and her "Human Biology" book bundle went from  $167 to $206 in that same time-frame.
"Since the creation of the petition, I have not heard anything from BHC or
their affiliates," Stout told The College Fix. "I am giving the petition till the second week of the spring semester and then I will print and present it (the petition), along with a presentation of the costs of books compared to the price of tuition and the rate of inflation, to Dr. Bettie Truitt, president of the college."
Black Hawk College officials did not respond to phone calls from The College Fix seeking comment.
Stout told The Fix that the bookstore manager told her the prices were subject to change without notice and can change at their discretion.
So far, 12 people have signed Stout's petition.
According to the Bureau of Labor Statistics, textbook prices have increased a whopping 1,041% since 1977 — three times the inflation rate over the same time period. With that, textbook prices have long been a point of contention among college students.
At Columbia University last year, a student complained after a professor required students in his class to buy his own textbook for a class that never used it. And in California last fall, a professor raised the ire of administrators after he declined to use a costly textbook for his class.
According to Brian Morris, communications coordinator for Direct Textbook, a comprehensive textbook price comparison engine, "there is no question textbook publishers and colleges work together to drive textbook prices as profit centers, and I applaud any effort to keep costs low."
Like The College Fix on Facebook / Follow us on Twitter
MAIN IMAGE: Shutterstock