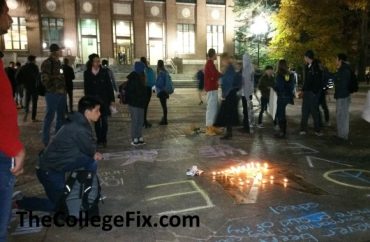 Universities across the nation on Wednesday offered safe spaces to students to help them process the anger and grief they felt as a result of Republican Donald Trump winning the presidential election.
Administrators, multicultural centers, LGBTQ directors, diversity gurus and other campus leaders emailed students and posted information on Facebook telling them they understood their "pain," and advised them on where they could find safe spaces on campus to "process" the election results or obtain counseling.
Take the University of Michigan Flint, which sent three separate emails in the span of just five hours on Wednesday to console the campus community about the election and let students know where to find counseling and other resources. Students there also planned a "vigil," according to one email.
"In more than 20 years at UM-Flint, I am sure that these support services were never provided after previous elections, and certainly not in 2008 or 2012," according to economics Professor Mark Perry. "And if the outcome of the election had been different, I am confident that either no emails would have been sent out to the campus community, or they would have been announcements for post-election campus celebrations, rather than an announcement for a campus 'vigil.'"
Virginia Tech's HokiePRIDE group posted on Facebook the numbers for national suicide hotlines and a "crisis" text number. An email sent to the campus community from an academic adviser noted: "I want you to hear clearly that you are loved. You deserve wellness. You deserve to thrive. You deserve community."
Indiana University–Purdue University Indianapolis' multicultural center invited students to swing by throughout the day as a "space to process or reflect." A light blue Post-It note taped to the door to the safe space stated: "Election processing space. Feel free to come in and join the conversation." (Pictured)
Iowa State University also got in on the consoling, with its Multicultural Center hosting staff "to offer support and talk to students individually or in small groups," an email to the campus community Wednesday stated.
Iowa State student Robert Dunn, in a statement to The College Fix, said the safe space was unnecessary.
"It's a sad story that campus administrators keep coddling liberal students using my tuition money," Dunn said. "The election is over kids, time to put on our big boy pants and get to work making our country a better place."
MORE: Columbia, Barnard host at least five safe spaces following Trump's election victory
A three-hour "Talk It Out" event at UC San Diego on Wednesday afforded students the opportunity to hash out their emotions with a doctor with Counseling and Psychological Services.
At the University of Michigan Ann Arbor, President Mark Schlissel touted its Office of Multi-Ethnic Student Affairs "open space of support" for those upset by the election. Students at the university also hosted a vigil Wednesday night.
And an email to George Mason University from Student Body President Nathan Pittman touted a "healing space" offered on campus "in the wake of yesterday's presidential election."
Like The College Fix on Facebook / Follow us on Twitter
IMAGES: Main, University of Michigan vigil/Inside, door of Indiana University–Purdue University Indianapolis safe space