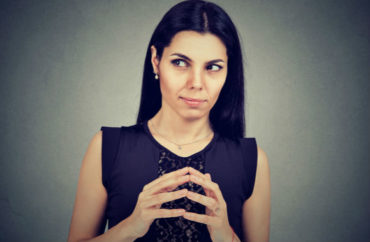 Determining a student's future based on 'wildly incomplete factual records'
A couple breaks up because one of them is drinking heavily, driving recklessly, using prescription drugs without a prescription and repeatedly lying.
That person moves out but surreptitiously takes the other's prescribed drugs, and is later pulled over by police with the drugs. For some reason, the partner agrees to let the addict move back in.
They return to arguing, and one night the intoxicated addict starts heading for the car to drive away. The partner "partially deflate[s]" one tire to prevent a certain car accident.
The next night they're arguing when the addict tries to steal the partner's computer, and the partner "yanks" it back, causing the addict to stumble. The addict starts asking to be hit and repeatedly saying "stop."
Sound sketchy? That's because the addict has been secretly recording the argument in a bid to concoct domestic abuse. The addict has also been using "spy ware" to capture the partner saying that the addict didn't steal the prescription pills found by police.
Into this toxic relationship enters the University of Texas Southwestern Medical School. It sees the addict's evidence – including doctored audio files and photos of unrelated bruises – and expels the partner without giving him the evidence.
This is the tale told in Jacob Oliver's federal lawsuit against the school, which cleared key hurdles earlier this month.
The U.S. District Court in Dallas rejected UTSW's motion to dismiss his procedural due process and gender-discrimination claims, while throwing out claims including First Amendment retaliation.
The order illustrates the "more general problem" in Title IX adjudications, according to Brooklyn College Prof. KC Johnson, who chronicles Title IX litigation: Universities are making "life-altering decisions" on the basis of "wildly incomplete factual records."
This case is a good example of a more general problem in TIX tribunals, w/univs forced/choose to make life-altering decisions on basis of wildly incomplete factual records. Hard to imagine expulsion if UT had known that audio file was doctored.https://t.co/WF6HTAzFKN

— KC Johnson (@kcjohnson9) February 21, 2019
Deserved a 'more formalized and stringent' adjudication process
Oliver only learned about his ex-fiancee Elinor Rowan's fraudulent representations because she initially went to the police, who were still investigating criminal charges when he was expelled.
His hired expert determined the audio recordings had been doctored, and the district attorney dropped the charges. The protective order that Rowan filed against Oliver also revealed she had submitted "colored photographs of her bruises" that were inconsistent with her allegations.
Judge Jane Boyle found that Oliver's claims can proceed against school employees involved in his expulsion for violating his constitutional rights, known as a Section 1983 claim.
They can be sued "in their official capacities for prospective injunctive relief" – to let him back into the program and clear his transcript – "and in their individual capacities for damages" – for harm to his past and future earnings as a doctor.
Boyle agreed that Oliver had both a "protected liberty interest" in his medical school education and a "reputational interest." UTSW not only kicked him off campus and revoked his health benefits but withheld his transcript, preventing him from pursuing a medical career anywhere.
The judge said he deserved a "more formalized and stringent" adjudication process to protect his due process rights than would be required for lesser punishments and charges, given his "permanent expulsion" for "misconduct violations."
Angela Mihalic, associate dean for student affairs, and Jon Williamson, dean of the School of Health Professions, failed to show him "incriminating evidence" during the proceeding, and Williamson failed to require Oliver's accuser to testify at the hearing.
Though she had initially dropped the charges for lack of evidence, a month later Mihalic told him he had been expelled and cited new evidence he had never seen, including Rowan's doctored recordings.
Boyle said the school's argument that Oliver wasn't expelled based on this evidence was "specious." The school was constitutionally required to first show him the evidence and then let him explain "his side of the story in light of this new evidence."
School employee 'had reason to question credibility and motives' of accuser
What little is known of Oliver's appellate hearing, before Dean Williamson, convinced Boyle that it did not cure the "procedural defects" from the original proceeding.
That hearing "essentially rubber-stamped" the findings, did not review his expulsion on the merits, and used the same evidence without showing it to Oliver at that point, either. (There's a dispute over when Oliver was given the police report, and whether it included colored or black-and-white photos of Rowan's bruises.)
The "procedural tools" cited by the school, including cross-examination of witnesses, did not include giving Oliver the "exact evidence or testimony" before the hearing, Boyle said.
Citing his allegations, which the judge must accept as true at this point, Oliver was not provided "witnesses to the alleged assault" to cross-examine, including Rowan. The school also failed to present "key evidence."
The judge scolded the school for making a big deal out of turning over evidence to Oliver. The "administrative burdens" of this were "minimal to non-existent," yet the evidence was crucial for the student to see:
Here, Oliver and his former roommate had already met with Mihalic prior to the school being in possession of the audio clip and photos, at which time they stated that Rowan had a history of deception and substance-abuse issues. … Also, even though in that meeting Oliver admitted to arguing with Rowan, he denied that there had been any physical assault. …Thus, there were significant factual disputes over what exactly transpired in Oliver's apartment on May 18, 2016, and UTSW, through its employee Mihalic, had reason to question Rowan's credibility and motives in reporting Oliver to school police.
Boyle emphasized that the evidence withheld from Oliver was not determinative of "whether the alleged assault occurred," and he was prevented from cross-examining the only witness, his accuser.
Even the police report – cited in Milalic's expulsion letter – was based on their interview with Rowan and the hidden audio recordings.
"[T]here was a substantial risk of erroneously depriving Oliver's interests through the procedures used," Boyle said. They prevented him from challenging the integrity of the recordings and the relevance of Rowan's bruises, which legal proceedings determined "were from an injury at work that occurred a few days earlier."
Because of the "incomplete record of what occurred at the hearing," Boyle can't yet determine whether the two officials violated "clearly established" law and hence don't enjoy qualified immunity.
She authorized "further limited factual discovery" to resolve what the officials relied on to expel Oliver and whether they should have been skeptical of Rowan's evidence; the details of the hearing before Williamson; and whether Oliver was given the "complete police report."
Official showed 'a desire to bolster' the accuser's claims
Oliver's gender-discrimination claims are going forward because of the "evidentiary weaknesses" of UTSW's case and its ignorance of "exculpatory facts," Boyle said.
The accused student had argued that his sex and the sex of his accuser led UTSW to take her testimony as "sacrosanct" and ignore his valid reasons for his actions, such as to protect his computer and prevent Rowan from driving while intoxicated. Police officers also inferred his guilt because he "retain[ed] an attorney."
The judge was not convinced by Oliver's argument that Mihalic was inherently biased because of her involvement with "organizations advocating for the need for more women in medicine and teaching a self-defense classes exclusively for women."
It was the failure to refer to Oliver's defenses in either his expulsion letter or hearing that suggest "a desire to bolster Rowan's accusations while disregarding Oliver's defenses," Boyle said.
"[T]he Court finds it troubling" that Mihalic decided against "investigating the claims further in light of" the evidence mentioned in Oliver's expulsion letter. The judge also cited police officers' statements about "males accused of domestic violence" as suggesting gender was a motivating factor.
IMAGE: pathdoc/Shutterstock
Like The College Fix on Facebook / Follow us on Twitter