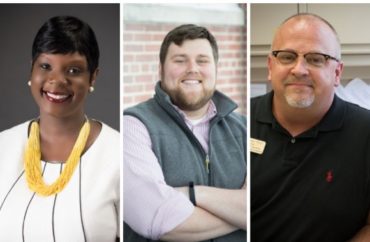 University's selective enforcement against religious groups 'incredibly baffling'
When U.S. District Judge Stephanie Rose upheld "qualified immunity" for University of Iowa officials in a successful First Amendment lawsuit by a Christian student organization, she said the constitutional issues were not established "beyond debate."
The taxpayer-funded university responded to her ruling in favor of Business Leaders in Christ by singling out religious groups as a whole for disparate treatment. This baffled Rose, and she denied officials qualified immunity in a related lawsuit by InterVarsity Christian Fellowship.
Vice President for Student Life Melissa Shivers, Coordinator for Student Organization Development Andrew Kutcher, and Associate Dean of Student Organizations William Nelson (left to right, above) will be held personally liable for violating the "clearly established right to free speech" in their treatment of InterVarsity, Rose ruled Friday.
President Bruce Harreld (below) and Thomas Baker, student misconduct and Title IX investigator, could also be held personally liable if InterVarsity "can establish their liability at trial," the judge said. At this point "the record is insufficient to establish" their liability.
The related lawsuits grew out of the University of Iowa's selective application of its "Human Rights Policy," which bars student organizations from discriminating against would-be leaders and members on the basis of sexual orientation, gender identity and several other protected categories.
It first denied Business Leaders in Christ the right to choose leaders that uphold its views on biblical sexuality. The university then derecognized many more religious groups after Rose ordered it to treat all student groups equally with regard to the policy.
InterVarsity sought summary judgment in its lawsuit after the university admitted in the BLinC lawsuit that it had issued numerous exemptions to the policy for secular student groups, including racial minorities and Greek life. The university had also given preferential treatment to a pro-LGBTQ Christian group that is the "ideological inverse" of BLinC, Rose wrote in her February ruling.
The Becket religious-liberty law firm, which represented both BLinC and InterVarsity, crowed over the ruling.
"It's too bad it took twice for the University to learn its lesson," senior counsel Daniel Blomberg said in a press release. "There was no excuse the first time for squashing students' First Amendment rights. University officials nationwide should now take note that religious discrimination will hit them in the pocketbook."
The university did not respond to a request for comment from The College Fix on Monday.
MORE: Judge blocks U. Iowa from selective enforcement against InterVarsity
'You went after all religious people, which is worse than what you did in BLinC'
It only took Judge Rose two days to rule after a hearing last week where InterVarsity sought partial summary judgment on its claims that several officials violated its First Amendment rights. The university sought protection from legal liability for those officials.
Rose couldn't believe the arguments she was hearing from university lawyers about why officials specifically targeted religious groups after she told the university to apply the human rights policy equally to all student groups.
"You not only went after the BLinC-type people, but you went after all religious people, which is worse than what you did in BLinC, in my opinion," Rose said, according to a transcript of the Sept. 25 hearing. "So how do you say we didn't know what to do when I told you exactly what to do and you did the opposite of that?"
After an unsatisfactory answer, she continued:
I don't think you understand free expression and viewpoint discrimination when you draw a line between religion and other groups that articulate other things. I don't think, perhaps, you yourself understand the problem there. …

The University of Iowa may not selectively go after student groups based on what they think, based on what they advocate, whether it's religious or otherwise, unless you're going to do it evenly, equally. That means you cannot carve out a particular type of group and put them on hold for their own good. That's ludicrous to those of us who understand this law well.
Rose called the university's response to her January 2018 ruling, which granted a preliminary injunction against selective enforcement of its policy, "incredibly baffling."
In her Friday ruling denying qualified immunity to university officials, the judge elaborated at length on how differently the university treats religious groups versus secular groups when applying the human rights policy.
"[R]eligious [registered student organizations] are not permitted to require their leaders to agree with and live by the organizations' religious beliefs" or even to "encourage their leaders to follow the groups' religious beliefs," she wrote.
Yet nonreligious groups are still allowed to require or encourage leaders to belong to a protected class, including black engineers, single-sex sports clubs and single-sex singing groups. Some Greek-life organizations get to discriminate twice – first on sex, then on another protected category, Rose noted.
The university can't even keep straight whether it treats Christian groups the same, she continued: The pro-LGBTQ Love Works requires leaders to support that mission, yet Kutcher himself testified that the group's constitution was "compliant" with the policy.
Officials insist the many exemptions they have issued "serve the specific purposes of its limited public forum and educational mission."
MORE: Judge tells U. Iowa it can't treat Christian, Muslim groups differently
'Nothing about this case warrants a different outcome'
Rose recounted why she issued the original injunction in the BLinC case: "the record showed that at least one other RSO was permitted to limit membership based on religious beliefs." She made it permanent after an avalanche of evidence showed how many groups were not held to the policy.
The InterVarsity case is substantially similar, the judge said, except that officials did the exact opposite of what Rose told them to do.
Shivers, Nelson and Kutcher met to discuss her January 2018 order and started reviewing all RSO constitutions for compliance with the policy. (Shivers characterized the three as the "primary folks" in her deposition.)
"Reviewers were instructed to review religious student groups first, and those groups were reviewed twice," with Nelson directing Kutcher to compile a list of all religious organizations to see whether they had BLinC-like requirements.
Rose's summary says that RSOs in general – not just the religious ones – were found to have a "low rate of compliance." Yet the university specifically targeted InterVarsity for refusing to allow non-Christians to run for leadership, and derecognized several more groups for similar leadership requirements. InterVarsity's membership plunged and it lost money fighting derecognition.
There's evidence that President Harreld knew that some groups would be derecognized for noncompliance but not that he knew the particulars or that some groups would be allowed exemptions, while there's no evidence of any role by Baker, Rose found.
The three "primary folks," as Shiver characterized them, "are liable in both their individual and official capacities," the judge continued.
She previously found the human rights policy was "not viewpoint neutral as applied to BLinC" because other groups could "speak about religion, homosexuality" and other traits in the policy, but not BLinC. "Nothing about this case warrants a different outcome":
The RSO Policy, on its face, exempts fraternities and sororities from the Human Rights Policy so they may speak about gender. Categorically, sports clubs may speak about gender … Some groups, such as Love Works, Zeta Beta Tau, and Pi Kappa Phi, can express their views on religion. This disparate treatment constitutes viewpoint discrimination against InterVarsity.
Judge holds University of Iowa officials personally liable for discriminating against Christian club by The College Fix on Scribd
MORE: U. Iowa derecognizes Christian club because of 'sexual moral conduct' rules
The university's justification for its many exemptions doesn't hold water for Rose. "[I]t is not clear how allowing fraternities and sororities to discriminate based on sex does anything to promote freedom from discrimination … and it may cause much more harm than granting InterVarsity the exception it seeks," as even Kutcher conceded, the judge said.
Prior caselaw already prevents the government from making a "value judgment in favor of secular motivations," meaning that the university's action against InterVarsity "is subject to strict scrutiny."
Officials also couldn't explain "any actual harm to its interests" from InterVarsity's leadership rules, and the record makes clear no one has complained about its rules, either before the litigation or after it was reinstated for the duration of litigation, Rose said.
Kutcher in particular seems to have put his foot in his mouth several times in his deposition. He admitted the university "is willing to accept the harm when it comes to a political or ideological group but not a religious group," for example.
And the judge mocked the university's claim that it had tailored its application of the policy "as narrowly as possible." She said flatly: "Of course, this is not true." It would actually be easier for the university to simply adopt an "all comers" policy, which requires all recognized student groups to allow any students as members or leaders, Rose said.
"Instead, the University took an extreme step—complete deregistration of InterVarsity—to discriminately prevent theoretical harms that may never materialize," she said.
Shivers, Nelson and Kutcher have been found liable for InterVarsity's free speech, expressive association and free exercise claims, but InterVarsity "must still prove any damages they are entitled to recover."
Nothing in law prevents university from calling religious beliefs 'harassment'
On the matter of nominal damages and a permanent injunction, Rose said the only thing stopping the university from selectively enforcing its policy again is a new Iowa law that purportedly prevents such discrimination.
It did not "voluntarily" stop its selective enforcement, and the new law is more ambiguous than the university claims, she said. The law also leaves the door open to universities using "harassment" as a pretext to interfere: "It is not unreasonable to imagine a University administrator taking the position that discriminatory leadership practices are a form of harassment directed at excluded students."
Not only is Rose skeptical that the new law will survive judicial scrutiny, but the university hasn't given her "any reason to trust the University will implement the new law in a manner that protects its students' civil liberties":
The Court would never have expected the University to respond to that [BLinC] order by homing in on religious groups' compliance with the policy while at the same time carving out explicit exemptions for other groups. But here we are.
She approved the permanent injunction against the three officials for selective application of its policy against InterVarsity.
The university gave a fallacious framing of the constitutional issue when it argued for qualified immunity for the officials, the judge said. The correct framing is whether it violated InterVarsity's rights by enforcing its policy against that group while turning a blind eye to leadership rules for others.
"So framed, the law on this issue was clearly established no later than January 2018, particularly as it relates to the University and the Human Rights Policy," Rose said.
She again expressed astonishment about how the three officials responded to that order, including "formalizing an exemption" for Greek life in writing.
"The Court does not know how a reasonable person could have concluded this was acceptable, as it plainly constitutes the same selective application of the Human Rights Policy that the Court found constitutionally infirm in the preliminary injunction order," Rose wrote.
It's also immaterial that the three consulted with university counsel while reviewing RSO constitutions: "This does not alter the reasonableness of the individual Defendants' conduct in this case."
MORE: University officials denied 'qualified immunity' for pro-life discrimination
IMAGES: University of Iowa
Like The College Fix on Facebook / Follow us on Twitter