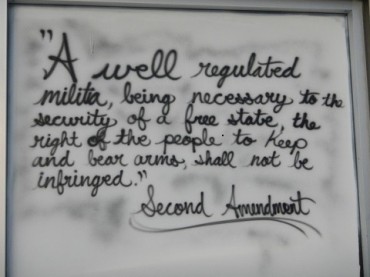 A district court of appeal in Florida has ruled University of North Florida officials cannot prohibit guns from being kept in parked cars on campus, a decision that affects colleges across the Sunshine State and is considered a major Second Amendment rights victory.
"There are certain places where firearms can be legally prohibited," the decision stated. "But the Legislature has recognized that a citizen who is going to be in one of these places should be able to keep a firearm securely encased within his or her vehicle."
According to the Florida-Times Union, "the university had banned the storage of any 'weapon or destructive device' on college grounds and said any student who violated the rule could face discipline up to suspension or expulsion. The gun-rights group Florida Carry Inc. and UNF student Alexandria Lainez sued, arguing the university didn't have the right under Florida law to ban firearms because the state Constitution gives that power to the state Legislature."
It's been said almost nearly all the universities in the state have a similar policy as University of North Florida, and Second Amendment rights advocates stated the ruling shows how college officials have infringed on students' constitutional rights.
"The Florida appeals court ruling that the University of North Florida was violating state law when it prohibited a woman from storing a gun in her vehicle while she attended class will spill over to cities and counties statewide," BizPacReview reports.
But it remains to be seen if campus officials will even respect the ruling. In an email, a campus spokeswoman said Wednesday "the university is still reviewing its options on whether to appeal the case … until it makes that decision … the university's policy prohibiting weapons on campus will remain in effect," BizPacReview reports.
IMAGE: WonderAl/Flickr
Like The College Fix on Facebook / Follow us on Twitter